By
for on August 17th, 2018
'The Great British Baking Show' Season 5, Episode 10 Recap: Finals Week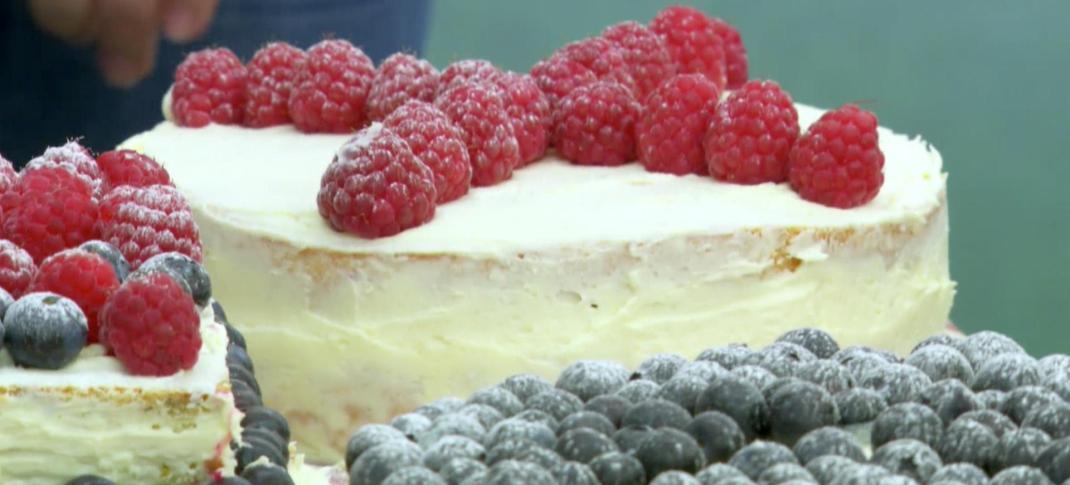 First there were twelve, now only a trio of bakers remain as we enter The Great British Baking Show Season 5 finals.
After Danny, the lone female baker, was eliminated in the tension-filled Patisserie Week semifinal last week, three men have survived to do battle in a tent filled with the musk of testosterone and icing sugar. Brendan, James and John are prepared to bake, but only one can be victorious. Who are our finalists and how did they get to this point?
Brendan Lynch has undoubtably been this year's most knowledgeable home baker. Consistently meticulous, this semi-retired recruitment consultant's traditional and sweetly nostalgic bakes have been well received by both Paul Hollywood and Mary Berry. So much so that he was named Star Baker of both Dessert and Pudding Weeks where he demonstrated his range from tortes and meringues to sponge puddings and strudel. Brendan credits his steady progress and unruffled demeanor to his Buddist faith and the support of his partner Jason who keeps him grounded and acts as general kitchen porter and washer upper. Armed with a belief that keeping his emotions in check will help him win the competition, Brendan still gets choked up talking about what winning would mean to him as an endorsement of himself and the baking he's done over the years. Of the former bakers surveyed, Stuart and Danny are backing Brendan to win the whole thing.
Medical student James Morton has triumphed by taking an experimental, scientific approach to baking. Paul described the 21-year-old baker as a great innovator who constantly pushes himself and always manages to pull it together in the end. James was the winningest contestant this season with three Star Baker titles (Tarts, Biscuits and Patisserie) to his credit all while studying for his final exams at Glasgow University. James attributes his success to early baking lessons with his grandmother in Shetland and his nature to try to the reach the pinnacle of what can be done.  Young Mr. Morton was encouraged to apply for the baking show by his housemate and his girlfriend, but they never thought he would advance this far. When asked to predict the outcome, fellow baker Cathryn has a feeling that James will emerge as the winner. Even finalist John thinks James might win because he has a quality and edge to him.
John Whaite's immense passion for baking has been revealed in his bold, modern designs and recipes influenced by classic French patisserie. His impeccable technique comes from obsessive practice which flatmate and best friend Holly can attest to. Despite his family's ambition for him to have a glittering legal career, John wants to be a baker when he grows up. He says he'll miss the tent and the judges' feedback, admitting he's quite a controlling person who wants to be told that he's loved. John's Star Baker title came early on in Bread Week where his pitas, plaited loaf and bagels all earned top marks. Week six could have been the end of the line after a serious cut prevented him from finishing his showstopper strudel, but Whaite fought back. Sarah-Jane is rooting for John to win because he's worked so very hard.
Now on to the baking!
For the signature challenge, Paul and Mary set the task of making a French decorative pie classic with a twist, a pithivier. Traditionally a sweet pie, a pithivier consists of a rough puff pastry top and bottom surrounding a mound of filling. The judges are looking for good flake, impressive layers and a careful choice of flavorful, savory fillings that won't release excessive amounts of moisture. Mary also wants to see a nice half-circle scalloped edge to the pie. They had two and half hours to complete the bake.
Brendan was the only baker to make a vegetarian pithivier. His potato and pepper pie featured lots of caramelized garlic and was a hit with both judges. The appearance was meticulous and attractive with a great crispy base and lovely flavor that wasn't overwhelmed by garlic.  
James was new to rough puff pastry, so he had to learn the method specifically for this challenge. His practice Spanish pithivier with chorizo, chicken and red pepper made a good first impression on his girlfriend's grandparents, but the one he made for Paul and Mary was less successful. While it looked pleasing and the filling was well cooked and seasoned, James' pie suffered from the dreaded soggy bottom.
With the superstition that stress spills over into the thing you're baking, John practiced Paul's pastry folding method in the week leading up to the final. The preparation apparently paid off because his Italian sausage and roasted vegetable pithivier with taleggio cheese rose to the occasion. It had a great appearance, buttery, flakey pastry and well thought-out flavors.
So after one round, Brendan and John's solid efforts have pulled them ahead of James' less-than-perfect rough puff.
The technical challenge was to make and ice 25 fondant fancies. The multi-step construction to this bake made it tricky to complete in the two and half hours allotted. Proper fondant fancies start with a square of delicate light sponge topped with a thin layer of marzipan glued on with apricot jam. The fancy is then covered with buttercream, encased in a glossy delicate pink, rosewater-flavored fondant and finally decorated with a flare of liquified chocolate. And to make it more daunting, the bakers were given even fewer instructions than usual.
This complicated challenge proved difficult to judge because each batch of fancies had some faults. Paul said none of them had reached a high standard in this bake, so they should consider themselves chastised.
In the end Mr. Hollywood and Mrs. Berry ranked Brendan and John in a tie for second. Brendan had issues with his fondant, his chocolate was a mess and his buttercream was not applied smoothly – a very unBrendan-like result to say the least – though it apparently tasted quite nice. John's fancies were too small, his fondant was too wet and the buttercream was overwhelming. His chocolate was neater, howeand the cake's texture was okay.
That left James alone in first place. The judges rated his chocolate okay, his sponge was nice and his fondant looked a bit thicker than the others, but was still too thin. The biggest problem seemed to be that the rosewater flavor of the fondant was a bit strong.
The results of the technical meant the outcome of the showstopper would be all the more important. At this point, the three finalists found themselves on the most level of playing fields with James' first place technical bringing him neck and neck with John and Brendan.
The showstopper and very final challenge of this season required the bakers to make a chiffon cake with a design inspired by their personal highlights of the year (2012). They were given four hours to create a meaningful and impressive cake composed of baking's most notoriously fickle cloud-like sponge.
Brendan's family reunion cake was meant to represent an upcoming party he's throwing that will reunite two strands of his family who have been estranged for almost 30 years. His elegant, almond-coated raspberry chiffon cake was topped with a heart shaped chiffon and decorated with fresh raspberries. Brendan's showstopper cut nicely and had beautifully even layers of cloud-like sponge. The raspberry and almond flavors came through nicely and his gingerbread men decorations were tasty too. It was yet another example of Brendan going the extra mile.
John's heaven and hell themed chiffon cake was inspired by a year of ups (the birth of his nephew) and downs (finishing his law school studies). Where his experience with the baking competition fell in that spectrum, he didn't say. Hell was represented by the chocolate and orange base while heavenly lemon and coconut meringue cake-lets perched above.  It was all praise and no criticisms from Paul and Mary for John's very professional looking showstopper. They liked the lovely line and rich texture of the chocolate cake and the strong lemony flavor of the smaller angelic layer.
James' ambitious United chiffon celebrated 2012 as the momentous year the UK hosted the Summer Olympics. Made up of five separate cakes, four were individually flavored to represent Scotland, England, Wales and N. Ireland with a fifth Union Jack cake in the center. Alas, it was apparent he wasn't going to pull off a gingerbread barn miracle this time. One of his unbaked cakes slipped off the counter onto floor and his Turkish Delight turned out rather sticky. His girlfriend had said it was crazy to make so many components and sadly she was right. James made plenty of cake for the all the party guests, but his chiffon sponge was subpar, and his concept fell flat since his since his cakes weren't united in any concrete way.
As the showstoppers were being evaluated, family, friends and all the season's bakers mingled and played games just outside the tent at a special summer fête with limp bunting and torrential rain included, just as Sue had promised. When John was announced as the winning baker, he seemed genuinely surprised. His passion finally paid off and he had done something for himself that would also please his mum.
As for the runners up, James said it felt like everyone was a winner. There were no commiserations and it had been one of the best experiences of his life. Brendan said he had been a reluctant applicant but was really pleased he did it. He was a self-taught baker and had taken his skills to a higher level and that was something to value and hold onto.
Thus ends another season of The Great British Baking Show. I hope you enjoyed experiencing the competition with me this season. At this point we have no information on the return of the series to PBS. Only the 2010 and 2011 BBC seasons have yet to be broadcast here in the U.S.
Meanwhile, the second season of the relocated Channel 4 version is due to air in the U.K. at the end of this month. When we know what is happening, I'll be sure to pass on the news. Until then, feel free to share your thoughts on this season's finale. Did the rightful baker win? Do you think the challenges have gotten more complicated since this season originally aired six years ago in the U.K.? As Mel Giedroyc and Sue Perkins would say, "On your marks, get set, CHAT!"
---
By
for on August 17th, 2018
More to Love from Telly Visions