By
for on July 20th, 2018
'The Great British Baking Show' Season 5 Episode 6 Recap: Pudding Week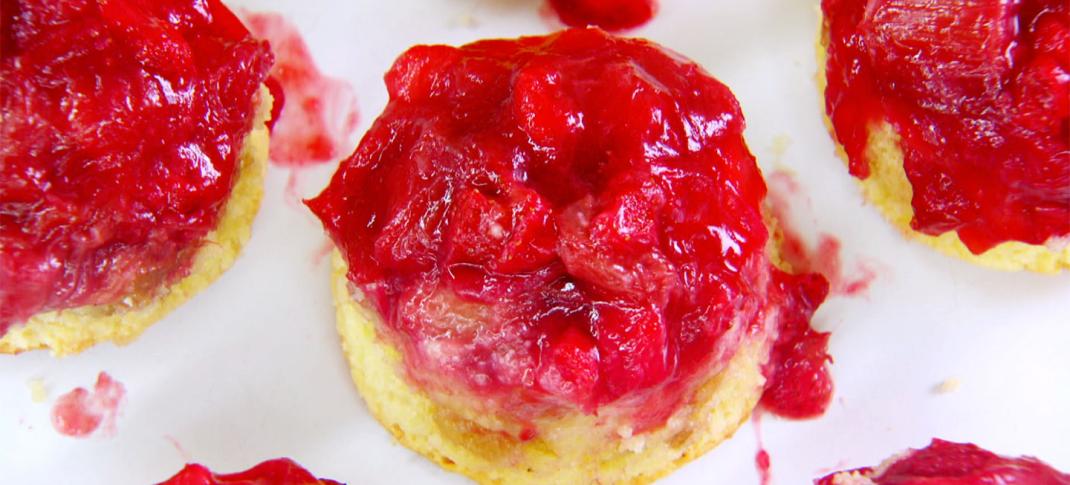 Who knew a few humble puddings could be so fraught with drama? But as the second half of this season's Great British Baking Show got underway, the normally quaint competition turned a tad dangerous and confrontational.
But before we wade into all that, let's review last week's ap-PIE-tizing results.
Ryan created the undisputed (by Paul and Mary anyway) mother of all lime pies. So impressed were Berry and Hollywood, they discounted the photographer's last place technical round finish and named him Pie Week's Star Baker based solely on the merits of his showstopper. On the other hand, pies proved to be Manisha's downfall. Her sloppy banana scotch pie, middling technical and her failed Wellington pastry sealed her fate and the struggling baker was chosen to leave the tent.
As an aside, our readers questioned the ambiguity of the showstopper. Citing Paul's stated bias against overly sweet pies and the opinion that most of the bakers' showstoppers resembled tarts more than an actual American style pie, many felt "the brief" of that round was muddled and flawed.
Moving on from dubious pies, our magnificent seven bakers entered the tent this week under a raincloud of impending doom.
They faced three palatable pudding challenges which Mel Giedroyc described as "hot, spongy, and saucy with a little bit of bite and ooze." With male bakers outnumbering the females four to three, the women are committed to not letting their side down.
The signature challenge involved making two different flavored sponge puddings with different accompaniments of sticky toppings, custard or ice cream. This quintessentially British dessert could be baked, steamed or boiled (all the contestants opted for the bain-marie method). This challenge was not just a test of baking acumen, but multi-tasking prowess as well.
In the technical round, the Queen of Puddings herself Mary Berry offered up her recipe for a layered concoction called Queen of Puddings. Mrs. Berry expected uncurdled custard, spreadable jam and peaks of crispy yet marshmallowy meringue all to be made in an hour and forty-five minutes. Sue Perkins warned that getting it wrong it might be considered treasonous and end with Mary mounting heads on cocktail sticks and dusting them with icing sugar.
Lastly, the showstopper challenge was simply to construct a large strudel in three and a half hours. The bakers had the choice to fill their extremely delicate pastry with sweet or savory ingredients. Mary confessed this is a dough she sometimes buys due to the level of difficulty.
In addition to the trio of pudding challenges, another objective of the episode seemed to be to sumarize the standing and strengths of the remaining bakers. Also there was an unusual amount of disagreement between Paul Hollywood and Mary Berry on individual bakes this time around. So rather than break this episode into highlights and missteps, I will approach this with a baker by baker synopsis. Let's start with the ladies.
1. Danny has quietly become a contender and she excels with flavor and presentation.
Signature -Despite dropping a tray of jubilee chocolate fondants to the floor, both those and Danny's banoffee puddings with walnut butterscotch sauce were favorably received.  She had feared being mauled by Paul but found both judges were very decent about her mishap.Leading up to the Showstopper round, however, Paul and Mary had a tiff over the merits of Danny's puddings and how much she should be penalized for the accident. The fact that they have to rely on one showstopper bake to make their decisions is causing more disagreement than normal between them.
Technical round ranking - #2
Showstopper- Her leek, potato, pistachio and Gruyère strudel had nice strong color with thin flaky pastry layers. Inside it was solid with beautiful filling and lovely flavor.
*Danny was in the running for Star Baker this week. She was also required to don her doctor hat. More on that later.
2. Sarah-Jane was steadily building on a series of successful bakes. Paul likes her flavors though her techniques don't always work and lately the increasing pressure is beginning to show. The stay-at-home mum and vicar's wife often draws on cooking memories and lessons from her granny.
Signature – Sarah-Jane was hoping to get back on track after last week's Wellington disaster with sticky toffee puddings and Granny's saucy lemon puddings. Unfortunately, the lemon variety turned out more like souffle that sponge. The judges split on the texture of sticky toffee puddings with Mary declaring them a bit dry while Paul dissented from this opinion demonstrating the moisture that "wets the finger", as he puts it.
Technical round ranking - #4
Showstopper- Her sweet strudel with sour cherries was judged to have lovely filling, but apparently you couldn't read the Bible through Sarah-Jane's pastry.  This despite Paul's private tutorial on how to beat dough into submission with a grab and twist/flick method.
3. Cathryn has frequently doubted her natural baking talent, but all too often has proved herself wrong.
Signature – Her chocolate walnut whip puddings and elderflower sponges topped with clotted cream rice pudding required mega coordination on her part.  They had and impressive and original appearance. In one of several differences of opinion, Paul claimed the rice was undercooked while Mary (and Mel) disagreed.
Technical round ranking - #3
Showstopper – Her savory roasted vegetable couscous and sheep cheese strudel was also a hit with a good thin flake and an unusual delicious interior that went really well together.
*In an overenthusiastic use of the aforementioned kneading technique, Cathryn's strudel dough flew across the room resulting in pieces of green carpet getting embedded in it. A mortified Sarah-Jane apologized profusely for encouraging her try it.
Now on to the gents…
4. Ryan's flavors are his strength, but he's struggled with textures and found himself in the bottom half of every technical. His Star Baker win last week means he has a lot to live up to.
Signature – His chocolate fondants looked indulgent but were dry while his sticky ginger and date puddings had a bitter aftertaste attributable to his use of three raising agents.
Technical round ranking - #6
Showstopper – Ryan's apple, sour cherry, raisin and mixed nuts strudel, not surprisingly, had good flavors but the pastry layers were a bit thick and the very center wasn't cooked.
5. James, like the medical student he is, has consistently experimented and impressed with his flavors and innovative techniques. Mary thinks its nice that he represents his Scottish heritage in most everything he does, including his variety of jumpers.
Signature – While James' banana and clove puddings with home-brewed beer were found to have a beautiful sponge and fantastic flavor, his rich and fruity clootie dumplings didn't form the traditional skin and turned out too chewy.
Technical round ranking – #7  (James found being at the bottom didn't feel so nice.)
Showstopper– His strawberry, rhubarb and ginger strudel was a tricky bet since the water-filled fruits had turned out looking like a pile of sick in practice runs. The pastry was appropriately thin, but the filling leaked, and the inside was a tasty but soggy mess.
*James commented that Paul's boisterous kneading method, while traditional, was total rubbish. His rational, scientific mind opted for mechanical kneading hooks instead. But this may not have been the week to disagree with Hollywood because James' name came up in the potential leavers' list.
6. Brendan has rarely put a foot wrong thus far in the competition. His unique bakes and strong technical knowledge has impressed the judges which he attributes mostly to age and experience. Mel and John muse that Brendan is tough competition and dub him the Bake-inator.
Signature-It was a thumbs-up for Brendan's rhubarb strawberry and ginger puddings with a perfect crème anglaise. Alas the judges didn't care for his sticky toffee pudding topping even though it included rum, a favorite ingredient of Mary's.  
Technical round ranking - #1  (Mary called it sheer perfection and a joy to eat.)
Showstopper – We got to see Brendan's special hands-on pastry stretching technique when he made his spinach, cheese and walnut strudel with leeks and courgettes. According to the experienced baker, a rolling pin just doesn't get the same result. The judges liked the flavors and good thin layers topped with a decorative lattice work. The strudel was just a bit pale.
*Brendan was named Star Baker for his consistency, great flavors and being, in Sue Perkin's words, "a clever sausage." A self-professed old fashioned boy, this is Brendan's second time winning the title.
7. John's passion for baking has seen him claim star baker and never allow criticism to deter him. His philosophy is that it's better to take risks and fail in work than in your family life.
Signature- The judges really liked John's spicy toffee puddings with dates soaked in Lady Grey tea. The topping was just right and kicking with flavor. His raspberry and white chocolate pudding, on the other hand, was less enjoyable. Paul says the sponge was like chewing on cardboard and the fruit was too solidly packed.
Technical round ranking - #5
Showstopper – John cut his finger while starting his strudel. Apparently not thinking it too serious, he put on a glove and went on with his work. About half way through the challenge, his glove had filled blood and the baker was feeling dizzy. Danny, who happens to be an intensive care physician, checked him out and determined the cut was too deep for him to continue forcing him to leave the tent for medical treatment.
Seeing as John didn't get to complete his showstopper bake and was in danger of being eliminated without it, this incident created a precedent. The judges decided not to send anyone home this time, but two bakers will be eliminated next week. This was good news not only for John, but James and Sarah-Jane who were under threat of leaving as well. Dear sweet Sarah-Jane thought the competition would be a nice gentle plod, but has discovered it's the craziest rollercoaster you've ever been on. "A marquee in the middle of a field, it's mental."
Personally, I think this installment has to be the most reality-like that The Great British Baking Show has ever been. How did this episode sit with you? Do you agree with Paul and Mary's decision to delay sending a baker home? There's plenty to chew over in the comments section this week!
---
By
for on July 20th, 2018
More to Love from Telly Visions