By
for on August 11th, 2018
'The Great British Baking Show' Season 5, Episode 9 Recap: Patisserie Semifinal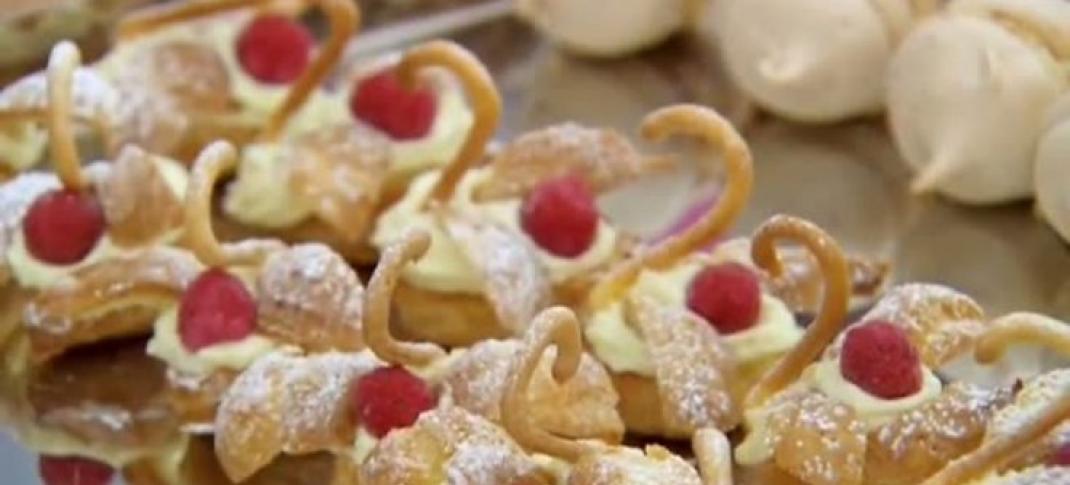 It seems like just last week we were being introduced to a dozen bright and hopeful bakers as The Great British Baking Show Season 5 began. How can it be that only four contestants now remain? 
This week Brendan, Danny, James and John figuratively headed across The Channel with three goals in mind– 1) to reach miniature signature bake perfection, 2) to achieve flawless technical brilliance and 3) to assemble a showstopping choux pastry creation. Who would make it to the final and who would be sent home just shy of their realizing their baking ambitions?  Before we answer that, let's briefly revisit the events of the recent quarterfinals.
Cathryn was the casualty of last week's competition. Despite her solid gingerbread palace effort, her irregular crackers and calamitous teacakes ultimately doomed the devoted mum to elimination. She said she wasn't surprised, but was a little bit heartbroken. It was a much better outcome for birthday boy James whom the judges named Star Baker for a second time. The favorable reception of his smoky cayenne, cumin and chili crackers combined with his first-place technical teacakes put him in good position, but it was surely his tumbledown gingerbread barn showstopper that put him over the top. And as Sue noted, he didn't even have to get out the whiskey bottle this time!
As this week's semi-final got underway, the mood in the tent was nervous and withdrawn. Mel Giedroyc and Sue Perkins tried to ease the tension with their best exaggerated French accents. But this quartet of bakers were here for one reason and one reason only, to bake their way to the final. The challenges before them would be fancy, exacting and more professional than any normal home baker would dare attempt.
The signature challenge was to prepare the classic after-dinner French treat, petits fours. Paul Hollywood and Mary Berry wanted to see three varieties, twelve of each. They had to be small (ideally just a mouthful), exquisite and each should demonstrate a different baking discipline.
For the technical round, Mary asked the bakers to make a visually stunning Frasier cake. This dessert features a genoise sponge (aka the little black dress of the patisserie world) with a strawberry and crème pat filling, topped with marzipan and then decorated with chocolate.
Finally, the judges requested a perfect choux pastry gateau showstopper. Three of the four bakers opted to create a Gateau St. Honoré named for the patron saint of bakers. It's constructed on a puff pastry base with a top ring of choux pastry garnished with cream puffs. James, as usual, went his own way making a Paris-Brest inspired gateau in the shape of a whole bicycle rather than just the wheel cake that traditionally commemorates a famous 1200 km race.
Highlights:
It would seem this signature challenge was tailor made for Brendan's meticulous talents. Mary found his coffee meringue and hazelnut creams, apricot and pistachio friands and lime curd choux pastry cygnets tempting and a sheer joy to eat. Brendan's trio of bakes were the closest to what the judges were looking for and he was pleased with how Parisian Paul and Mary thought they looked. James was commended for the originality of his chili, lime and raspberry macarons and his petits fours flavors in general.
James and John came in first and second respectively in the Frasier cake technical. Both bakers' cakes ticked all the boxes, but James' offering was slightly superior. John called James a wily minx for making a better sponge and James said he really enjoyed this particular technical challenge more than any other in the competition.
In the critical showstopper round, John's Gateau St. Honoré with passionfruit curd, was deemed special-looking with its heart decorations, neat, professional and the best tasting of the day. Brendan's straightforward classic version was striking, had a good rise on the pastry and a crunch through the top of the bun – an overall lovely Gateau St. Honoré.
But no one could stop the Star Baker wave that James has been riding lately. He's the only contestant this season to win three titles, two of them back to back. A solid showing in the signature petits fours round, first place in the technical and his unusual and inventive coffee, caramel and hazelnut Paris-Brest proved that James' "winging it" strategy paid off once again despite Paul calling him out for barefaced cheek. 
Missteps:
Danny's signature blackberry and peppermint macarons missed the flavor mark in Paul's opinion and her orange and white chocolate langues de chat didn't have the clean edges Mr. Hollywood demanded.
Meanwhile aspiring Le Cordon Bleu pastry school student John faltered in the petits-fours challenge.  His lemon madeleines were too big, Paul strongly disliked the textures of is white chocolate and raspberry tartlets and it was suggested that a lighter variety of chocolate would suit his chocolate and cherry macarons better.
Perfection in the technical round proved elusive for Brendan who came in third in the Frasier cake challenge. He had issues with his crème pat and his genoise sponge turned out dense. A frustrated Danny came in last with a batch of crème pat that seemed to develop "cellulite." This unfortunately led to a total collapse of her otherwise delicious cake.
Regrettably, Danny's showstopper Gateau St. Honeré sealed her fate. While the base was great and the overall bake was good, her chosen flavor combination of raspberry, lychee and rosewater let her down. This in addition to a last place technical finish and her hit and miss petits fours failed to earn her a place in the final. She said her experience in the tent had been a good one that had pushed her baking skills, but the best thing was discovering how much people in her life valued her.
As for our three finalists, they each had a slightly different take concerning their success. Understated as usual, James wasn't sure how he felt, but it appeared that things had gone rather well.  More metaphorically, Brendan was proud he'd been able to steer his ship though this strange environment to the final. And John just called his mother to inform her that her big little boy made it to the finals.
At this point our trio of talented bakers have displayed an abundance of creativity and technical prowess. Just three more challenges await Brendan, James and John. but only one can be named the winner of The Great British Baking Show. Please share your thoughts on any aspect of the season, be it your favorite baker, challenge or pun!
---
By
for on August 11th, 2018
More to Love from Telly Visions