By
for on June 29th, 2018
'The Great British Baking Show' Season 5 Episode 3 Recap: Tart Week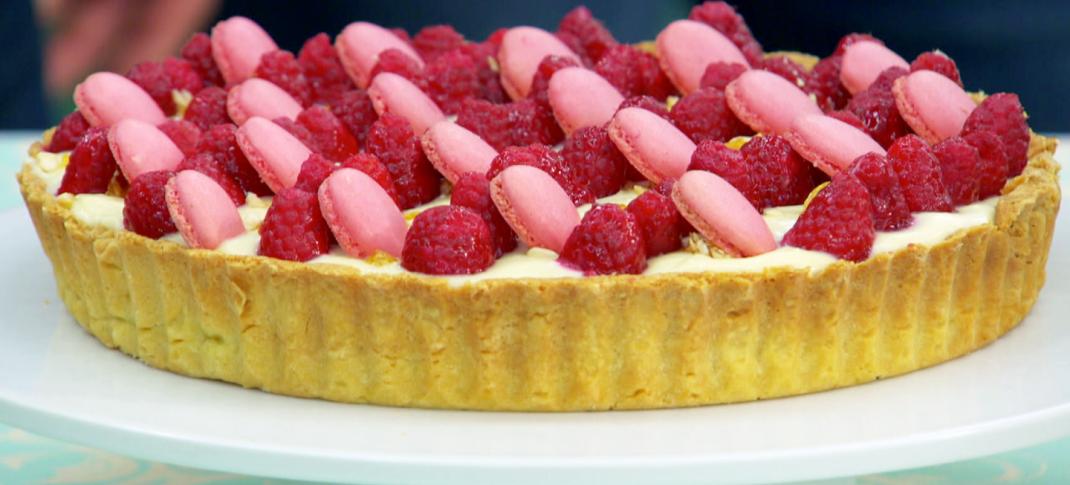 This week on The Great British Baking Show, ten bakers had a common goal - to tempt Mary Berry and Paul Hollywood (aka The Silverback) with their tarts. Who demonstrated their flair for flavors and pastry perfection? And who crumbled under the pressure? All will be revealed, but first let's refresh our memories on the results of the week just gone by.
Bread week belonged to John, whose signature flatbreads and showstopper bagels dazzled the judges with their savory and sweet flavor combinations. It was no surprise he rose to the heights of Star Baker as did his near-perfect plaited loaf in the technical round. Alas, bread was not Peter's strong suit. His bagels resembled crusty rolls, his flatbreads were salty to the point of unpalatability and he came in last in the technical plaited loaf challenge.
A new week brought a fresh start to the tent in the form of a trio of tarts.
In the signature challenge, the bakers were asked to make a French classic called a tarte tatin which traditionally features caramelized apples covered with a rough puff crust. This tricky inverted tart could be sweet or savory and contain the fruits of their choice. The contestants were given two and half hours to complete their creations.
In the technical, Mary Berry asked the bakers to concoct an exemplary treacle tart in two hours. The judges would be looking for pale golden thin pastry with interwoven strands of lattice on top. The treacle filling consisted of golden syrup, dry bread crumbs and lemon and, oddly enough, not actual treacle.
And for the final piece of the tart trinity, the contestants were required to create an ornately elaborate designer fruit tart fit for the window display of a professional patisserie.  The bakers were given free rein in their choices of pastry, filling and fruit and three hours to complete the elegant challenge.
Highlights:
Several bakers excelled in the tarte tatin signature challenge. Sarah-Jane made her family's favorite, a caramelized banana tart. Though she feared it wouldn't be fancy enough, Paul and Mary loved it saying it was simple, but very well done with no soggy bottom. Last week's Star Baker, John, was praised for the nice soft fruit, crisp pastry and fantastic flavor of his apple and vanilla tarte tatin with walnut praline. Stuart produced a pear and almond tarte tatin that featured marzipan which Paul warned could turn messy. In the end, Mr. Hollywood had to admit made his tart spectacular.
Mrs. Berry said ranking this technical challenge was difficult because the entries were all fairly close in quality. Three bakers, however, edged out the rest of the pack. James's tart had a good lattice, nice glaze on top and tasted of lemon. Danny followed with a tart that was good in spite of her uneven lattice work while Cathryn came in third. Her tart had a nice thin lattice, good glaze and color, but a bit of a soggy bottom.
The fruit tart showstopper pushed all the contestants to up their pretentious quotient and quite a few answered the call. Cathryn's rectangular raspberry, pistachio and lemon tart received kudos for its unique shape, Parisian regimented look and thin buttery crust. Sarah-Jane's French apple tart with blackberry and cassis jam featured crisp apples and a delicious almond flavored frangipane coming through which Mary enjoyed. Stuart, who admittedly had been struggling from week one, raised his game with a raspberry triple chocolate layered tart. The layers were well-defined, and the textures and flavors played off each other well. Paul found it very clever and original.
But it was James who knocked it out of the park with his technically impeccable and adventurously flavorful tarts. His full puff pastry apple and lavender tarte tatin was original, delightful and did not, as Sue Perkins suggested it might have, "gone knicker drawer" with its unique lavender component.  As mentioned above, James came in first in the technical round and then produced a showstopper fruit tart that dazzled the taste buds and eyes of the judges. Paul compared James' rose, lychee and raspberry fruit tart decorated with macarons to a Turkish delight and Mary gushed about never having had a rose tart before but loving the flavor. James' tank top, which I assume was a reference to his sweater vest, was also celebrated by Sue who announced the med student as this week's Star Baker.
Missteps:
Unfortunately, not every tart was splendid. Cathryn's effort, a plum, cherry and five spice tarte tatin (which she labeled as "a bit pants") suffered a soggy bottom due to all the fruit moisture. Manisha attempted multiple batches of caramel for her cinnamon, apple and pear tarte tatin and apparently it still turned out too pale despite advice from Mary Berry herself. Brendan's colossal apple and ginger tarte tatin which contained twelve apples needed longer in the oven and, though the flavors were good, the layers were collapsing.
Mary's treacle tart challenge did trip up a few of the bakers. Manisha's last place offering had a thick, messy lattice and a rubbery filling. In ninth place, Brendan's tart had a good lattice, but the filling was too thick and cloying. Sarah-Jane made a good-tasting tart, but she ignored the interweaving lattice instruction and so was ranked eighth out of ten. Finally, Stuart's tendency to omit ingredients happened again. This time he read the recipe wrong and had to apply golden syrup to the tart once he'd put it in the oven, earning him seventh place in the technical round.
As for showstopper gaffes, Danny's pineapple, coconut and frangipane tart had a lovely flavor, but the pastry was wet and the frangipane had a curdled texture. Though we never found out exactly what Ryan's fruit tart creation contained, during the judging we saw it had a thin but rubbery base that was evidently handled too much.
Alas it was Victoria who had the worst week of all. Her fig, walnut and pink peppercorn tarte tatin's pastry wasn't done and more troubling, Paul said it "doesn't know what it is" despite her attempt to rev up the flavors. Her fourth-place finish in the technical couldn't save her when her tropical fruit tart with black pepper crust and macadamia nut praline and lime glaze showstopper failed on multiple levels. None of the many other flavors could compete with the lime glaze, the crème pat was sour, and the color of the soggy crust was too pale. The Star Baker of cake week conceded her faults with a gracious but awkward "Guilty, M'lord."
And so nine survivors remain to bake another day. How do you feel the bakers seem to be handling the pressure? You may recall Mel Giedroyc said it would take a few more weeks for things to turn ugly. Do you have a favorite contestant yet? (I do; it's James!) Let's chat about tarts and feel free to share any double entendres you might have on the topic.
---
By
for on June 29th, 2018