By
for on June 23rd, 2018
'The Great British Baking Show' Season 5 Episode 2 Recap: Bread Week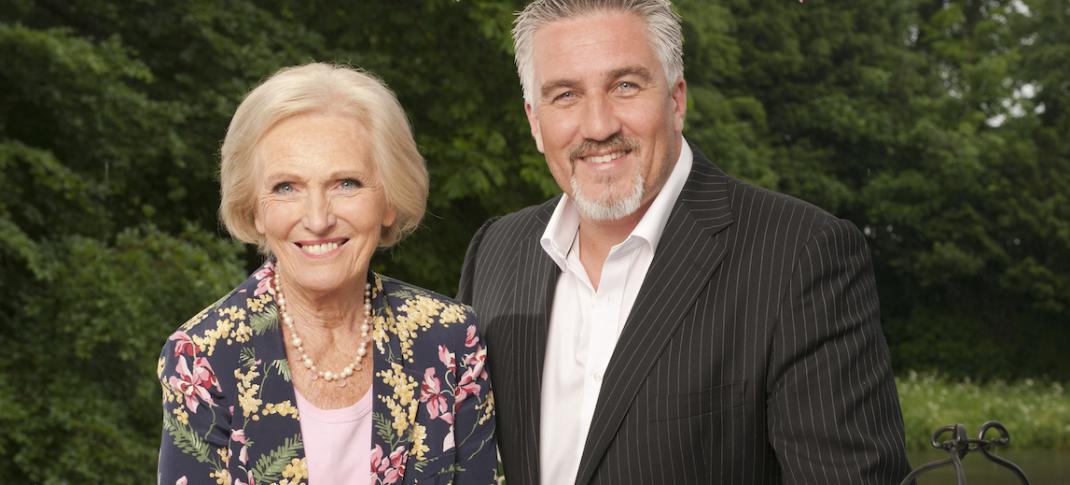 A man named Paul Hollywood once said, "Understand bread, understand baking." And in the second round of The Great British Baking Show, all the contestants were willing and "bagel" to demonstrate their bread making skills. But before we dive into to the newest trio of challenges, let's quickly review the results from the last round.
Season 5 kicked off with Cake Week. Charity CEO Victoria was named the round's Star Baker. Her signature pear and pecan upside-down cake had a professional appearance and lots of fruit flavor. No doubt it was her impressive nursery rhyme-themed blackbird cake shaped like a pie that clenched the deal for Paul and Mary. Midwife and mother Natasha, on the other hand, failed to rise to any of the challenges. Her boiled rum babas came in last in the technical round and her hidden design showstopper cake was colorful and beautifully frosted, but the sponge was raw. Upon her elimination from the competition, she intends to go back home and use her baking skills for therapy and relaxation. If you want even more detail, the entire recap can be found here.
This time the eleven remaining bakers were asked to create three varieties of bread. In the signature round, they were assigned the task of making flatbread, a staple of most cultures. To be exact they had to produce and present twelve flavored flatbreads – six with yeast and six without. Th contestants were given two and a half hours to juggle the many steps necessary to achieve flatbread perfection which is shorthand for soft, easy-to-tear breads baked quickly at a high, optimum temperature.
The bakers seemed a bit dazed when Mel and Sue revealed the technical, or as they renamed it, the "Rapunzel" challenge to make an eight-strand plaited loaf in just two hours. Paul's recipe called for a loaf with golden crispy crust, a soft crumb and with each plait even and equal in length. To assemble the plait, they were given instructions that resembled a knitting pattern and, according to Sue, had the bakers all sounding like Rainman (five over one, eight over seven, etc).
As for the showstopper, the contestants were allotted four hours to make twenty-four bagels, a dozen savory and a dozen sweet. The flavors could be mixed in or applied on top of the bagel, but they all needed to be soft and chewy with a golden-brown skin and the prerequisite hole in the middle.
*It should be noted that John, Brendan and James were the only experienced bread makers in the group. For the past two years, Brendan has been chipping away a project to bake breads of the world and has tried around ninety different recipes so far. James sees baking as very similar to medicine which requires care and chemistry. He even showed the judges his jar of eight-year-old brewer's yeast starter mix. Paul has stated in every series that those who do well in the bread round tend to have a better chance of advancing to the final round
Highlights:
The flatbread signature round was primarly about taste and the judges praised many of the bakers' flavor combinations. Cathryn's spiced mango naan and lime, coriander and chili tortillas elicited a  "get in there!"
Meanwhile, Brendan's Middle Eastern taboon bread and hot rock baked Indian roti which garnered blush-inducing praise for their great textures and unique flavors, the judges were enjoying the results of this challenge. Of Ryan's Shanghai spring onion flatbread and garlic and coriander naan Paul said "I think you've done it, really nice. "Finally Sarah-Jane's pale ale oatcakes (plus a pint for Paul) were well-received for their unique adult flavor.
In the technical, the aforementioned accomplished bread bakers came in first (John), second (James) and fourth (Brendan). Danny slipped into the third slot with a good plait throughout most of the loaf.
The bagel showstopper proved to be the most formidable challenge to perfect. Paul had initial reservations about James' sourdough bagels, fearing four hours wasn't enough time for them to rise sufficiently. This risky to rise bagel turned out to be well done and though his orange, mint and chocolate ones were slightly overbaked, Mary Berry thought the flavors came through well.
However, it was the lovely crunch of John's fig, walnut and Gruyere bagels and enticing flavors of blueberry and white chocolate bagels that most pleased the judges. That combined with a near perfect plaited loaf, his fiery coriander and chili rotis and tasty garlic, pomegranate and potato pitas clenched John's spot as this week's elated Star Baker. His dream of being a pastry chef in Paris may have just come one step closer to reality.
Missteps:
Just as superior flavor combos earned kudos from the judges in the flatbread signature round, seasoning snafus were frowned upon. Paul described Victoria's coriander and lemon naan and garlic and parsnip chapatis as bland and underseasoned. Stuart's Bombay bread and chorizo and spring onion naan were moist and well-baked, but the flavors did not come through as advertised. Worst of all was when Paul tasted either Peter's fennel and nigella seed naan or the bannock bread (it wasn't clear) and declared it "dead salty" needing less than half the amount he used.
The plaited loaf technical proved too much for a handful of bakers. Stuart, who Cathryn thought might be a secret knitter, may have been on task with the plait. Nevertheless, it turned out that his loaf was quite raw inside which put him in ninth position. Sarah-Jane was overwhelmed, confessing from the start that she couldn't even plait her daughter's hair – she came in tenth with a plait that "danced about a bit".
Peter failed on both counts with raw dough and a disastrous plait he admittedly improvised. He came in last place.
The bagel showstopper was a stumbling block for many a contestant this week. Ryan oversoaked the fruit in his cinnamon and date bagels which made the dough sticky. They turned out more like a flatbread which Paul re-named a "flagel." Sarah-Jane's bagels had no discernible holes and looked more like rolls. Victoria's saffron and golden raisin bagels and porcini bagels possessed decent flavors and texture, but were weak and flat in shape much like Stuart's cinnamon and cranberry bagels as well as his tomato and thyme variety. Paul said Brendan's chocolate and vanilla bagel twists were more like savory bread rings claiming the bitter chocolate didn't qualify as sweet.
Unfortunately, Peter had the most difficult time of all. His rosemary and sea salt bagels and apple and cinnamon bagels had more in commo with hard crusted bread rolls which earned an "oh dear, oh dear" from Mr. Hollywood. Alas the framed photo of our dynamic duo, Sue and Mel, failed to bring him luck. His last place finish in the technical and his salty, inedible flat breads bought Peter nothing but a ticket home. Gutted though smiling, he received a heartfelt hug and we can only assume he wasn't reported to the authorities for that whole "infrared night goggles near the bins" situation. 
All the bread business aside, this week featured the first really silly pun exchange of the competition. During the technical round, the incomparable Sue Perkins warned, "Paul won't feel any pitta for you." This was met with a groan and Mel Giedroyc's retort, "I'm going to tell your naan about you."
Two competitors have left the tent and next week the bakers will be tested by tarts. What did you think about the difficulty level of the challenges (flatbread, loaf and bagels)? Share your predictions about which bakers you feel have the potential to advance and those who you think will fall flat. Was Paul's tent skulking unnerving or just plain creepy? Any and all Great British Baking Show topics are open for discussion!
---
By
for on June 23rd, 2018