By
for on February 13th, 2023
'Call The Midwife' Renewed for Seasons 14 & 15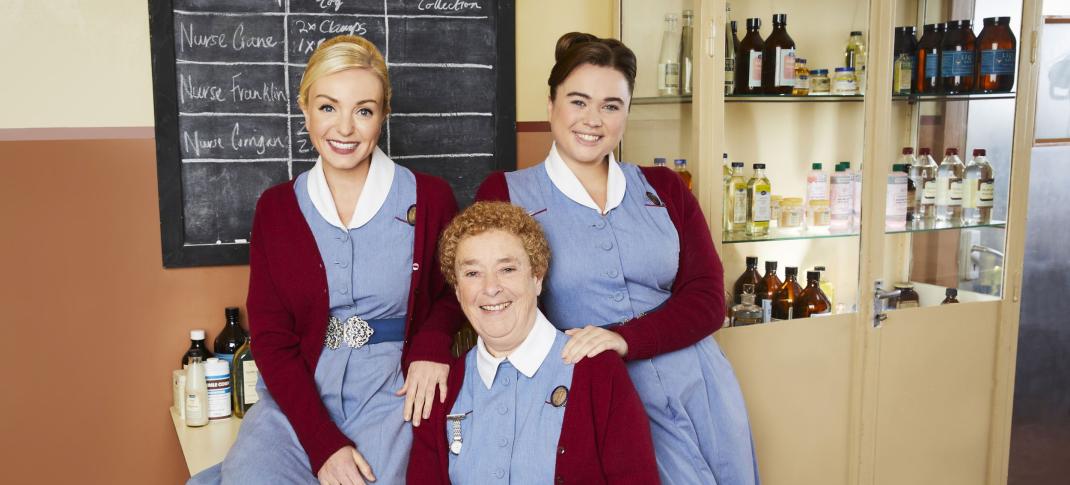 Call The Midwife's twelve seasons (and counting) is barely a drop in the bucket compared to most British soap operas and hospital dramas. Coronation Street has been going 63 years, Emmerdale for just over 50. It's not even close to the longest-running primetime medical drama either; Casualty holds that at 37 years. But for PBS, whose longest-running series (outside of Sesame Street) are all factual/documentary/reality in nature or anthologies like Masterpiece, hitting ten seasons was a significant milestone, let alone a dozen. Now, Call The Midwife is on track to become its longest-running historical drama, as the BBC has greenlit a renewal through Season 15, ensuring the program through 2026.
Call The Midwife was confirmed for Season 12 and 13 in April 2021, just as Season 11 began filming, and the series got its feet back under itself after Season 10 was delayed by shutdowns and lockdowns. Rumors had it at the time the BBC might go one more, with Season 14, taking the show through 2025 and 1969, but there was no official indication the BBC would continue it into the 1970s. With Netflix buying out the studios where Call The Midwife filmed, forcing the production to move house ahead of filming Season 12, it was unclear if the show would continue beyond its already commissioned episodes.
However, with things looking up in the U.K. for 2023, it seems the BBC had decided Call The Midwife's good cheer is too precious to go to waste. (Being one of the Top 4 Most Watched Christmas Specials in December 2022 probably didn't hurt either.) With Season 12 finishing its U.K. run ahead of the March 2023 premiere in the states, and Season 13 readying production, the BBC has confirmed Seasons 14 and 15 are officially commissioned to air in 2025 and 2026, respectively, and will almost assuredly debut on PBS directly following.
Creator Heidi Thomas said she was "overjoyed" at the renewal, which will see the drama move into the 1970s, adding the new series will continue to explore the lives of the midwives and nuns in their personal and professional lives at Nonnatus House. Thomas said in a statement: "We are a family behind the scenes, on the screen, and in front of the telly, and I'm thrilled that we're all heading into the 1970s together."
Call The Midwife Season 12 stars Jenny Agutter as Sister Julienne, Judy Parfitt as Sister Monica Joan, Helen George as Nurse Trixie, Laura Main as Nurse Shelagh, Stephen McGann as Dr. Turner, Cliff Parisi as Fred Buckle, and Vanessa Redgrave as narrator Jennifer Worth; all are expected to continue through Season 15 barring some shock exit.. 
Meanwhile, the current cast also includes Linda Bassett (Nurse Phyllis), Leonie Elliott (Nurse Lucille), Megan Cusack (Nurse Nancy), Rebecca Gethings (Sister Veronica), Georgie Glen (Millicent Higgins), Zephryn Taitte (Cyril Robinson), Olly Rix (Matthew Aylward),  Annabelle Apsion (Violet Buckle), Daniel Laurie (Reggie), and Max Macmillan (Timothy Turner). While not everyone seems to have made it to the end of Season 12 (spoilers!), though who do are expected to appear in Season 13 and hopefully beyond.
Call The Midwife Seasons 14 and 15 will kick off with Christmas specials for 2024 and 2025, followed by eight hour-long episodes. Season 13 will begin filming later this spring. Season 12's finale airs on the BBC on Sunday, February 26, 2023 and officially premieres over here less than a month later, arriving on Sunday, March 19, at 8 p.m. ET on most local PBS stations. However, PBS Passport members however, have early access and will be able to stream new episodes weekly starting Sunday, February 19. As always, check your local listings.
---
By
for on February 13th, 2023
More to Love from Telly Visions