By
for on April 3rd, 2014
Watch the First Seven Minutes of FX's 'Fargo' Starring 'Sherlock's' Martin Freeman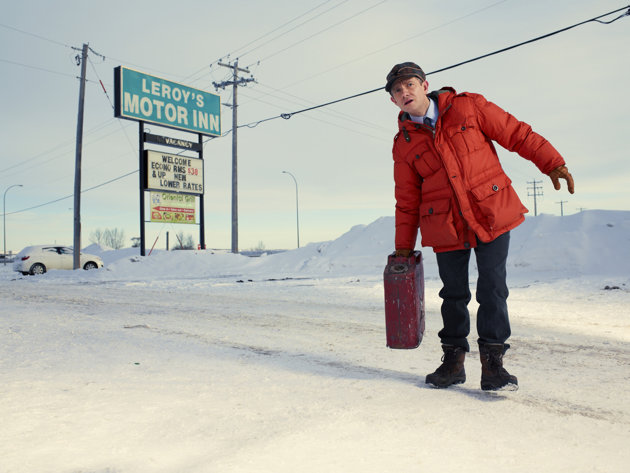 Sure, we're back in our general status quo state of waiting that is the (seemingly perpetual) Sherlock hiatus, but that doesn't mean our lives are completely devoid of stars Benedict Cumberbatch and Martin Freeman.
Cumberbatch, as well all well know, is basically everywhere these days: making a few movies, photobombing superstar rockbands, planning a return to the theater, recording radio plays, you name it. Freeman, on the other hand, has been a bit harder to find, what with his multiyear commitment to pretty much live in New Zealand and wear hobbit feet for Peter Jackson's The Hobbit trilogy
Thankfully, Freeman's about to finally get his own turn in the media spotlight with the upcoming premiere of his new drama series Fargo. Loosely based on the Academy Award-winning Coen Brothers 1990s film of the same name, the drama features the same setting, the same types of people, and, yes, the same recognizable accents, but expands the world of the film with a whole new set of characters. (Translation:  Don't wait around for Frances McDormand's Marge Gunderson to show up.) Freeman stars alongside such familliar faces as Billy Bob Thornton, Colin Hanks, Kate Walsh, Allison Tolman, Bob Odenkirk and more. From all indications, it looks to be a fascinating series!
And now, thanks to the lovely folks at Yahoo TV, you can now watch the first seven minutes of the Fargo pilot, which debuts on cable network FX on April 15. You should definitely click play just for Freeman's accent, which is about as far from Sherlock's John Watson as you could ever imagine. 
Well, that was interesting, huh?
This limited-run series will air for just ten episodes, but is being set up in such a way that it could become an anthology in the vein of popular dramas American Horror Story and True Detective. Ostensibly, if Fargo is well-received, future seasons could be commissioned that would feature new characters and storylines taking place in other parts of the town.
Will you give Fargo a try? 
---
By
for on April 3rd, 2014
More to Love from Telly Visions