By
for on March 20th, 2014
WATCH: Get Your First Look at FX's 'Fargo' Featuring 'Sherlock's' Martin Freeman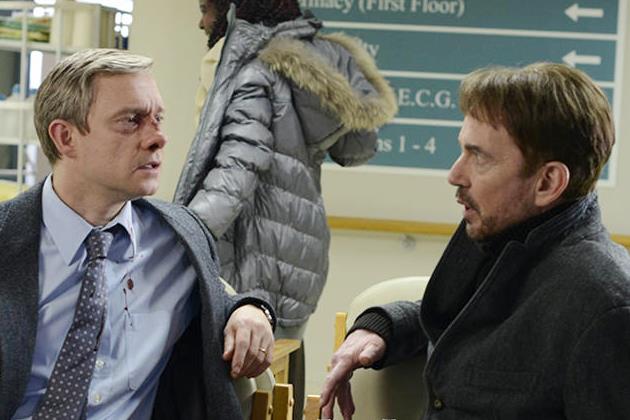 It's become something of a running joke on the internet that the biggest problem mystery series Sherlock has is the fact that its success has transformed its leads into such stars they barely have time to make the show anymore. (Given the fact that we seem to be on a fairly regular two-year-hiatus schedule, the joke isn't exactly wrong, either.)
You couldn't turn around without seeing Benedict Cumberbatch in some sort of feature film last year – with major roles in Star Trek Into Darkness, The Fifth Estate, August Osage County, 12 Years a Slave and more, he was kind of everywhere. His co-star Martin Freeman, however, has been pretty tied up playing the world's most famous hobbit in Peter Jackson's epic The Hobbit trilogy for the better part of the last three years and, subsequently, we haven't had the chance to see him as much beyond John Watson and Bilbo Baggins lately.
Well, that's about to change. 
Freeman can be seen this April as one of the lead roles in FX's upcoming ten-part limited series that re-imagines the hit 1990s Coen Brothers Oscar-winning film Fargo. He'll be playing Lester Nygaard, a struggling small town insurance agent who seems an awful lot like Jerry Lundegaard, the character that got William H. Macy an Oscar nomination for the film. Billy Bob Thornton plays Lorne Malvo, a shiftless and manipulative stranger, who sounds an awful lot like Steve Buscemi's Carl Showalter in the big-screen version. The drama also Kate Walsh and Bob Odenkirk, among others.
Curious? FX has finally released the first trailer – or at least the first trailer that's got more than these several moody teaser clips that have been put online so far. 
It actually looks really awesome. Though it may take you a while to get used to Freeman's version of a Minnesota accent. 
[This video is no longer available.]
You can also get a look at the moody teaser clip that featured Freeman below. (Don't expect too much, it's a teaser, but it's also kind of just really nice to see the actor playing something that isn't John or Bilbo, so I'm including everything for you guys.) 
[This video is no longer available.]
It's not clear how closely the plot of this Fargo will follow that of the original film, but here's hoping no one ends up in a wood chipper. Screenrant hints that, if successful, the drama could become something of an anthology series like American Horror Story or True Detective, which would then focus on a different set of characters in the town from season to season. Hmmm. 
Fargo premieres on FX beginning April 15. Thinking about checking it out? Why or why not?
---
By
for on March 20th, 2014
More to Love from Telly Visions