By
for on March 7th, 2014
Go Behind the Scenes of 'The Desolation of Smaug' and Watch Benedict Cumberbatch Be a Dragon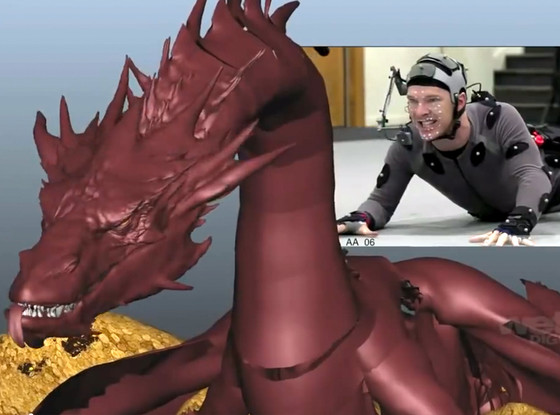 How am I only just now sharing this? I feel like a bad fan.
The second installment in director Peter Jackson's epic The Hobbit trilogy, The Desolation of Smaug, is due to hit DVD shelves everywhere in a few weeks and, subsequently, we can look forward to an influx of behind-the-scenes material and other fun goodies to help us while away the days until There and Back Again drops in December.
A new behind-the-scenes featurette has been released, focused on how Jackson, the film designers and the crew at Weta Workshop created the titular dragon Smaug, which is fascinating in and of itself, but also features what is potentially the greatest bonus footage ever.
Yes, I'm talking about Sherlock star Benedict Cumberbatch wearing a motion capture suit, rolling around on the floor and acting like a dragon, in addition to providing Smaug's very distinctive voice in the recording booth.
That is a thing that has happened and even though this glimpse of it is not nearly long enough, it still exists. 
Watch for yourselves below: 
[This video is no longer available.]
Weta Digital's David Clayton, part of the Oscar nominated team that brought Smaug to life, told The Hollywood Reporter that Cumberbatch came to Wellington to work on his dragon style in early 2012. "Using our motion-capture stage, we recorded his performances, which focused on the conversation with Bilbo sequence," he said. "Having Benedict in a mocap suit was lots of fun -- for us, and hopefully for him, too -- and seemed to help get him immersed and home in on the character."
Sadly, despite the actor's obvious enjoyment of his new life as a dragon, the majority of Cumberbatch's Smaug bodywork didn't translate directly to the screen.
"The translation of performance from Benedict to Smaug wasn't a one-to-one match like you'd get from a humanoid creature. They have very different physiologies," Clayton explained. "As animators we had to transpose the elements of Benedict's performance that were critical to the shot, such as head nuances and facial expressions. We then built up the majority of his motion with keyframe animation."
Well, fine, I guess. Cumberbatch is a terribly talented actor, but even he has his limits on truly becoming reptilian, I suppose.
Is it wrong that I'm hoping that there's actually something like a twenty minute extended featurette about this on the physical The Hobbit: The Desolation of Smaug DVDs? Clearly this fascinating process deserves the full Peter Jackson treatment, amirite?
What'd you think of the second part of The Hobbit trilogy? Are you looking forward to the third and final installment later this year?
---
By
for on March 7th, 2014