By
for on March 22nd, 2014
Listen: 'Sherlock's' Benedict Cumberbatch as Young Rumpole in Two Radio Plays for BBC Radio 4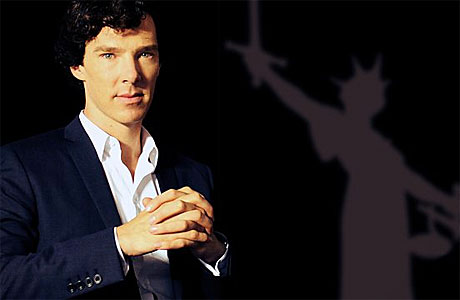 The one nice thing about the fact that Sherlock star Benedict Cumberbatch never seems to stop working ever (or sleep, possibly) is that even when we're faced with marathon delays between new seasons of the popular mystery drama, we only really ever have to go a few weeks without seeing the actor somehow involved in something or other.
This time, he's playing a lead character from another beloved literary mystery series, and, even if it is just audio-only, these dramas are still more then worth your time. Cumberbatch plays the younger version of Horace Rumpole, the barrister known generally as Rumpole of the Bailey, the star of a long-running courtroom TV series, which was followed by series of books and several radio plays.            
Cumberbatch has been serving as the voice of young Rumpole since 2009 and has recorded 7 previous adaptations to date, all of which also featured Timothy West as an older version of the character. These two new installments however, are basically all Cumberbatch all the time, so that should make a lot of fans out there very happy.
Not to worry for those who enjoyed the cross-generational framework of the earlier Rumpole recordings, however – producer Marilyn Imrie told the Radio Times that West "may well reappear" in future productions.
"We are very much hoping to have an episode in which they meet and talk to each other in some form of ether," she said. "That would be a great story."
You can listen to all the Rumpole auditory goodness for yourself on the BBC Radio 4 website. And the best news is that Radio 4 doesn't geo-lock their content, so you should be able to stream it anywhere in the world. Hurrah! (Please note that both episodes will only be available online for a very limited time, so if you're curious about Rumpole, or just want the excuse to listen to Cumberbatch's voice for forty-five minutes or so at a stretch, don't wait to get started.
Listen to Rumpole and the Old Boy Net here. In 1964, Rumpole fights a case of blackmail with the help of his new pupil Phillida Trant (voiced by Cathy Sara). Meanwhile, Rumpole is also caught in an ongoing debate with his wife Hilda about whether he should become a Q.C. in order to pay for a private education for their son. (This episode will expire several days before its partner, so get started soon if you want to listen!)
Listen to Rumple and the Sleeping Partners here. In this episode, we see Rumpole temporarily leave his wife Hilda, and discover Phillida attempting to get close to his rival Claude Erskine-Brown, before she falls for Rumpole himself. Oh, and there's also a case about a man who's accused of attempting to kill the husband of his lover. Good times, huh?
Do you regularly listen to BBC radio plays? If so, your thoughts? Personally I wish this is a medium we'd embrace here in America a bit more, as radio dramas are a particular bit of British culture I'd love to adopt. You can hear great things!
If you try out either of  these Rumpole plays, let us know what you think! 
---
By
for on March 22nd, 2014