By
for on October 27th, 2014
Watch: Benedict Cumberbatch Does His Best Beyonce For Graham Norton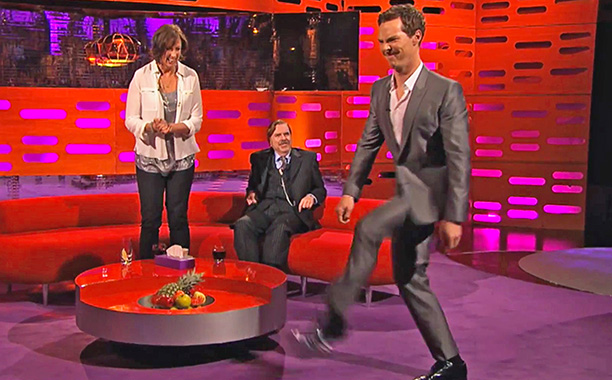 It's official: Benedict Cumberbatch can do anything. Or, even if he can't, watching him fail at something is guaranteed to be more fun than watching basically anyone else succeed.
So, if you're having a bad day – today, or tomorrow or six weeks from now – just bookmark this page, so that you can forever have this clip at your finger tips, because it is 100% guaranteed to make you smile.
The Internet's Favorite British Celebrity – was a guest on The Graham Norton Show this weekend to promote his upcoming Alan Turing biopic The Imitation Game. He shared his spot on the red couch with Call the Midwife's Miranda Hart and Harry Potter's Timothy Spall, but there's absolutely no doubt that the Sherlock star is the one who stole the show. 
Not that it really matters why, but the reason this all goes down is basically Hart's fault. (So: Thanks, Miranda!) In her segment, she shows the audience how to do a patented "pop star walk," made famous by celebrities like Beyonce, and she gets Cumberbatch to give it his best attempt.
Technically, it does not go well. Truthfully, it is the absolute best thing you will see today.  Give it a look below. 
[This video is no longer available.]
The full Graham Norton episode airs on November 1 on BBC America, and features not only more information on The Imitation Game, but a special appearance by Cumberbatch's new wax likeness from Madame Tussauds.
But, for now, just click play on that YouTube video up there for another go. 
---
By
for on October 27th, 2014
More to Love from Telly Visions