By
for on December 5th, 2014
From 'Sherlock' to Superhero: Benedict Cumberbatch is Your New 'Doctor Strange'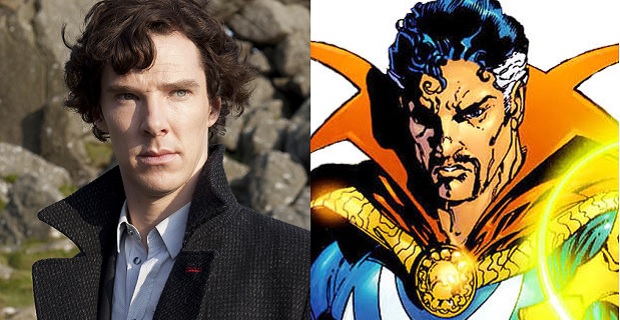 Well, at least we can say we knew him when, right? After weeks (months, maybe) of will he/won't he rumors and speculation, it's finally official Sherlock star Benedict Cumberbatch has added another crown jewel to his geek credentials by nabbing  the lead role in upcoming Marvel tentpole Doctor Strange.  
For the past year a slew of big Hollywood names have been attached to the role of Stephen Strange, including Johnny Depp, Jared Leto, Ryan Gosling, Tom Hardy, Keanu Reeves and more. In fact, Cumberbatch was mentioned as being on Marvel's short list for the part earlier this year, though that talk died out over the summer, when it seemed like Joaquin Phoenix was going to take it on. But now, Marvel has come back to Cumberbatch, and have brought the actor officially on board.
Spurred on by his success in Sherlock – and subsequent accumulation of a singularly massive internet fanbase - Cumberbatch has already been part of films In the Star Trek and Hobbit franchises over the past couple of years, and for months there seemed to be a near constant rumor going around the internet that he was about to get announced for some role in Star Wars. (Spoiler: He's not.) How many more fandoms can he cross over into? The jury, it would seem is still out on that topic.
This is not to say that this isn't a great part for him – a Marvel movie is indeed a Big Thing these days in the entertainment world, and pretty much guarantees him a multi-picture deal in his own right, not counting  appearances in the future Avengers movies. Plus, Stephen Strange the character will slot nicely into the Cumberbatch pantheon of various flavors of socially challenged, vaguely condescending tortured genius. Only this one has magic. So it's sort of Sherlock meets Severus Snape, in a way.
The story of Doctor Strange centers on a former neurosurgeon who serves as the Sorcerer Supreme — that's Marvel speak for being the primary protector of Earth against magical and mystical threats. This film will undoubtedly be the vehicle through which magic gets introduced into the Marvel Cinematic Universe and, as such, Strange is likely going to be a very key piece of the franchise strategy moving forward.
"Stephen Strange's story requires an actor capable of great depth and sincerity," said Marvel Studios president Kevin Feige. "In 2016 Benedict will show audiences what makes Doctor Strange such a unique and compelling character."
Scott Derrickson is set to direct.  Doctor Strange was originally rumored for a July 8, 2016 bow, but recently had its release date pushed back to November 4, 2016 during Marvel's big Phase Three announcement at the end of October. Guess we know why that happened now, since it seems a pretty safe guess that Strange production will probably have to shift its filming schedule about a bit to accommodate Cumberbatch's stage appearance in Hamlet next summer.
What do you think of the idea of Cumberbatch as Doctor Strange? Are you excited about the prospect of him in the Marvel universe?  
---
By
for on December 5th, 2014
More to Love from Telly Visions