By
for on October 11th, 2013
Benedict Cumberbatch Responds to Julian Assange and More in the Best 'Ask Me Anything' Q&A Ever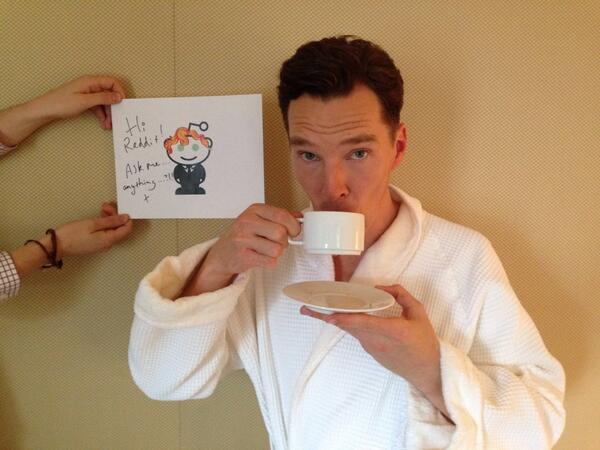 Sherlock star Benedict Cumberbatch did a Reddit AMA (otherwise known as an Ask Me Anything) on Friday afternoon, which was ostensibly meant to focus on his role as the notorious Wikileaks founder Julian Assange in upcoming drama The Fifth Estate.
After nearly two hours and thousands of questions from hundreds of eager fans, the topic had moved a bit further afield, covering the majority of Cumberbatch's many roles, his favorite reading material, Halloween costumes, love of comedy and personal awkward celebrity encounters. It was basically the greatest thing that happened on the internet this week – from both the thoughtful and the silly sides of the spectrum.
While held in a forum that might be somewhat unfamiliar to fans who are not regular visitors of the reddit website, a delightful back-and-forth with users ensued that you should probably all go read in its entirety. But, here are some highlights:
He says Sherlock co-star Martin Freeman has made him sassier.
Ghostbusters is one of his favorite comfort movies.
He shares an extremely well written description of how you can't imagine fame until it happens to you, and a description of how it's impacted his life.
If he could hang out with a Sesame Street character, he would choose Animal.
When informed that Animal is not actually a Sesame Street character, he amended said answer to Oscar the Grouch.
His most embarrassing fan encounter involves what can only be assumed to be an at least partway drunk Ted Danson at pre-Oscars bash.
When asked if he could play any character, he picked Edward St. Aubyn's tortured hero in the Patrick Melrose series.
A recap can't do justice to his answer to the question of whether he and fellow Brits Matt Smith and Tom Hiddleston have regular "cheekbone polishing parties", so if you take a look at nothing else on this list, go read that and look up the interesting fan-made art that followed.
But the best moment of the online chat by far was when Cumberbatch got the opportunity to respond to what Julian Assange has been saying in the media lately. If you don't know the story, here's what's up. With the global release of The Fifth Estate looming, Wikileaks published a letter from Assange to Cumberbatch, reportedly sent when the actor first took on the role earlier this year. It's a rather long screed, the upshot of which is that, while Assange purports to enjoy Cumberbatch's prior work, he thinks The Fifth Estate is a "wretched", biased work of fiction that's based on a book by someone "who has a vendetta against me and my organization". There's a lot more, but none of its very nice and Assange openly criticizes Cumberbatch's decision to take the role, claiming that the actor is being "used" as "a hired gun" blah blah blah it's all just so much propaganda blah. (Seriously, Julian, "TL; DR" is an internet trope you should look up.)  
Cumberbatch used a question during the Q&A as an opportunity to respond to Assange's comments, in a much more thoughtful, nuanced way than you tend to get on a site like reddit. His full comment – which might as well be described as an "open letter" to Assange in return is below: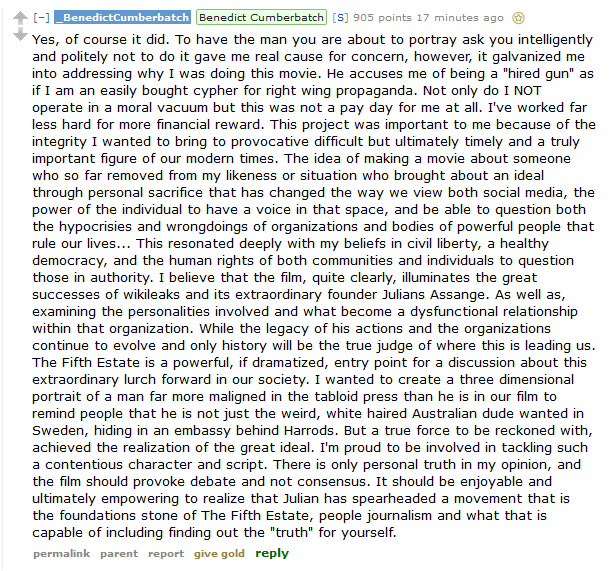 So…where do we start the petitions to have Martin Freeman, Miranda Hart, David Tennant and/or Steven Moffat do one of these things? Asking for a friend.
As for The Fifth Estate, it opens in the US on Friday, October 18. (If you're curious, my review is here. Short version. Cumberbatch is a wonder in it, but the film's by no mean's perfect. It will be interesting to discuss once more people have seen it.)
---
By
for on October 11th, 2013
More to Love from Telly Visions