By
for on October 14th, 2013
Watch: Benedict Cumberbatch Has an Alan Rickman Impersonation Competition with Jimmy Fallon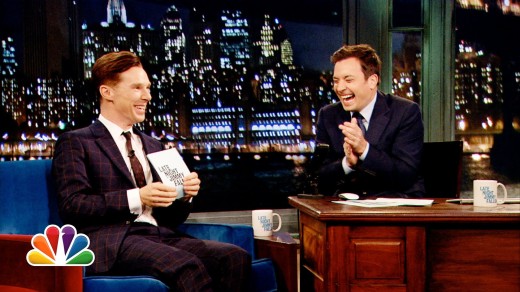 Sherlock star Benedict Cumberbatch has been seemingly everywhere the past few days, promoting the upcoming release of his new drama The Fifth Estate, where he plays the notorious Julian Assange. While many of you will probably have some conflicting opinions (as I did) about the film itself, it's hard to feel anything but giddy about all of Cumberbatch's various promotional appearances, which have run the gamut from his standard default setting of charming to unbelievably fantastic.
Apparently Fallon and Cumberbatch both do an impersonation of British star Alan Rickman. So, of course, the two had to have a competition to compare their respective Rickman versions. And what better proving ground than the world of hip hop lyrics? Obvious, as Sherlock Holmes would say.
Yes, you read that right. Hip hop lyrics. Watch below. It'll be the best thing you see all day. 
Who else had no idea that Cumberbatch reading Snoop Dogg lyrics was actually vital to their continued existence? I had no idea that this was something I needed like air that until the magic of the internet brought it to me.
Cumberbatch also appeared on British chat program The Graham Norton Show over the weekend, alongside one of his childhood idols Harrison Ford. While the full episode doesn't air in the States until it screens on BBC America October 19, you can still catch a sneak peek now. Take a look below for some Star Wars waffling, as well as general geeky behavior from both stars toward each other. 
Whatever are we going to do when Cumberbatch runs out of things to promote? Granted it seems like we're going to have quite a long time before that happens, but still. 
---
By
for on October 14th, 2013
More to Love from Telly Visions