By
for on January 20th, 2015
Before They Were Oscar Nominees: British Stars Up for Academy Awards in 2015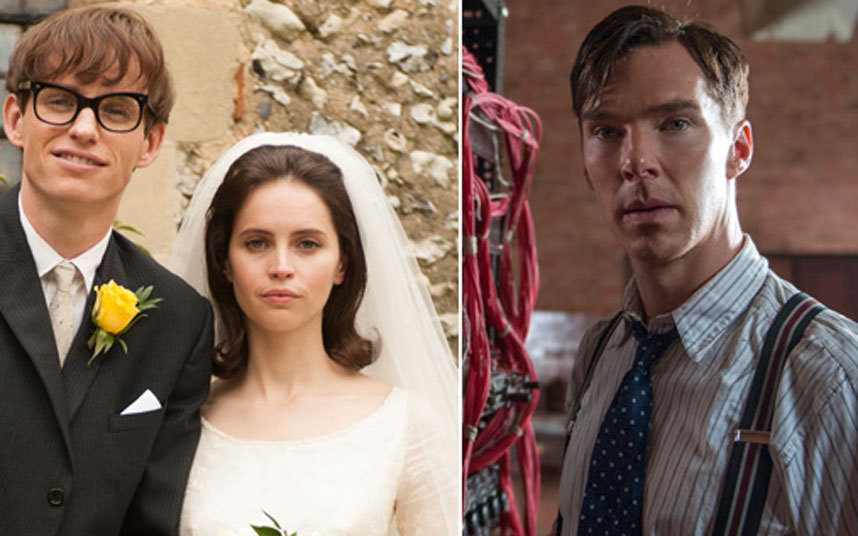 This year five talented Brits have been nominated for an Academy Award. Most of these names are quite familiar to UK film fans; however, before they were delivering inspiring performances and their names appeared on movie theater marquees, they had to pay their dues with small guest appearances in television series and made-for-TV movies.
Let's take a brief look at their careers before they were Oscar hopefuls…
Benedict Cumberbatch has been nominated for Best Actor for his portrayal of the gifted mathematician Alan Turing in The Imitation Game.
Before he stormed onto the world stage in the BBC's Sherlock five years ago now, Cumberbatch was putting his master's degree in classical acting through its paces with small guest appearances in TV series such as Silent Witness, MI-5 and Tipping the Velvet. Here, in one of his very first TV roles, a 24 year old Cumberbatch plays an aristocrat in hot water on the crime drama Heartbeat. 
Frequently cast as highly intelligent men (often with limited social skills) he has played other historical characters in his career such as Prime Minister William Pitt, botanist and colleague of Darwin (Amazing Grace), Joseph Hooker (Creation), WikiLeaks founder Julian Assange (The Fifth Estate), and artist Vincent Van Gogh (Van Gogh: Painted with Words).
Oddly enough, Cumberbatch's first critical accolades in the UK arose from his role as world renowned physicist Stephen Hawking in the TV movie Hawking. This, of course, is the same historical figure we find Eddie Redmayne portraying in the inspiring film, The Theory of Everything, for which he is also nominated for Best Actor. 
Redmayne took a different route to acting than fellow contender Cumberbatch. He attended Eton with Prince William and studied history at Cambridge University. How did a young man with a decidedly academic background become such a talented actor, you might ask? In his spare time he took acting lessons and performed with the National Youth Music Theatre.
The earliest clip I could find of Redmayne was from an Australian/UK produced feature film called Like Minds. This horror-crime movie stars Eddie in his early 20s as a boarding school student who is assigned a new and disturbing roommate. Secret societies and mind control lead to murder and a forensic psychiatrist (Toni Collette) is called in to solve the mystery. 
Commonly cast in period dramas such as Tess of the D'Urbervilles, Black Death, Pillars of the Earth and The Other Boleyn Girl, Redmayne's biggest exposure in the US up to this point was probably his turn as Marius in 2012's Les Miserables.
Nominated in the Best Actress category for her sinister role as Amy Dunne in Gone Girl, Rosamund Pike is only actor on our list who didn't portray a real person or even a British character this year.  Born to classical musicians, Pike spent the early part of her life travelling Europe with her parents. A graduate of Oxford with a degree in English, Rosamund, like Eddie Redmayne, participated in the National Youth Theatre.
Despite the title of this early clip from Wives and Daughters, the then 21-year-old Pike is not the "prettiest girl at the party." In fact, it looks as though her character had a quite unfortunate accident with a pair of shears - nothing like the beautiful English roses she usually plays.
Pike's big break came when she was offered the role of Bond girl Miranda Frost in Die Another Day. Since then, she's appeared in a mix of costume dramas like 2005's Pride and Prejudice, US action films such as Jack Reacher and smaller English films including An Education and Made in Dagenham.
Felicity Jones is a veteran actress who began her on-screen career at thirteen. Her Best Actress Oscar nod recognizes her strong yet heartbreaking performance as Jane Wilde Hawking in The Theory of Everything.
Encouraged by her family to take up acting at a young age, Jones scored the memorable role of Cackles Academy bully Ethel Hallow in the TV series The Worst Witch.
Since those days, Jones has worked steadily in TV and film only taking a break during her years studying English at Oxford University. She's played a Jane Austen heroine in Northanger Abbey, Bill Nighy's daughter in the Worricker Trilogy and even took on the world of Hollywood superheroes as Felicia Hardy in The Amazing Spider-Man 2. After the accolades that have been heaped on her performance in The Theory of Everything to date, you can be assured we'll be hearing more from Ms. Jones in the future.
Keira Knightley is the youngest Oscar contender on our list and is the only one to have been honored with an Academy Award nod in the past. In 2006, Knightley received a Best Actress nomination for her role as Elizabeth Bennet in Pride and Prejudice. This year her performance as Joan Clarke in The Imitation Game placed her in the Best Supporting Actress category.
Like Felicity Jones, Knightley has been acting for most of her life. You're sure to remember young Keira from her early 2000's appearances in movies such as Bend It Like Beckham, Love Actually and the Pirates of the Caribbean franchise.
However, she was a working actress even before those more familiar roles.  Not only did she play Sabe, Queen Amidala's decoy in Star Wars: The Phantom Menace, at just ten years old she had a guest spot on the very long running British police drama, The Bill.
So when awards night comes around on Sunday, February  22nd, who will you be rooting for? Are you torn between Eddie or Ben for Best Actor? Rosamund or Felicity for Best Actress? Does Keira have your full support? Or do you favor some of the other equally talented (yet non-British) nomineesin the running?  Whether you believe these awards are entertainment politics or not, please have your say and comment below!
---
By
for on January 20th, 2015
More to Love from Telly Visions