By
for on May 31st, 2018
'Poldark' Season 4 Comes to America This Fall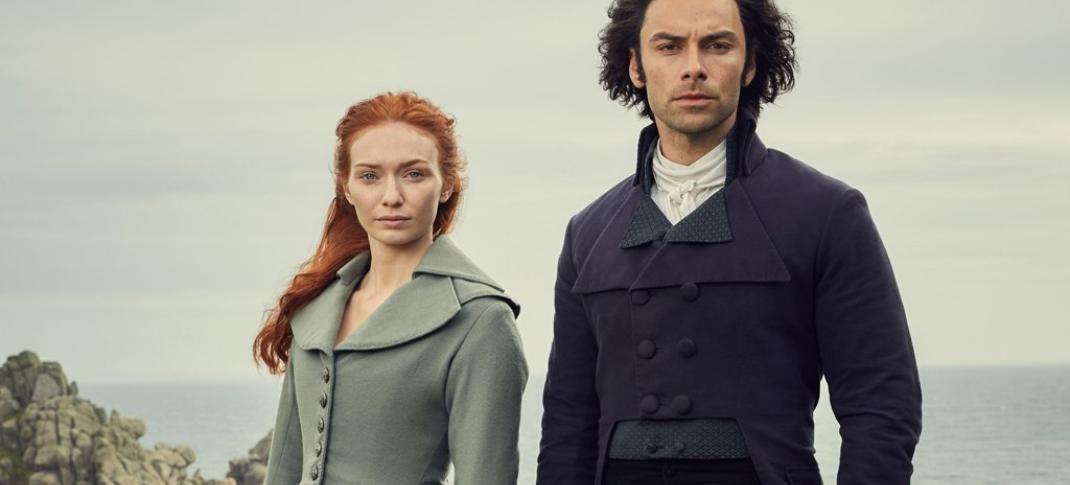 The BBC released the first trailer for Poldark Season 4, along with a brand new image of stars Aidan Turner and Eleanor Tomlinson as Ross and Demelza. Not to be outdone, PBS' Masterpiece turned right around and dropped their version of the same promo, along with a handful of additional new photos and an official U.S. airdate. 
Yeah, it's a pretty good week to be a Poldark fan. 
The fourth season of the popular period drama will air this June in the U.K, and will come to America this Fall, premiering on Masterpiece on Sunday, September 30. This lines up almost exactly with the broadcast schedule from Season 3 last year, and was pretty much what everyone expected. (Even though the prospect of having to wait an extra couple of months to see Season 4 in the States is understandably depressing.) 
This first new BBC shot certainly looks as though its from the same set that brought us our first official Season 4 photo a few months back. (Ross is wearing the same snazzy new jacket in both, at least.) Demelza is also sporting some new duds, and this ensemble certainly screams "politician's wife" a bit more loudly than her standard Nampara farmgirl gear. (And I totally love it, for the record.)
Our favourite Cornishman is back. Series 4 of #Poldark returns to @BBCOne on Sunday 10 June, 9pm. pic.twitter.com/ldcRPpO4KG

— BBC One (@BBCOne) May 30, 2018
This all makes sense, since Season 4 will follow Ross's journey into the world of politics, as he makes good on his promise to fight for the people of Cornwall.
Masterpiece also released three more new stills from the upcoming season, two of which feature Tomlinson's Demelza and one which gives the fans what they really want, which is a random shirtless photo of Turner.  (I'm not complaining, per se, but it's some seriously unexpected key art, is all I'm saying.) 
Travel back to the cliffs of Cornwall with #PoldarkPBS on September 30! And, #ICYMI we have an all-new trailer to get you ready for the new season... Watch now: https://t.co/CJNkarcC42 pic.twitter.com/2wowZPBtVU

— Masterpiece PBS (@masterpiecepbs) May 31, 2018
Watch the first trailer for Season 4 below, courtesy of the Masterpiece Twitter account. (You can also watch the BBC One version if you need a ton of Poldark in your life, but the two are virtually the same.)
"I must sell my soul and become a politician…"#PoldarkPBS, Season 4 premieres September 30 at 9/8c on MASTERPIECE on @PBS! pic.twitter.com/wZ0cKHaD7R

— Masterpiece PBS (@masterpiecepbs) May 31, 2018
The first trailer for the new season also indicates that the conflict between Ross and George isn't going anywhere any time soon, nor is Demelza's flirtation (or whatever we're calling it now) with Hugh Plus, Morwenna and Drake look sad, Caroline's wardrobe remains spectacular, and Elizabeth doesn't get any lines at all. (Sigh.) But, hey, at least the Cornish countryside looks spectacular.
Despite the fact that no one has even seen Season 4 yet, the series has already been renewed for a fifth outing in 2019. Will that be the series last? Rumor says yes, but we don't know anything for sure.
Are you counting the days until more Poldark? Let's discuss.
---
By
for on May 31st, 2018
More to Love from Telly Visions