By
for on January 11th, 2021
5 PBS Shows to Watch After You Binge 'Bridgerton'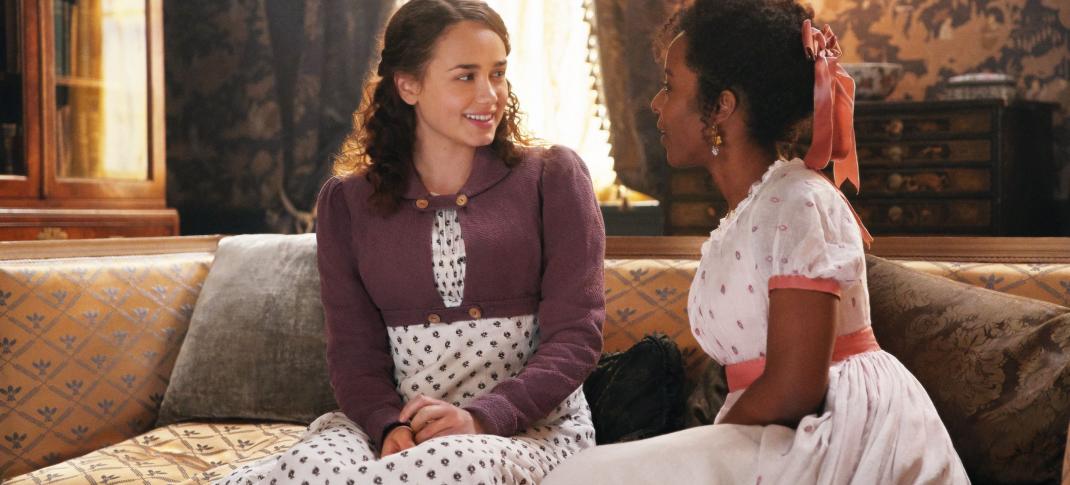 Netflix's Bridgerton is the fifth biggest series in the streamer's history, proving Regency-era romances are hot stuff. But PBS has known that for years, bringing over British period shows ever since Masterpiece first started airing fifty years ago.
Netflix, meanwhile, has... Bridgerton. And that's it. So for those looking for more windswept costumed romances in English country settings, may we suggest heading over to PBS Passport and checking out some of the selections? Here are five suggestions for those who enjoyed Bridgerton.
The Jane Austen Collection 
The most obvious choice for Bridgerton fans is, of course, is Jane Austen, with its Regency setting, pointed manners and swoony romances. Luckily for viewers, many local PBS stations (including Telly Visions' own WETA) have recently bundled some of the most significant adaptations of all time of her works as part of The Jane Austen Collection. 
The collection starts with Andrew Davies' famous 1995 Pride and Prejudice, but that's only the beginning. Three other adaptions of Austen's six major works are also included. There's the 1983 six-part adaptation of Mansfield Park, the 2007 Northanger Abbey film with Felicity Jones, and the 2008 adaptation of Sense & Sensibility.
Stream Pride and Prejudice, Mansfield Park, Northanger Abbey, and Sense & Sensibility now. 
Poldark
Before Simon Basset rolled up his shirt sleeves, Ross Poldark took off his shirt. That famous image of Aidan Turner scything in the fields told viewers everything they needed to know about the rebooted Poldark, based on the 1940s era novels by Winston Graham.
His romance with Demelza (Eleanor Tomlinson), and their affairs, are the heart of the series, with more dramatic twists than you can shake a bale of wheat at.
All five seasons of the series, covering the saga's first six books, are available to stream.
Jamestown
Downton Abbey has taken itself off to Peacock, but Carnival Films still has some other shows on PBS for fans to stream. Set in 1619, when the first English women settlers came to America, Jamestown is the Virginia colony's story, the men who attempted to make a new home here, and the women who married them.
The series stars Naomi Battrick as Jocelyn Woodbryg, Sophie Rundle as Alice Kett, and Niamh Walsh as Verity Bridges.
All three seasons are available to stream now. 
Victoria
Set only a few years after the Regency era, Victoria focuses on a different sort of romance, a Victorian one, between the Queen of England and her husband, Albert. The series stars Jenna Coleman as Her Majesty and Tom Hughes as the Prince Consort and love of her life.
The show's first three seasons cover their love story, marriage, and early years of Victoria's reign. Though it's been off the air for more than a year, reports are that Coleman is in talks to star in the fourth season that will move their story along into the couple's 30s and eventually to Albert's untimely passing.
All three seasons are available to stream now.
Sanditon
If Bridgerton took 2020 out with a Regency bang, then Sanditon was the preamble. Based on Austen's final unfinished work, the series only lasted one season, but it too attempted to create a more modern-leaning take on the Regency era.
Like Bridgerton, this world remembered that 1810s England was not an all-white world, nor one of endless ballrooms and dance cards. And yet, there's still romance and hope to be found in the love affair of Charlotte (Rose Williams) and Sidney (Theo James) in a world where marrying for financial stability isn't just relegated to women.
The entire first season is available to stream now. 
---
By
for on January 11th, 2021
More to Love from Telly Visions