Happy Third Birthday, Telly Visions!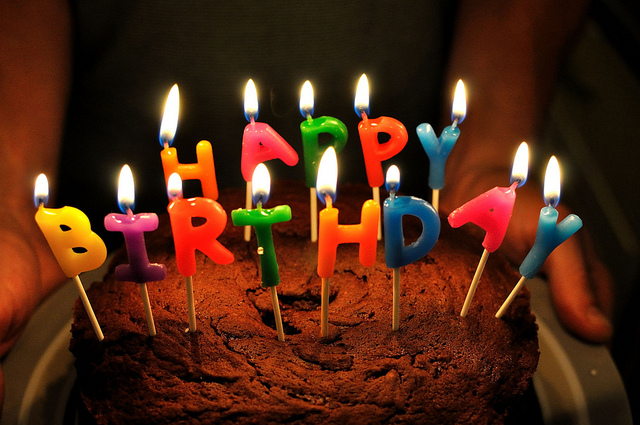 (Photo by Will Clayton on Flickr)

Today's the day! Somehow our little British blog Telly Visions officially turns three years old today! It's amazing to me that we're already celebrating the third anniversary of this blog – I can't believe that this much time has gone by since we got started dishing British television and film and all the other the other things that are pretty much essential to life for an Anglophile.
So here we are, 1,095 days and 989 blog posts later – and that's so close to 1,000 posts I can't believe it – and still going strong. And that's all down to you guys for reading and commenting and being here. Thank you being part of our blog family!
A few highlights from our third year:
Man, Y'all Love The Paradise: Our most popular posts this year were centered around lavish period drama The Paradise, whether the Victorian-era shopping series would return and if American viewers would be able to see its second season. (Answers: It was cancelled after Series 2, but US viewers can still catch the second season this month on PBS stations nationwide.)
You were also pretty excited about the premiere of new Doc Martin episodes, the prospect of a Starz-produced sequel to BBC series The White Queen, and the surprise announcement that Inspector Lewis wasn't sailing off into the sunset just yet.
We've Recapped More Things Than Ever: We love to talk about TV, and thankfully it seems that you guys do too. We not only did another round of discussion-filled recaps for the new seasons of Downton Abbey and Mr. Selfridge, we also covered Sherlock Series 3, Call the Midwife Series 3 , Last Tango in Halifax Series 2 and a retrospective look at The Paradise Series 1. By the way - If you have any thoughts at all on that Sherlock Series 3 finale? Stop by the recap post for that one. Discussion is still happening, nine months later!
I even started Doctor Who, which I do promise to get back to one day in the not too distant future, and I've promised everyone every a series on Doc Martin Season 6. It's all going to happen eventually, I promise. Your patience will be rewarded!
We Talked About More Actors: Our British Actors You Should Know series took on even more familiar faces, including faves like Miranda Hart, Michael Fassbender, James McAvoy, Maggie Smith, Catherine Tate and lots more. We have even more on the list of actors to get to in this series of posts – but if you have suggestions, let us know!
We Still Talked a Lot About Benedict Cumberbatch, Though. Let's be honest, this is still Lacy' fault. It's probably going to be a yearly thing.
Mostly, Again, As Always: Thank You. This post is really just an excuse to say a big THANK YOU to all of you, though. Thank you for being a part of our Telly Visions family here at the blog, and for reading and commenting and liking and sharing and debating with us. It's been a privilege to discuss the wonderful world of British entertainment with you lot for the past three years – and even make a few friends along the way. (By the way: If you, for some incomprehensible reason, want even more of a chance to talk to either of the folks who write here about all the things we're obsessed about – you can follow both Lacy and Carmen on Twitter.) We hope you'll stick around – we're going to work hard to make year four of Telly Visions even bigger and more fun: we're gunning for more recaps, more recommendation posts, more actor love, more everything really. We hope you'll stick around – we couldn't do any of this without you!
Do you have suggestions, comments, thoughts to share on the direction of the blog? Shows, actors or topics you'd like to see more of? Stuff you'd like to see less of? Tell us in the comments!