By
for on October 30th, 2013
British Actresses You Should Know: The Many Faces of Catherine Tate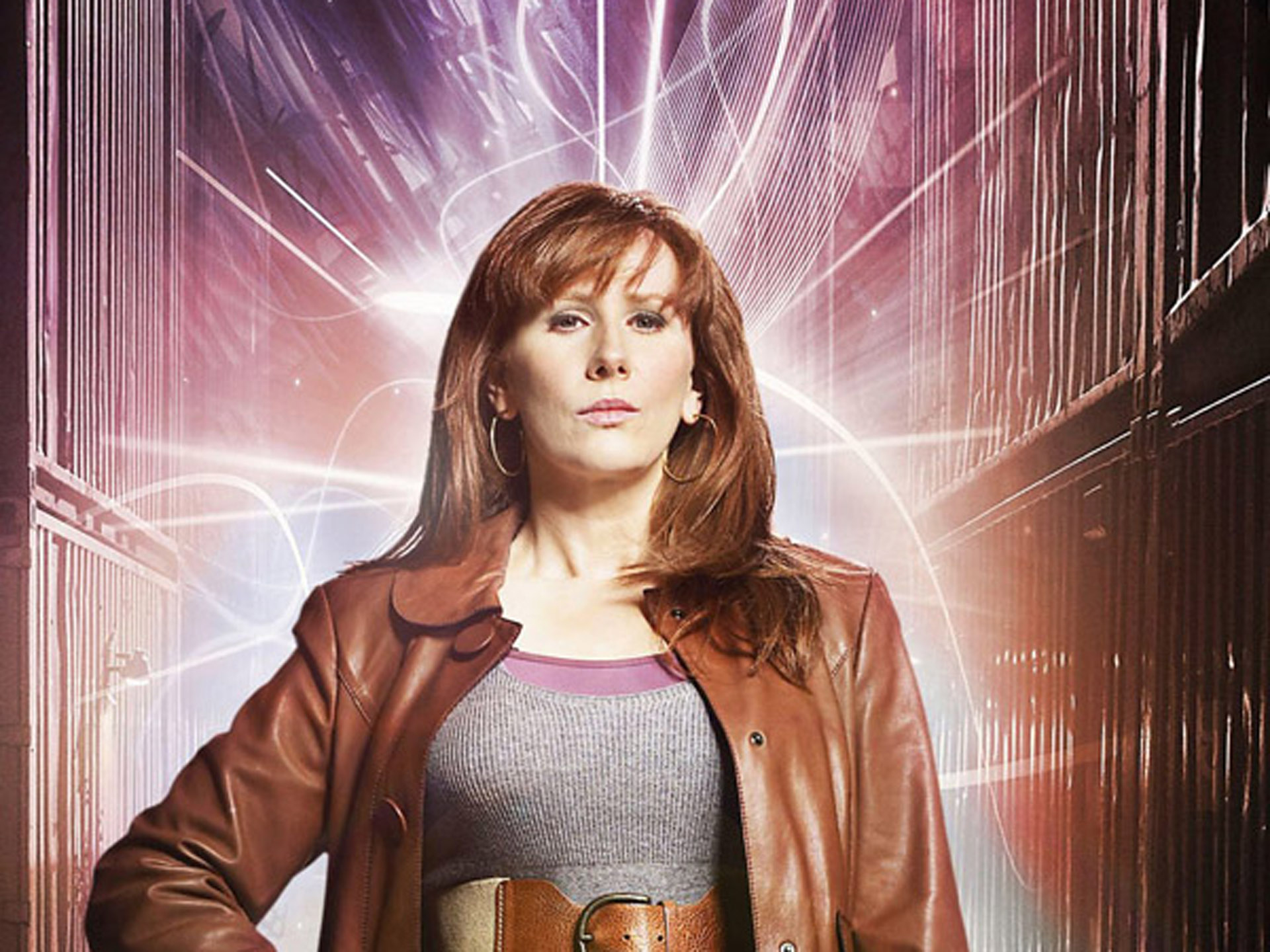 Normally when we do these British Actors You Should Know installments, Lacy or I choose a talented British performer and then introduce you, the readers, to a sampling of their TV and film work.  This time I've selected Catherine Tate as my featured actress.
Sure she's played my favorite Doctor Who companion Donna Noble, appeared as James McAvoy's mother in the delightful comedy Starter for 10 and even crossed the pond to join the cast of the American Office for their final two seasons.  But I've elected to highlight her sketch comedy work from The Catherine Tate Show. This wide range of characters display Tate's talents for memorable catchphrases, comic timing and a hilarious ability to transform into characters of any age, class or gender.  Let's meet a few, shall we?
Joannie "Nan" Taylor. Probably one of Tate's best known characters, Nan is a cranky, sweary pensioner with a cruel sense of humor.  Her patient grandson Jamie (Mathew Horne) often checks in on her which never fails to delight his grandmother. Unfortunately their visits quickly and inevitably turn to criticisms and recriminations from Nan. 
Lauren Cooper. Young Miss Cooper is a teenager with attitude.  Argumentative with adults and friends alike, Lauren is a super chav who is too cool to be "bovvered."  Truth be told she's rather a bright girl if only she'd apply herself to her studies rather than developing her quite impressive confrontational skills. 
Derek Faye - Mr. Faye is a misunderstood gentleman, indeed. Just because he lives with his mother, is a star in his local dramatic society, carries a purse and has extremely effeminate mannerisms doesn't mean he's homosexual. Though many people make assumptions about his sexual preference, he seems genuinely surprised and offended each time and vehemently denies that he is gay, always with a haughty "How very dare you!" 
The Aga Saga Woman – A mother of two well-behaved but precocious children, this middle-class lady is the definition of someone with "first world problems."  All eggs must be organic, Northerners and lower middle class folk are to be avoided and anything other than perfection is potentially fatal. 
Bernie – Incompetent and bawdy, Bernie is a nurse you'd never want to have caring for you.  She's often inappropriately flirtatious, unprofessional and on the verge of being sacked at just about every moment. The only thing worse than Bernie is her equally unruly Irish family. 
[This video is no longer available.]
Elaine Figgis – Poor Elaine is phenomenally unlucky in love. Be it a short-lived marriage to a death row inmate or a failed relationship with an Egyptian internet con man, Elaine can't seem to catch a break.  Even when she gives up on the idea of romance and decides to go straight on to motherhood, the cards are stacked against her. 
[This video is no longer available.]
Geordie Georgie – A do-gooder who pesters people to sponsor her for a succession of never-ending charities, Georgie is relentless in her approach. She presents her case, gets a reasonable donation from her co-worker Martin, and then convinces him to bump it up a bit. However, when she fails to force him any higher than his comfort level, Georgie resorts to assaulting him in some way related to her stated cause. 
Catherine Tate has populated an entire world with characters of her own invention.  I wouldn't want to live with very many of them, but for the few minutes that a sketch lasts they can, at the very least, make us chuckle. And perhaps once in a while provide us with a glimpse at our own imperfections.
Who is your favorite character?  It could be one listed here or one of the almost three dozen minor characters that she created over three seasons of The Catherine Tate Show.  Please share your thoughts in the comments below.
---
By
for on October 30th, 2013