By
for on December 28th, 2013
British Actresses You Should Know: The Great Dame Maggie Smith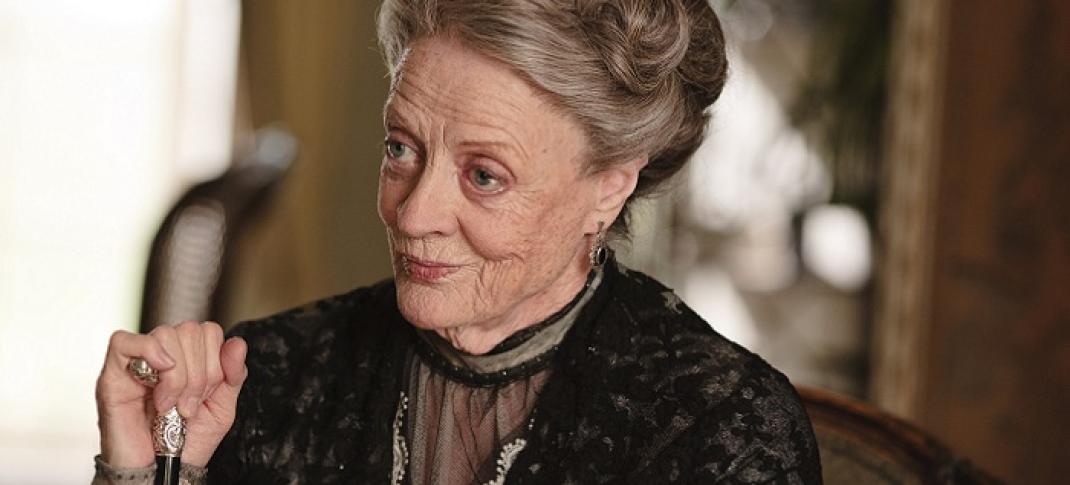 The great Dame Maggie Smith celebrates the anniversary of her birth on December 28, and since she is a treasure that deserves to be celebrated basically every day of the calendar year, it seemed fitting to include her in our guide to British Actors You Should Know. (Many happy returns, Dame Maggie! We love you!)
Obviously, we're pretty sure that you in fact do know who Maggie Smith is. She's such an accomplished performer that it would be hard to have missed her completely. But, whether you know her primarily as Downton Abbey's acid-tongue matriarch or Harry Potter's awesome Transfiguration teacher, Smith has a back catalogue of work that's well worth checking out if you haven't seen the bulk of it before.
A few favorites are below – and this list is in no way comprehensive of everything she's done, just warning y'all about that up front. 
The Best Exotic Marigold Hotel. A 2012 British comedy-drama in which Smith stars opposite Dame Judi Dench, Bill Nighy, Penelope Wilton, Tom Wilkinson and Dev Patel. It's a charming film about a group of British retirees who travel to India to take up residence in what they believe is a newly restored hotel (guess what: it's not). 
This movie is heartwarming and funny and all-around awesome. Best of all: There's a sequel!
The Divine Secrets of the Ya-Ya Sisterhood. Smith plays Caro Bennett in this adaptation of Rebecca Wells' popular 90s novel about the complicated relationships between mothers and daughters, and the power of lifelong friendships. The film is pretty much mediocre, but it's worth a look because, well, when else can you watch the Downager Countess do a Southern accent? 
Downton Abbey. All hail the Dowager Countess. As Smith's turn as the acerbic and awesome head of the Crawley clan has basically entered the pop culture lexicon at this point, there's probably no need to explain the set up of this show (and a majority of you have probably seen it). But it's always fun to revisit some of Violet's best one-liners: 
Gosford Park. A 2001 British mystery comedy-drama, Gosford Park is also written by Downton creatorJulian Fellowes (who won an Oscar for Best Original Screenplay for it). Its ensemble cast includes Smith alongside such luminaries as Dame Helen Mirren, Dame Eileen Atkins, Alan Bates andMichael Gambon, Smith also received an Oscar nomination for her performance in this film, and she and Mirren are its real standouts. 
The Harry Potter Movies. Smith played Professor Minerva McGonagall, the Head of Gryffindor House, in all eight of the Harry Potter films. She even filmed several of the Potter movies while undergoing treatment for breast cancer, which makes her involvement (and great performance) even more impressive. 
Ladies in Lavender. I've a weakness for Maggie Smith and Judi Dench in movies together, can you tell? Dench and Smith play sisters who befriend a mysterious foreigner who washes up on the beach of their 1930s Cornish village. The two of them are just wonderful opposite one another. 
The Prime of Miss Jean Brodie.  Based on the novel of the same name by Muriel Spark, this 1969 film follows the story of a teacher named Miss Jean Brodie, who gives her students her students lessons about her personal love life and travels, promoting art history, classical studies, and fascism. She mentors an elite group of students – known as the "Brodie set"- and drama ensues. 
Smith won an Oscar for her performance in this film.
Quartet. Smith stars as a retired opera diva who moves to a retirement home for former musicians and, well, behaves like a diva. The stellar cast includes Tom Courtenay, Billy Connolly, and Michael Gambon, and the film is directed by none other than Dustin Hoffman. 
Sister Act. This is a silly, silly, silly movie about a lounge singer (Whoopi Goldberg) who is put into protective custody and must hide out amidst a group of nuns, but the songs are infectious and Smith's Mother Superior is pretty awesome.  
Tea with Mussolini
. A very sweet and surprisingly moving film starring Smith, 
Judi Dench, Lily Tomlin, Joan Plowright
 and, believe it or not, 
Cher
, 
Tea with Mussolini
 tells the story of a young Italian boy brought up by a group of expatriated British ladies (known as the "Scorpioni") and the various problems they face in the years leading up to World War II. Basically, this is a bit like watching 
The Dowager Countess
Goes to Italy
 at some points, and it's pretty awesome. Smith won a BAFTA for her performance in this film. 
I know there are things missing from this list: What else would you recommend as must-see for Smith fans?
---
By
for on December 28th, 2013
More to Love from Telly Visions