By
for on May 27th, 2014
British Actors You Should Know: James McAvoy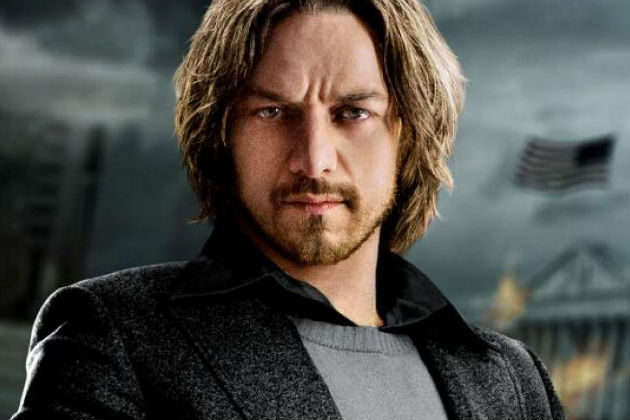 It's hard for me to believe I've been following this versatile actor for a decade now. Many may be familiar with this talented Scotsman for his high profile role as Charles Xavier in the most recent X-Men franchise.
But the very reason I so enjoy James McAvoy's work is that I never know what that boy's going to do next. For that reason I try to make a point of seeing everything he's in even though I might not think at first glance that it's my cup of tea. 
I hope you'll indulge me as I take you along on a tour of some of the highlights of McAvoy's career so far.
Like many novice actors, McAvoy started doing guest spots on episodic television such as The Bill, Band of Brothers and Foyle's War. His supporting role as freelance journalist Dan Foster in the now classic political thriller, State of Play (2003) surely got him noticed:
If you've never seen this mini-series which also features the stellar talents of John Simm, David Morrissey, Bill Nighy and Kelly Macdonald among others, you can find it on Hulu Plus or better yet buy a copy on DVD so you can watch it again and again.
Joining the cast of Shameless (2004) is significant not only in that it was McAvoy's first major role as a regular on a TV series, but he also met his wife Anne-Marie Duff on set. Medical student turned car thief, a smitten Steve McBride sees Fiona (Duff) dancing in a club with her friend, witnesses her purse being snatched and attempts to come to the rescue. 
Their relationship develops quickly from there with Steve becoming the voice of reason and the normalcy amongst the extremely dysfunctional Gallagher family.
Though the UK version of Shameless went on for eleven series, McAvoy only appeared in the first two. You can watch the series from beginning to end on Hulu or stream the first nine seasons on Netflix.
In 2005, James appeared in his first big budget film, The Chronicles of Narnia: The Lion, the Witch and the Wardrobe. He had a small but pivotal part as Mr. Tumnus, the faun who meets Lucy (Georgie Henley) the first time she comes through the wardrobe into Narnia.
[This video is no longer available.]
McAvoy perfectly captured the essence of the kind-hearted yet desperate goat-man so beloved by Lucy and generations of children (including my son). You can stream this film on Amazon Instant Video.
The Last King of Scotland (2006) is the film that made me take sit up and take notice of our Mr. McAvoy. He played Nicholas Garrigan, a newly qualified doctor on a quest to escape his father's boring GP practice and to experience the world and all its exotic pleasures.
Garrigan ends up in Uganda in 1970 just as Idi Amin (Forest Whitaker) is taking over the country. As chance would have it, Nicholas happens to be passing by just when the new president is in need of medical attention. Amin takes a shine to the Scottish medic and asks him first to be his personal physician and then to help modernize the county's health system. 
Nicholas' head is turned by the lavish parties and gifts showered upon him by his benefactor, but his dream life quickly turns into a nightmare when he realizes Amin's true nature – that of a vicious paranoid madman. 
Whitaker received the Oscar for his gripping performance as Idi Amin, but I think you'll agree McAvoy more than held his own. If you've never seen The Last King of Scotland it should not be missed, but beware, I watched the torture scene through my fingers. You can stream it on Amazon Instant Video or get it through Netflix's DVD service.
Starter for 10 (2006) is a film I recommend to people a lot. McAvoy stars as Brian Jackson, an idealistic, working class young man setting off for university. He hopes to reinvent his awkward persona through success on his school's University Challenge quiz team.
McAvoy shows his comedy chops in this film. In fact, Starter for 10 is one of the few rom-coms he's ever done. (Lacy will also want you to know that Benedict Cumberbatch steals the scenes in which he appears as the uptight quiz captain, Patrick).
You can get your hands on a copy of Starter for 10 through Netflix's DVD mail service or check your local library.
Now we're going to get artsy, tragic and, well, a bit racy with 2007's Academy Award nominee, Atonement. McAvoy plays Robbie Turner, the son of a cleaning woman, who has benefited from the generosity of the wealthy Tallis family. He and the Tallis' daughter Cecilia (Keira Knightley) have also developed a forbidden attraction that is misinterpreted by Cecilia's younger sister Briony (Saoirse Ronan). 
The young girl's jealousy and misunderstanding of adult relationships leads Briony to tell a horrible lie that will forever change the lives of Robbie and her sister. The adult Brionys (Romola Garai and Vanessa Redgrave) spend the rest of their lives attempting to atone for their lie, thus the title.
Based on the novel by Ian McEwan, Atonement can be streamed on Amazon Instant Video or ordered on Netflix DVD.
McAvoy has also dipped his toes into the world of costume drama in 2007's Becoming Jane, a dramatization of a love affair between Jane Austen (Anne Hathaway) and Tom Lefroy, an Irish apprentice barrister.
As in many of Austen's novels, the couple is quite antagonistic at first…but as time goes on and Jane's parents attempt to negotiate a marriage with rich, sweet, but dull Mr. Wisley (Laurence Fox), Jane rebels and refuses to marry without love. She has found in Mr. Lefroy a better intellectual match and he reciprocates her feelings. Talk about acting without words…
The couple meets roadblock after roadblock and eventually resorts to an attempted elopement. I won't tell you how it ends, but it's an unfortunate fact of history that Jane Austen died, for lack of a better word, a spinster. Anyway, if you'd like to see Mr. McAvoy in dancing in breeches and velvet coats, you can find Becoming Jane on Amazon Instant Video and Netflix DVD.
McAvoy went on to make two other historically based films, The Last Station about the last days of Leo Tolstoy and The Conspirator in which he played the attorney who defended the only female conspirator in the case of the assassination of Abraham Lincoln. He also took on his first real action role in the screen adaptation of the Wanted graphic novels.
And as an example of the range of his appeal to audiences of distinctly different ages, I give you McAvoy's voice over work as the title character in the 2011 animated holiday film Arthur Christmas available on Netflix DVD:
And a completely contradictory role- that of DS Bruce Robertson, a corrupt cop with a racist attitudes and a major drug addiction, from his latest upcoming film, the indie drama Filth, from the creators of Trainspotting: 
[This video is no longer available.]
Filth is scheduled to be out in US theaters on May 30. I assume the release will be limited to large cities and art house cinemas.
If you only know McAvoy as Professor X, I hope you'll give some of his other work a chance. If you're already a fan, tell us about your favorite McAvoy role in the comments below.
---
By
for on May 27th, 2014