By
for on July 21st, 2023
Ncuti Gatwa Brings the Ken-ergy in 'Barbie' and 'Doctor Who' Crossovers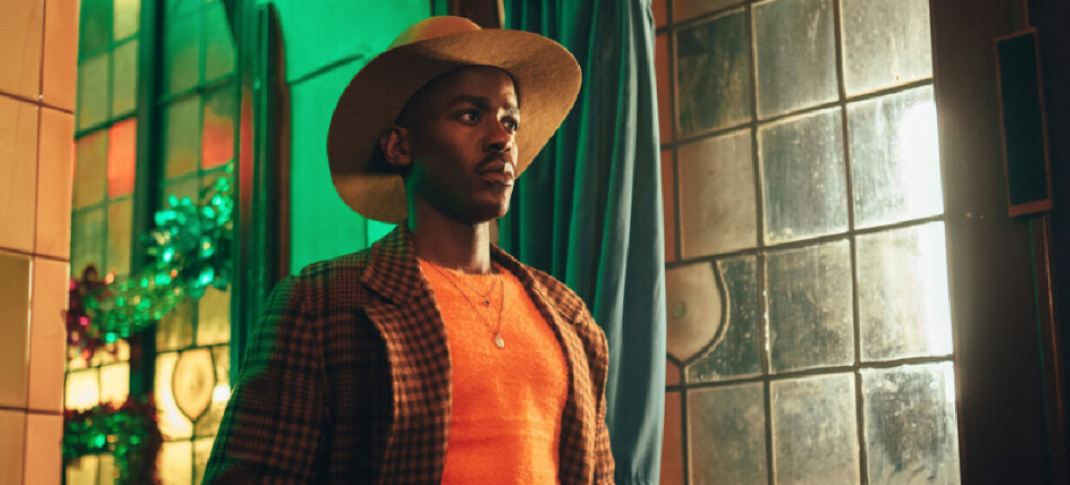 The "Barbinheimer" phenomenon may seem like a promotional crossover for the ages, but Doctor Who fans know that the most significant crossover in the galaxy is Barbie and Doctor Who (Doctor Barbie? Barbie Who?), spurred by Fifteenth Doctor Ncuti Gatwa's role in Greta Gerwig's summer blockbuster. The crossover hit a fever pitch on July 12 when a pink TARDIS appeared in front of London's Tower Bridge. No, this wasn't a remake of "The Happiness Patrol." It was a social media stunt coordinated by Warner Bros (the studio behind Barbie) and the BBC.
The pink TARDIS is a perfect match for the incoming Doctor. Gatwa, who stars as a version of Ken in Barbie, and graced the Internet with his Ken-ergy in the lead-up to the movie's UK premiere. Although it's usually Barbie glamorously balancing multiple careers, Gatwa has no problem shouldering the roles of Ken, the Doctor, and fashion icon all at once.
In an interview with Rolling Stone UK on July 10, he shared his take on the character of the Doctor. Gatwa and his family fled genocide in Rwanda as a child, and he relates his experience to the Doctor's. "This person survived a genocide," Gatwa said in the interview. "This person fits in everywhere and nowhere. I am the Doctor. The Doctor is me. I decided that I had to get this role."
He gave insight into his costume choices, which have been one of the most exciting parts of the Season 14 promotion.
The day Russell invited me to meet everybody, they asked me what sort of costume I wanted. I showed them this Ralph Lauren collection that was in partnership with Historically Black Colleges in America. I love those pieces, they're so preppy and so Black. But then they asked what else, because they'd been thinking about lots of outfits, almost a different one each week. Which is new! I love it. The Doctor has travelled all of time and space; they're going to have a sick wardrobe.
He also discussed his stage career, his religious upbringing, and his rise to stardom in Sex Education. In addition, he revealed that he does plan to stick around for at least two seasons of Doctor Who. The article was accompanied by a photoshoot showing the impressive range of Gatwa's style, plus an exclusive new photo of Gatwa as the Doctor sporting a cowboy hat.
And don't even get us started on his Barbie red carpet look. For those who haven't yet made it to the theater to see Gatwa on the big screen, his take on Ken can be seen in the exclusive "Just Ken" video released ahead of the movie's premiere.
It was already well-known that Gatwa would bring his style to the Doctor, and now there's one more costume to add to his closet. This costume, previously only seen in sneaky set photos taken by fans watching on-site filming, is now on display for all to see in a flashy new promotional image. The Fourteenth Doctor (David Tennant), Donna Noble (Catherine Tate), and Ruby Sunday (Millie Gibson) also received the promo poster treatment with matching photos. The Fourteenth Doctor's sonic screwdriver was also revealed, combining elements from sonics past.
Gatwa isn't the only one talking up Doctor Who. Showrunner Russell T. Davies has continued his side job as Doctor Who's unofficial number-one hype man. Davies hinted at a new guest star in Season 14 (Gatwa's first season) in the August issue of Doctor Who Magazine:
There's a great set in the very last block of the 2024 series. It only appears for one scene. But a crucial scene! With a really lovely guest star, unseen by the public, unannounced in the press, cos the scene takes place secretly within the studio, so you've got a nice surprise to come… And then! Look! It's me! Wandering onto the set. Coming to have a little shufti. (But really to meet the guest star, cos, y'know, famous, okay?)
Fan speculation about a potential guest star has been running rampant for months, as an unidentifiable actor was spotted being snuck onto the set. Some have theorized that this will be Freema Agyeman, who played companion Martha Jones in Seasons 3 and 4. But Davies' excitement seems to signal a star of epic proportions. With the names he's pulled so far, among them Neil Patrick Harris, Jinkx Monsoon, Jonathan Groff, and Lenny Rush, no heights of stardom are too high for Davies' reach.
With all the news of the future of Doctor Who, the show remains firmly grounded in its past. The latest season of Classic Who to be released on Blu-Ray has been revealed will be Season 20, featuring the Fifth Doctor (Peter Davison), Nyssa (Sarah Sutton), Tegan (Janet Fielding), and Turlough (Mark Strickson). The Blu-Ray announcement came with a trailer in the form of a "minisode" called "The Passenger," written by "Kerblam!" and "Praxeus" screenwriter Pete McTighe. Similar minisodes have accompanied previous Blu-Ray announcements, and they seem to increase in production quality (and canonicity, however tenuous) with each new Blu-Ray.
In this minisode, Tegan reunites with Nyssa, but the reunion proves to be too good to be true. Nyssa was one of the companions missing from the companion support group in "The Power of the Doctor" (presumably because she was last seen running a hospital on a space station at the center of the known universe). Could this signal a return for Nyssa like what we've seen from Tegan, Ace (Sophie Aldred), and the upcoming appearance of Mel (Bonnie Langford)?
The future is fast approaching, with Doctor Who to return to screens in November for its 60th anniversary, with Gatwa's Season 14 to follow. Until then, expect to be teased with plenty more delightful morsels of news and photos from Davies and company.
---
By
for on July 21st, 2023
More to Love from Telly Visions