By
for on July 22nd, 2014
Get Your First (Two) Look(s) at Benedict Cumberbatch and Keira Knightley in 'The Imitation Game'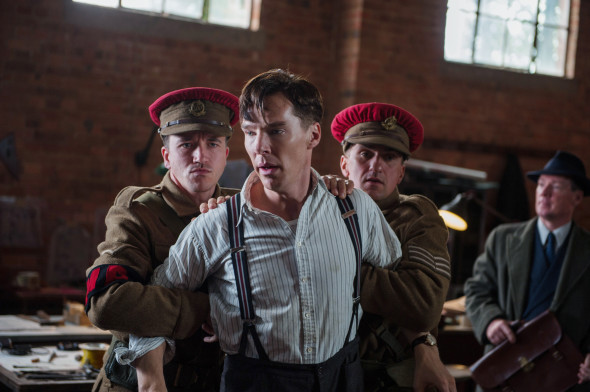 World War II biopic The Imitation Game – which tells the story of British codebreaker, genius and general hero Alan Turing - has been a buzzy project for months now, so it shouldn't surprise anyone that the release of the film's first trailer has been met with rapturous reviews.
Sherlock star Benedict Cumberbatch – well known for his ability to portray complicated genius types like Stephen Hawking, Vincent Van Gogh and Julian Assange – plays Turing, joined by an all-star cast comprised of British acting heavyweights, including the Oscar-nominated Keira Knightley, Game of Thrones' Charles Dance, Downton Abbey's Allen Leech, Mark Strong, Rory Kinnear, Matthew Goode, Matthew Beard and more. 
Per the official synopsis: The Imitation Game is a nail-biting race against time following Alan Turing (pioneer of modern-day computing and credited with cracking the German Enigma code) and his brilliant team at Britain's top-secret code-breaking centre, Bletchley Park, during the darkest days of World War II. Turing, whose contributions and genius significantly shortened the war, saving thousands of lives, was the eventual victim of an unenlightened British establishment, but his work and legacy live on.
(For those of you who don't know, despite his heroic efforts on behalf of his nation, Turing was prosecuted by the government for his homosexuality, underwent chemical castration as punishment rather than face prision time, lost his government security clearance and was banned from entering the United States. He eventually committed suicide, at the age of 41. It's a tragic, horrible story.)
And you can now finally get your first look at a film whose name you're probably going to be hearing a lot come awards season – in two different ways!
Since the story of Turing's life is perhaps a bit less familiar to US audiences, there are actually TWO versions of The Imitation Game's trailer, and the one aimed at American fans contains a few different scenes than its UK counterpart.
The clip released specifically to run in the UK focuses much more on the tortured contradictions of Turing the man: 
Meanwhile, the American version of the teaser focuses a bit more on Turing's relationship with friend and fellow codebreaker Joan Clarke (Knightley), and provides more detailed backstory about the assembly of the Bletchley Park team charged with cracking the Enigma Code: 
[This video is no longer available.]
(Personal opinion: The UK trailer is aces and if you're only going to watch one of these, pick that one. Just you know, prepare for emotions and feelings and things. )
The film is slated to open the London Film Festival on October 8, and will release to American cinemas on November 21.  
---
By
for on July 22nd, 2014
More to Love from Telly Visions