By
for on August 12th, 2013
British Actors You Should Know: Benedict Cumberbatch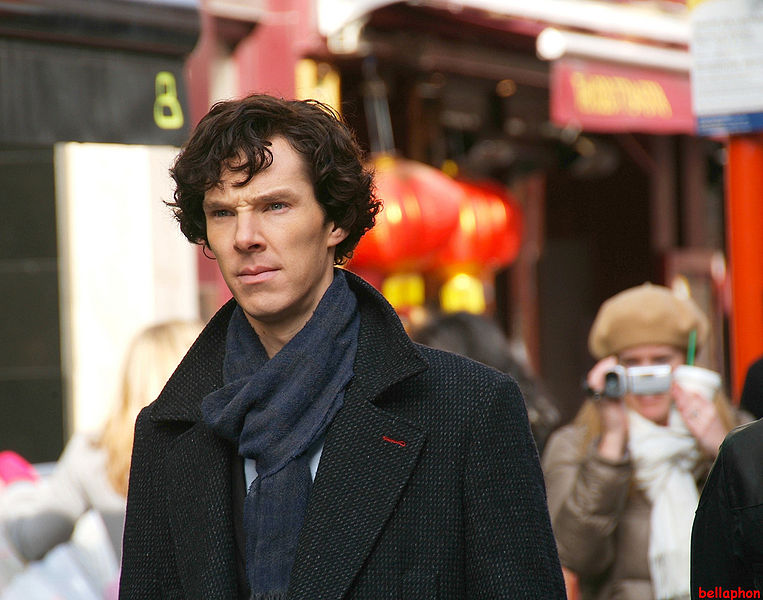 Really, you all knew this one was coming, right
?
This particular British Actor You Should Know is probably someone you've at least heard of at some point in the past year – Benedict Cumberbatch has won many (well-deserved) accolades for his performance on Sherlock, but after playing That Bad Guy Whose Name We Won't Mention in Star Trek Into Darkness, suddenly the entire world seems to fancy that British guy with the great cheekbones and amazing voice. It's okay. We do too. (Yours truly especially. Obviously.)
However, it seems worth mentioning that Cumberbatch's career encompasses a lot more than Sherlock and Star Trek – this versatile actor has done a little bit of everything, and done it all awesomely. You should watch all of it. Here's a look at why.
(Note: These are in alphabetical order because picking favorites is hard. Enjoy.) 
Atonement. Adapted from the Ian McEwan novel of the same name, the film tells the story of a star-crossed relationship, a great lie, and lives forever changed. (It's hard to get super specific without spoiling it for you.) James McAvoy, Keira Knightley and Romola Garai star. Cumberbatch plays a visiting family friend who turns out to be a rather disgusting person who commits a terrible crime. Disturbing role in a rather depressing film, but worth seeing.
Cabin Pressure. This is the one item in this list that isn't actually a television series or film – but it's so fantastic that you should check it out even though there aren't really visuals to go with it. Cabin Pressure is a radio play series that airs semi-regularly on BBC Radio 4 which chronicles the misadventures of the slightly oddball crew of the single airplane owned by MJN Air. Cumberbatch stars as hapless pilot Martin Crieff alongside Roger Allam, Stephanie Cole and John Finnemore. If you've never listened – this series is hysterical and will definitely make you smile, even if you think radio drama isn't your thing. (All four series are available for download on Audiogo.) 
[This video is no longer available.]
To the Ends of the Earth. Based on a trilogy of novels by William Golding, To the Ends of the Earth tells the story of a perilous nineteenth century ocean voyage from England to Australia. Cumberbatch stars as young aristocrat Edmund Talbot, alongside such recognizable faces as Sam Neill, Jared Harris, Joanna Page, Charles Dance and more. This miniseries is quite fun and fairly adorable, despite an occasionally ridiculous (really all these horrible things happened on this ship?) plot. 
Fortysomething. This 2003 ensemble television series is one of your few chances to see Cumberbatch act in an actual comedy (plus, the show is just very well done). Fortysomething follows the adventures of the Slippery family – including a father in a mid-life crisis (who may or may not be able to hear other people's thoughts), a mother changing careers, a marriage going through a rough patch and three teenage sons who are all sex-obsessed. In short, it's hilarious. Hugh Laurie, Anna Chancellor, Peter Capaldi (among others) also star. 
Hawking  Hawking tells the story of renowned cosmologist and physicist Stephen Hawking and his early years as a PhD student at Cambridge. The story follows the creation of Hawking's doctoral thesis, in which he mathematically disproves the prevalent theory of time – and the entire thing is worth watching just for the powerful scene in which Hawking experiences his "Eureka!" moment and ends up explaining his idea by drawing with chalk, because it is just such a fabulous moment. 
The Last Enemy. Set in a futuristic London that's beset by terrorism and battling illegal immigration, Cumberbatch plays a reclusive mathematician who returns to England for his brother's funeral. Only it turns out that his brother and his brother's wife may not have been exactly what they seemed. Throw in a Big Brother-style database, a couple of political cover-ups and you have The Last Enemy, which attempts to deal with moral and social issues in a world following the 7/7 terror attacks, but sort of gets lost in its own plot a bit. (But Cumberbatch is, as always, fabulous.) 
Miss Marple. For those of you who may not be familiar with the beloved Miss Marple mystery series, you may have missed out on Cumberbatch's guest appearance in the episode Murder is Easy. He plays town do-gooder Luke Fitzwilliam, who becomes best friends with Miss Marple, helps her solve a series of murders, and flirts with an American.
[This video is no longer available.]
Parade's End. A swoony and romantic adaptation of the Ford Madox Ford novel of the same name, Parade's End is a five-part series that follows the story of English aristocrat Christopher Tietjens and his wife Sylvia from the last years of the Edwardian era through the end of the first World War. Sumptuous costumes and smoldering glances abound and everyone is various shades of unhappy or tortured. Rebecca Hall and Adelaide Clemens also star and if you're into period dramas at all, you'll like this.
Sherlock. If you've ever heard Cumberbatch's name before you've probably seen Sherlock, but just in case you haven't, get the to a DVD counter or Netflix immediately. A modern day retelling of Sir Arthur Conan Doyle's Sherlock Holmes stories, Cumberbatch stars as Sherlock alongside Martin Freeman as Holmes's BFF and generally awesome sidekick John Watson. There are only 6 episodes so far and the series does its best – much, much more so than US Holmes series Elementary – to stay true to the spirit (if not the exact letter, but they're close) of the Conan Doyle canon. 
Small Island. This two-part adaptation of the Andrea Levy novel of the same name focuses on the diaspora of Jamaican immigrants during and after World War II. Cumberbatch, who was nominated for a BAFTA Award for Best Supporting Actor in 2009 for this role, plays Bernard, a young man who impulsively joins the RAF. Luther's Ruth Wilson and Skyfall's Naomie Harris also star, and the entire cast is pretty excellent. 
[This video is no longer available.]
Star Trek Into Darkness. The sequel to the popular 2009 Star Trek reboot, Star Trek Into Darkness continues the voyages of the famous starship Enterprise in this alternate universe. Cumberbatch plays the film's Big Bad - villainous terrorist John Harrison, whose real name is something that all Trek fans will recognize. The plot of Into Darkness is kind of messy if you think about it too hard, but Cumberbatch's villain steals every scene he is in and there are some nice performances from Chris Pine and Zachary Quinto as the legendary Kirk and Spock. 
Starter for 10. Finally! Another comedy! Starter for 10 is a coming-of-age tale that stars James McAvoy as a university student who is obsessed with the quiz show University Challenge. Soon after arriving at school, he joins the campus quiz team and hijinks, romantic entanglements, and some predictable twentysomething soul-searching ensue. Cumberbatch plays the quiz team's completely ridiculous captain and you will never, ever believe this is the same guy that plays Sherlock. There may even be a slap fight. 
Stuart: A Life Backwards. One of the most depressing films you'll ever see, Cumberbatch stars alongside Tom Hardy in this true story of Stuart Shorter, a young man who, somewhat disabled from birth, became mentally unstable, violent, alcoholic and ended up living homeless on the streets of Cambridge. Cumberbatch plays a charity worker who becomes Stuart's biographer and the two develop an unlikely friendship as they delve into the young man's traumatic past. This film features some wonderful performances and a handful of surprisingly humorous scenes, but pack a lot of tissues. Seriously. A lot. 
Third Star. James, a young man terminally ill with cancer, sets out on a last hiking trip with his three best friends, Davy, Bill and Miles. Their destination is James's favorite beach at Barafundle Bay, where they learn some life lessons, are generally awesome, and will make you cry. A lot. This is a little film with a great cast and a tremendous amount of heart and it's really just beautiful. Cumberbatch's performance as James is the standout among a really fantastic ensemble. 
Tinker Tailor Soldier Spy. A theatrical adaptation of the John LeCarre novel of the same name, this film tells the story of a hunt for a Soviet spy within the highest levels of the British intelligence service. (Really, that's about all you can explain about this plot without giving things away, so go with it.) Gary Oldman, Colin Firth, Tom Hardy, Ciarian Hinds and more also star, and this is one of the few times you can watch Cumberbatch play something other than the villain/rapist or the guy that dies. (Spoiler: His Peter Guillam is awesome.)
[This video is no longer available.]
Van Gogh Painted with Words. This drama documentary tells the story of renowned painted Vincent Van Gogh, and every word spoken by the actors is sourced from letters that the artist sent to his younger brother and those around him. It's a unique way to tell this story, and Cumberbatch's performance as Van Gogh is (as expected) wonderful, because he certainly has a handle on portraying tortured genius types. 
War Horse. Director Steven Spielberg's adaptation of the children's novel (and award-winning stage play) of the same name, War Horse is about what happens after a boy's beloved horse is sold to the army and thrust in the middle of World War I. The film follows Joey the horse's journey back to his boy (Albert), through the British cavalry, German soldiers and even No Man's Land.  Emily Watson, Jeremy Irvine, David Thewlis, Tom Hiddleston and more also star. Bring tissues. Just saying. 
Wreckers. Married couple Dawn and David move to an idyllic country cottage and start renovating it. Their lives seem pretty perfect until the arrival of David's brother Nick and then things get weird. It's atmospheric character piece about relationships – and the lies we are willing to live with in relationships. An occasionally slow-moving film about familial and emotional relationships with a quite bittersweet ending, this movie is going to be way too dull for some. But the acting is phenomenal from all involved. 
See? Cumberbatch's acting resume is pretty impressive for a guy who didn't have a real hit until two years ago. And, with many more films in the pipeline for him (The Fifth Estate, August: Osage County and 12 Years a Slave to name just a few) the next time someone does a post like this, it's going to be frighteningly robust. 
What about you all? Do you have a favorite Cumberbatch role? Something on this list you haven't seen before? Tell us in the comments! 
---
By
for on August 12th, 2013
More to Love from Telly Visions