By
for on October 1st, 2023
Everything British Worth Streaming in October 2023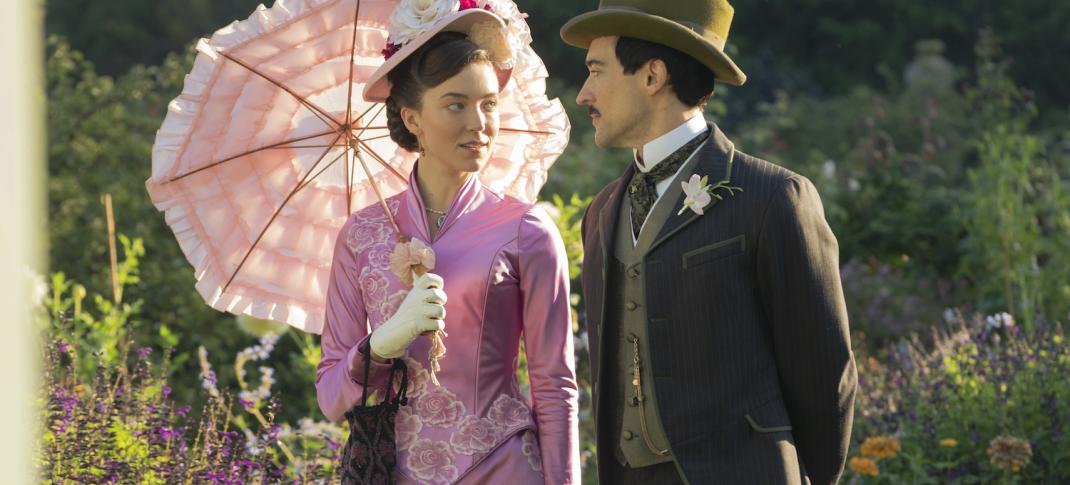 The Writers Guild of America's strike is about to lift, and the TV season for spring 2024 is about to begin. But in the here and now, October yawns before us, with turning leaves, pumpkins on doorsteps, and horror in theaters and on TV. Award season is also prepping for the SAG-AFTRA strike at the end of autumn and will bring British films to theaters. However, October on TV is more U.S. than U.K. If you look at the lists of 31 Days of Horror, 30 Days of Spooky Season, and 29 Days of Shuddering Shows, it's all American fare. 
The bulk of British debuts this month are actually on PBS, which has always marched to the beat of a different drummer. However, the days when public television had exclusive domain over U.K. imports are long gone. While some of the usual suspects are sitting this month out (looking at you, Sundance Now and AMC+!) or too busy stringing up pumpkins to worry about alternate fair (hi Hulu and Amazon!),  there are still, plenty of British shows and movies arriving on streaming to keep Anglophiles occupied. And several of them are mysteries and murders to chill the blood just nicely, thank you very much.
So settle in with a nice cuppa, and let's run down what British fare is worth streaming for October 2023.
Harry Wild Season 2
Most of the AMC streaming services debuts are American-made horror. However, there is one British mystery on Acorn TV, Harry Wild Season 2, starring Jane Seymour as the titular sleuth, with unlikely assistant Fergus Reid (Rohan Nedd) and son, Charlie (Kevin Ryan). The series is down to six episodes from Season 1's eight, with the first two debuting Monday, October 9, 2023, with one a week to follow through the first week of November.
The Pigeon Tunnel
Apple TV+ only has one TV series debuting in October, and it's an American one. However, in movies, the streaming service will debut The Pigeon Tunnel, a documentary on author John Le Carré (The Spy Who Came In From The Cold) from pioneering documentarian Errol Morris, fresh off its premiere at the 50th Telluride Film Festival. The film arrives on Friday, October 20, 2023.
The Sixth Commandment
BritBox has two major debuts for October, the first being the BBC critical darling The Sixth Commandment, Sarah Phelps' four-part drama based on the real-life Maids Morton murders starring Timothy Spall as Peter Farquhar, Anne Reid as Ann Moore-Martin and Éanna Hardwicke as murderer Ben Fields. All four episodes debut on BritBox on Wednesday, October 4, 2023
Payback 
The latest from Jed Mercurio's HTM Television and created by Debbie O'Malley, Payback is a six-part crime thriller tells the story of a woman, Lexie Noble (Morven Christie) who becomes entangled in a police investigation into a dangerous crime lord (Peter Mullan) while being used as a pawn by DC Jibran Khan (Prasanna Puwanarajah) and DCI Adam Guthrie (Derek Riddell). All six episodes arrive Thursday, October 19, 2023.
Everyone Else Burns Season 1
Most people don't pay attention to broadcast anymore, but after nearly two decades, Warner Brothers and Paramount decided to sell their shared network, The CW, to Nexstar Media Group in 2022, which is now struggling to program it. The resulting hodgepodge of programming apparently randomly includes the Channel 4 black comedy Everyone Else Burns for reasons no one can explain. The six-episode series debuts on the CW and its titular streamer on Thursday, October 26, 2023, with one episode a week to follow.
Our Flag Means Death Season 2
After a year and a half of zero movement on any of HBO Max's under (and un)marketed British shows after Warner Brothers Discovery's takeover in April 2022, two series arrive with second seasons, starting with the unsung, beautifully joyful Our Flag Means Death, the queer pirate romantic comedy that could power AO3 with the sheer power of its fanfic potential. This is probably it's last hurrah, so please watch. Three episodes of eight debut on Thursday, October 5, 2023, with two episodes a week to follow.
The Gilded Age Season 2
The Gilded Age, Julian Fellowes' not-quite British, not-exactly American, not-really-a follow-up prequel to Downton Abbey, finally emerges nearly three years after its ten-years delayed first season. Season 2 will be bigger (51 speaking roles), bolder (Carrie Coon's outfits!), and more bountiful, with a promised trip to the London season to find husbands for our rich heiresses. Season 2 is eight episodes, one less than the first, debuting on HBO and Max on Sunday, October 29, 2023, with one a week to follow.
Beckham
I continue to blame Ted Lasso for the never-ending soccer documentaries that litter the streaming service landscape, though, honestly, Beckham was probably inevitable in any case. The four-part docuseries purports to tell the inside story of David Beckham from his humble working-class beginnings in east London to the battle to find balance between ambition, love, and family. All episodes arrive Wednesday, October 4, 2023.
Everything Now
An eating disorder dramedy that Netflix apparently totally forgot to market, Tom Jones' Sophie Wilde stars in Everything Now (originally titled The F--kit Bucket) as 16-year-old Mia, who, fresh out of in-patient treatment, devises a bucket list of quintessential teen experiences to make up for lost time. The eight-episode series debuts as a binge (no pun intended) on Thursday, October 5, 2023.
Fair Play
The Sundance darling Netflix scooped up back in January 2023 as an awards-bait hopeful, Fair Play stars Bridgerton's Phoebe Dynevor and Solo's Alden Ehrenreich. An unexpected promotion at a cutthroat hedge fund pushes their secret romance to the brink, threatening to unravel far more than their recent engagement. The film opened in select theaters on Friday, September 29, and will stream on Friday, October 6, 2023.
Bodies
An intriguing-sounding science-fiction police procedural that Netflix forgot to market, Bodies takes place in four timelines, with four detectives (Jacob Fortune-Lloyd, Amaka Okafor, Kyle Soller, Shira Haas) but one victim. All the synopsis will say is that "In order to save the future, they'll need to solve the murder that altered the course of history first." All eight episodes arrive on Thursday, October 19, 2023.
Vjeran Tomic: The Spider-Man of Paris
From the UK documentary lineup, this addition, Vjeran Tomic: The Spider-Man of Paris, focuses on Vjeran Tomic, the burglar behind the 2010 robbery of the Paris Museum of Modern Art. Known as "The Spider-Man of Paris" for the way he would repel up buildings, the documentary is a first-person interview, where he tells how he pulled off the biggest art heist in French history. The film debuts on Friday, October 20, 2023.
---
By
for on October 1st, 2023
More to Love from Telly Visions