By
for on July 1st, 2023
Everything British Worth Streaming in July 2023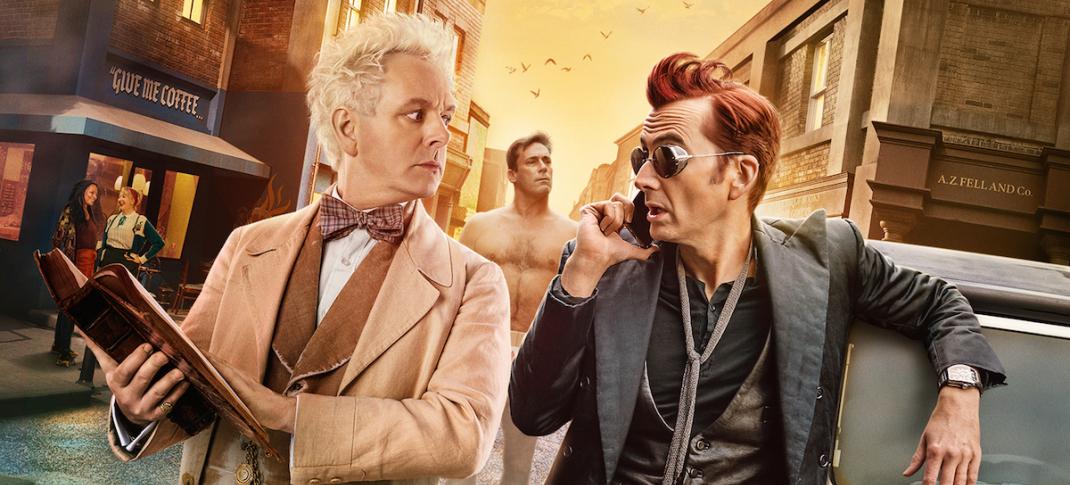 The beginning of July means a Fourth of July holiday weekend for most Americans, as barbeques fire up, fireworks light the sky, and families head to the beach. Once upon a time, this was the sleepy season for TV, as viewers left their TV sets behind on vacations. But tablets, phones, cars with backseat screens, and all sorts of technological advances make that a passe way to go play. Nowadays, TV is always with you, on-demand at any time, and production studios follow suit.
PBS' usual "Summer of Mysteries" is already in full swing, with Endeavour giving way to Grantchester on public television this month and more new mystery series debuting. However, those are not the only British shows heading to the U.S. this month. Netflix has everything from documentaries to reality cooking fare, while MGM+ finally starts rolling out some of the British programming it promised. Acorn TV brings back one of its oldest favorites, and BritBox is all over the summertime mysteries, bringing old BBC America favorites on board for the first time, as well as a few new titles as well. All that and Prime Video and TNT bringing miracles to our screens mean it's a busy month.
Here's everything British coming to streaming that's worth your time for July 2023.
Acorn TV/AMC+/Sundance Now
London Kills Season 4
London Kills was one of Acorn TV's first originals but disappeared after Season 2 due to the  AMC Networks merger. Seasons 3 and 4 were finally greenlit in 2022, and Season 3 soon followed. Now Hugo Speer as DI David Bradford is back for Season 4, with the DI spinning out of control. All episodes debut on Acorn TV on Monday, July 10, 2023.
The Heiress and the Heist
Sundance Now debuts The Heiress and the Heist. (The 'Eiress and The 'Eist?), a true crime documentary covering the 1974 Russborough House heist and Rose Dugdale, the former high society debutante-turned-IRA bombmaker who pulled off the wildest art heist in history. All episodes arrive Thursday, July 27, 2023, on Sundance Now and AMC+.
Domina Season 2
One of the holdovers from when MGM+ was Epix, Domina is a Roman period drama covering Augustus Caeser's reign from the point of view of his wife, Livia, who murdered everyone in her path in her rise to power. Season 2 focuses on Augustus' plans for succession. The first two episodes premiere Sunday, July 9, 2023, with one a week to follow.
Good Omens Season 2
Heaven's above, it's Good Omens Season 2. Its creation took more than seven days, and I'm a poll of current gods probably wouldn't approve, but we mortals can enjoy the further adventures of fussy angel Aziraphale, loose-living demon Crowley and their unwanted guest Gabriel. All episodes premiere on Prime Video on Friday, July 28, 2023.
Silent Witness Season 26
BritBox is calling July "mystery month," debuting oldies-but-goodies like Luther and The Rivals of Sherlock Holmes. The new arrivals are Silent Witness Season 26 and the real-life In the Footsteps of Killers Season 2 hosted by Silent Witness star Emilia Fox. The latter arrives Thursday, July 13, with the former following on Tuesday, July 18, 2023.
Alan Carr's Adventures with Agatha Christie
The famously chatty Alan Carr is a self-professed Agatha Christie fanboy, goes searching for the quintessentially British places that inspired her in Alan Carr's Adventures with Agatha Christie. The travelog goes from the quaint villages of Miss Marple to the Art Deco elegance of Poirot. The documentary arrives Tuesday, July 25, 2023.
Miracle Workers: End Times
Like The Lazarus Project, Miracle Workers' fourth season, End Times, was supposed to debut in February but was delayed to summer. Daniel Radcliffe returns with Karan Soni, Steve Buscemi, Geraldine Viswanathan, and Jon Bass, now characters lost in a postnuclear apocalyptic world. The series debuts weekly on TNT/TBS starting Sunday, July 10, 2023, and all episodes stream on Max upon completion of the season.
WHAM!
Netflix's hotly anticipated documentary WHAM!, covers the late George Michael's rise to fame as one-half of Wham! with Andrew Ridgeley promises archival interviews and footage reliving the arc of the twosome's Wham! career, from 1970s-era best buds to 1980s pop icons. The film debuts Wednesday, July 5, 2023.
Five Star Chef
A new British food competition, Five Star Chef, brings seven professional chefs to compete again each other's fine-dining concept in the historic Palm Court restaurant at London's luxurious Langham Hotel. All episodes arrive Friday, July 14, 2023.
The Great British Baking Show: The Professionals Season 7
It took Netflix long enough to realize that getting the rights to stream The Great British Baking Show spinoffs like Junior Bakeoff and The Professionals was license to print eyeballs. Season 7 of the high-end version of the competition arrives with all episodes on Wednesday, July 26, 2023, the same day the finale airs on Channel 4.
---
By
for on July 1st, 2023
More to Love from Telly Visions