By
for on September 29th, 2023
'Fair Play' Strives but Fails to Say Something Important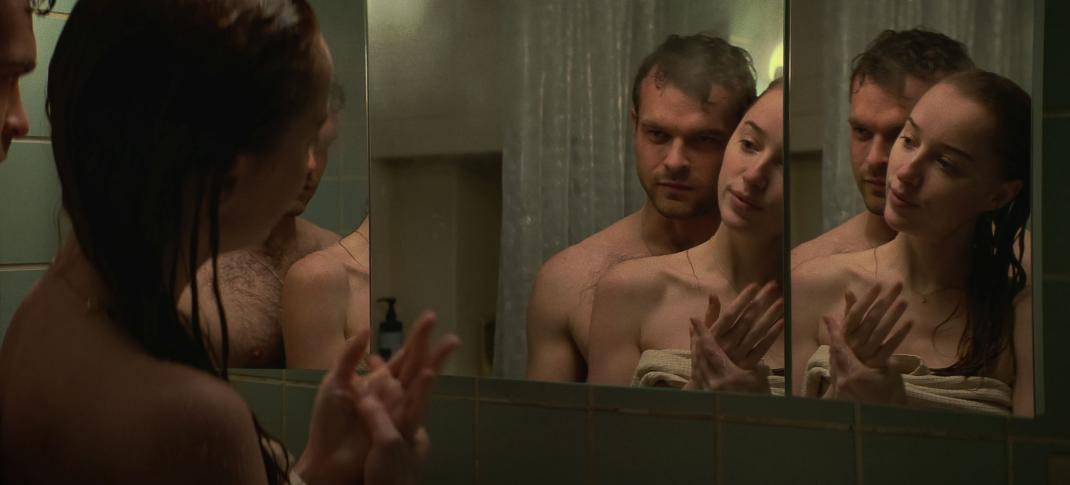 The relationship thriller Fair Play originally debuted at the 2023 Sundance Film Festival, where it was gleefully scooped up by Netflix as one of its next big "gets" for awards season. The film desperately wants to have deep and meaningful conversations about gender roles, expectations, and the concept of the "men left behind" who are "…experiencing the loss of [traditional male] stereotypes, but they can't process the loss emotionally." Although stylish with lofty aims, this film doesn't quite reach the heights of its obvious ambitions nor open the door to the discussions that writer/director Chloe Domont is trying to provoke.
Emily (Phoebe Dynevor) is a young, ambitious analyst on Wall Street, secretly dating her coworker Luke (Alden Ehrenreich). Her character is introduced while she's smoking alone at a wedding reception. (There's already something off about this – shouldn't she be vaping? Young people smoking real cigarettes is so twenty years ago.) The relationship between Emily and Luke is established before we see them at work together, and they seem to have a sweet, loving, and lustful partnership. They get engaged privately after sneaking off to have sex. Emily wears her ring proudly overnight in their shared apartment but takes it off before heading to the office.
Dating coworkers is against policy at their firm, where they're both mid-level. Emily and Luke pretend so hard they aren't together. They even take separate commuting routes and make public small talk to establish independent personal lives. When their boss has a violent meltdown after being fired, Emily hears a rumor Luke will be promoted to that position. They later celebrate with sex, and Luke says they can finally go public about their relationship once they're both promoted.
But Luke's promotion is not to be: Emily has been chosen instead. The big boss, Campbell (Eddie Marsan), has noticed her. Emily is terrified to tell Luke she got the position instead of him, but he is happy and proud of her once she tells him, at least for now. Their relationship shifts once she is his boss. She expects more of him and gives him urgent projects with competing priorities. She's also somewhat condescending. This is not exclusive to her character – all the managers at her level are essentially self-serving jackasses – but it is more noticeable because she's the only woman.
Their sex life is non-existent after Emily's promotion. Emily tries to engage him sexually, but Luke repeatedly deflects. He starts listening to a motivational speaker, and there's a direct link from this to the dramatic downturn when Luke stops speaking to Emily with respect and begins gaslighting her and cutting her down. This, plus a devastating work failure, leads to escalating tensions and the predictable unraveling of their relationship.
There's an interesting scene where Emily goes out drinking at a strip club with her upper-level colleagues. She attempts to shift their perceptions of her and gain their respect by out-drinking, out-spending, and generally out-manning them all. When she stumbles home visibly drunk, she gets into it with Luke, who asks if she feels powerful. Instead of being one of the boys, he tells her, "You look like the hooker they paid to keep them company." This knee-jerk reliance on misogyny is a hallmark of many stifled men's lexicons, and its use at various points in the film showcases Domont's larger thesis about lost men. Emily having to act like a man to get ahead in a male-dominated field would also have been interesting to unravel, but the film barely touches on it.
We watch Luke lose his mind as he's unable to cope with Emily's success and his own stagnation. There's a notion in this somewhat problematic New Yorker article which also came up in Domont's press interview: that men are "beset by bewildering changes that they cannot adapt to." This is what Domont set out to illustrate: that men, especially white men, in the modern age are lost and often violently confused about their changing societal roles. The volatile backdrop of the high-stakes financial world is a seemingly perfect marriage of setting and tone.
And yet, somehow, the film doesn't achieve its aims despite a great cast, tight writing, slick sound, and a confident director's hand. Exploring the personal ramifications of professional power is where Domont doesn't go far enough – the inevitable sexual assault scene notwithstanding. This is a thriller, after all; the blood we were promised just doesn't deliver. There's a sense of something missing: a gut punch. Even for its tense final scene, the resolution happens too quickly and without enough satisfaction. It seemed the perfect time to go all in – to boil the bunny, as it were.  Instead, the character's triumph feels hollow.
Domont said she wrote this starting from a place of anger at personal relationships in which men were threatened by her ambition and success. In the writing process, she came to understand Luke's point of view and see the central relationship as a tragedy, bringing her closure and growth. While the movie is certainly entertaining, it misses the mark on its intended introspection and doesn't advance the conversation.
Fair Play is being released in select theaters beginning September 29th and will be available streaming on Netflix starting October 6, 2023. 
If you or someone you know has been sexually assaulted, you can call the National Sexual Assault Telephone Hotline at 800-656-HOPE (4673) or visit online.rainn.org.
---
By
for on September 29th, 2023
More to Love from Telly Visions