By
for on September 1st, 2023
Everything British Worth Streaming in September 2023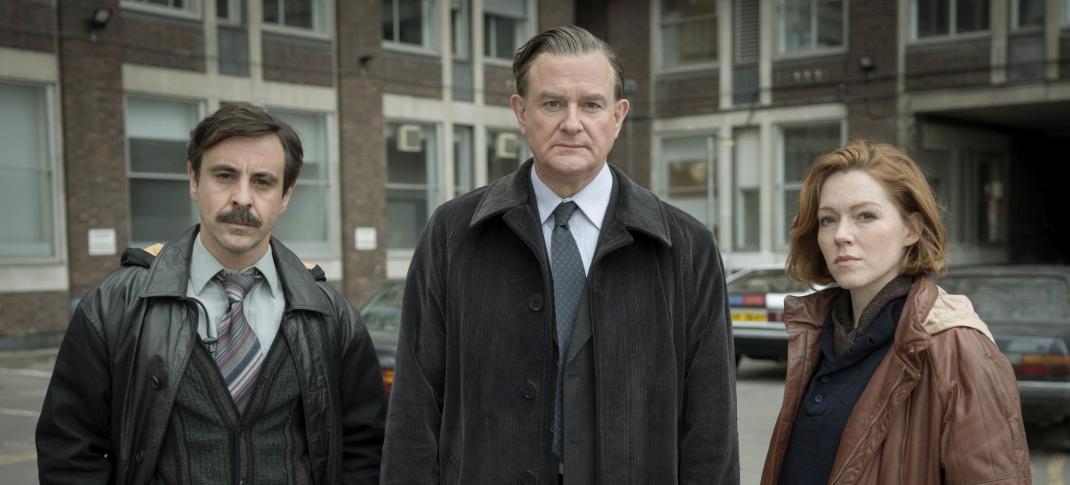 Welcome back to autumn and the traditional kick-off to the television season. Don't let people tell you that streaming has won that war and made the television season a year-round event; our lists say otherwise. For the first time since May 2023, nearly every major streaming service is represented with at least one new arrival across the pond, from Acorn TV and AMC+ to Paramount+ and Showtime. Between ten different services, we've got a good dozen and a half titles in the September lineup coming to U.S. streaming this month.
Even those who don't have new arrivals (Starz, Peacock) have ongoing concerns fans care about, with Men in Kilts Season 2 airing once a week through September on Starz and Peacock's ongoing coverage of British sport. And, of course, don't forget to check out our PBS Passport streaming list, which has become so crowded that it now gets its own standalone post. 
This month's offerings also run the gamut of genres, with reality TV favorites returning for new seasons, high-profile films hoping for Oscar gold, nature documentaries, fantasy, drama, comedy, true crime, and a few unexpected surprises. Whatever you're looking for in British entertainment, there's at least one title on this list for everybody. So let's run down the best of British TV coming to American shores and where to find it.
Acorn TV/AMC+/Sundance Now
Mrs. Sidhu Investigates
Meera Syal must've gotten tired of watching her husband Sanjeev Bhaskar making it big in America by playing a detective with a backpack on PBS because she's doing him one better, playing a detective with a food truck on Acorn TV. Mrs. Sidhu Investigates will stream weekly, running four installments starting Monday, September 18, 2023.
The Vanishing Triangle
Sundance Now's big debut for September after The Pact Season 2 is The Vanishing Triangle, an Irish crime drama starring India Mullin (Normal People) and Allan Leech (Downton Abbey). The two team up to track down a killer, with a two-episode premiere on Thursday, September 28, and then one a week. All six episodes also debut on AMC+.
The Wheel of Time Season 2
Technically more British-ish than British, The Wheel of Time is far better than the more British-ish Lord of the Rings: The Rings of Power, and a far better adaptation of the books than most thought possible. Plus, it stars Rosamund Pike, so that's close enough. Season 2 debuts on Friday, September 1, 2023, and runs through October.
FC Barcelona: A New Era
I continue to blame Ted Lasso for all these multi-part docuseries about soccer teams that emphasize teamwork, togetherness, and sport. FC Barcelona: A New Era at least has the benefit of being Spanish, and all episodes arrive at once on Wednesday, September 6, 2023.
Wilderness
Jenna Coleman stays booked and busy in Wilderness. It's a limited series about a husband and wife who go off to the wilderness, natch, which gives her a great excuse to accidentally shove his cheating butt off a cliff. Plus, the trailer has the Taylor Swift stamp of approval. All episodes will arrive on Friday, September 15, 2023.
Still Up 
Apple TV+ continues its "slow and steady wins the streaming wars" with a brand new British comedy, Still Up. Starring Craig Roberts and Antonia Thomas, it's a tale of two insomniacs who fall in love over the phone without ever meeting. The series premieres with two episodes on Friday, September 22, 2023, followed by one a week through October.
Avoidance 
Created, written, and starring Romesh Ranganathan (The Cynic), Avoidance is a comedy featuring hapless anti-hero Jonathan struggling to get back on his feet with the help of his mother, his sister, and her wife after being dumped by his partner, for the sake of his 9-year-old son. All six episodes arrive on Wednesday, September 20, 2023.
The Hunt for Raoul Moat
Debuting the same night as the true crime special Manhunt: The Raoul Moat Story, The Hunt for Raoul Moat dramatizes the 2010 search for murderer Raoul Moat, played by Matt Stokoe (Bodyguard), and how rolling news turned him into a victim fighting back against the authorities. All three episodes debut on Thursday, September 28, 2023.
Welcome to Wrexham Season 2
I continue to blame Ted Lasso for all these multi-part docuseries about soccer teams that emphasize teamwork, togetherness, and sport. Welcome to Wrexham Season 2 at least has the benefit of starring Ryan Reynolds. The series premieres on FX on Tuesday, September 12, 2023, and runs weekly on FX, streaming on Hulu the following day.
Starstruck Season 3
Created by and starring Rose Matafeo, Starstruck started as a romcom about Jessie dating film star Tom (Nikesh Patel). Season 3 picks up two years after Season 2 and their breakup, with Jess still in London, watching her friends move on with their lives while she remains stuck. All six episodes stream on Max on Thursday, September 28, 2023.
Predators
David Attenborough won't live forever, so we're going to have to get used to other Brits narrating BBC Earth specials. Predators gives Tom Hardy a whirl in this look at the planet's most powerful hunters (cheetahs, polar bears, etc) as they fight against the odds to survive. All episodes stream Wednesday, September 6, 2023.
Top Boy Season 3
Whether or not you call it Season 3 or Season 5, this is the final season of Top Boy, where the titular boys, Dushane (Ashley Walters) and Jamie (Michael Ward), now long grown into men, battle it out over their drug turf for final domination. All episodes stream on Netflix starting Thursday, September 7, 2023.
Glow Up Season 5
The Project-Runway-Does-Makeup reality series is a little bit of SyFy's Face Off, but really much more glamour than fantasy, and returns for a fifth season. Judges Val Garland and Dominic Skinner return with new host Leomie Anderson and ten new contestants. All eight episodes arrive on Tuesday, September 12, 2023.
Sex Education Season 4
The final season of Netflix's star maker series Sex Education brings back Asa Butterfield, Ncuti Gatwa, Emma Mackey, and Connor Swindells for one final high school hurrah before they head off to their waiting A-list careers. All episodes of the final season arrive on Thursday, September 21, 2023.
The Great British Baking Show Season 14
No, Netflix hasn't announced the date, but we all know The Great British Baking Show Seasion 14 is coming to Channel 4 in September, probably the last Tuesday of the month, which means the premeire will debut on Netflix four days later on Friday and run weekly. TBD
Dreaming Whilst Black
Created by and starring Adjani Salmon, the comedy-drama Dreaming Whilst Black follows Kwabena, an aspiring filmmaker trying to balance his ambitions against the harsh realities of life and stability. The series streams on Paramount+ on Friday, September 8, 2023, and runs weekly, with episodes airing on Showtime two nights later.
The Gold
The Gold tells the true story of the 1983 Brinks Mat heist that made off with £26 million in gold bullion. The series boasts an A-list cast, a fascinating never-solved mystery, and the problem of trying to spend ill-gotten gold in modern society. The series streams on Paramount+ starting Friday, September 17, 2023, with two episodes, and one a week to follow.
---
By
for on September 1st, 2023
More to Love from Telly Visions