By
for on August 1st, 2023
Everything British Worth Streaming in August 2023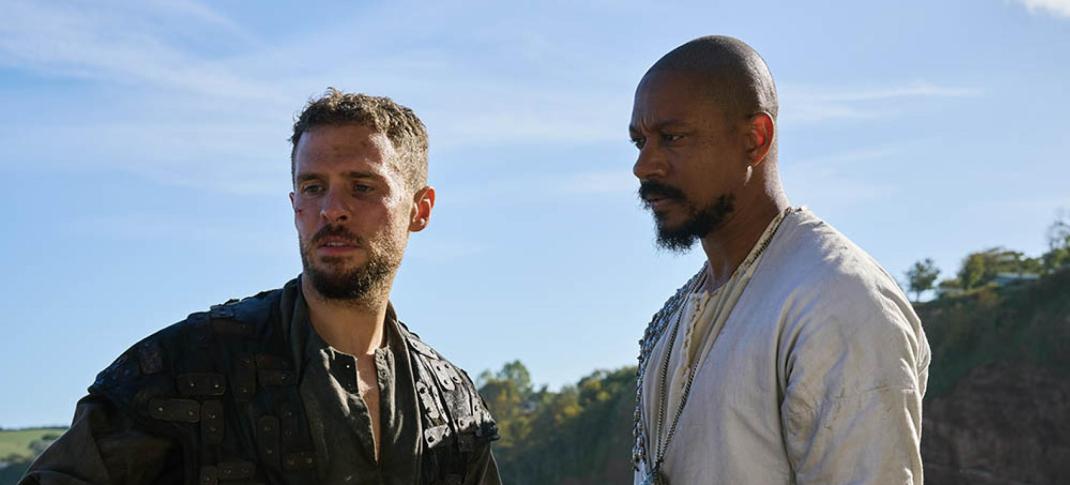 The streaming revolution and peak TV were supposed to be the death knell of the September to May TV season. Viewers were no longer locked into a system that arbitrarily decided new shows began in the fall, took hiatuses over recent years, and ended in late spring. Sweeps weeks were no longer the moment of guest star glory, and anyone could debut shows whenever they liked; January was the new September, July to new March. However, like the discovery that putting out shows as weekly installments so people could watch together like a family turned out to be a better marketing strategy, it turns out that some months, people watch less television.
August, for example, is one such month. Despite multiple shows trying to make August happen (including Game of Thrones), the reality that this is the month people are on vacation and away from their televisions is still a significant factor. Sure, one can take their TVs with them now in the form of iPads and sign-in-anywhere accounts. But if you're on a holiday schedule, you're not tuning in regularly. (And if you're overseas, you must be VPN savvy.) A decade into the streaming revolution, August is right back to the lightest month for new programming.
A few shows are wrapping up this month, like Outlander and Apple TV+'s Hijack, and some that dropped late enough in July that people will binge it in August, like Good Omens Season 2. But in terms of new titles, the end of summer is once again the recipient of a short list of new releases everywhere, including British imports. Here's the rundown of what to expect.
Acorn TV/AMC+/BBC America/Sundance
Wrongly Accused Season 1
Sundance Now's new true crime series Wrongly Accused features investigative reporter Louise Shorter as host, re-visiting some of the greatest miscarriages of justice in British criminal history. The series premieres on Sundance Now on Thursday, August 3, 2023, with two episodes, and airs two a week through ASugust 31, when all eight arrive on AMC+.
The Wild Sides
With David Attenborough's Planet Earth III still delayed, BBC America has The Wild Sides to fill the weekends with soothing images of nature. Narrated by Colin Salmon, it focuses on how animals survive in extreme climates. The series premieres on Saturday, August 5, 2023, airing weekly on BBCA, with all episodes available on the first day on AMC+.
The Chelsea Detective Season 2
The only series on this list to be exclusive to its niche streamer, The Chelsea Detective returns for Season 2 with Vanessa Emme as DI Max Arnold's (Adrian Scarborough) new partner, DS Layla Walsh. The six-episode mystery series will be a weekly release on Acorn TV only starting Monday, August 28, 2023, and running until October.
The Pact Season 2
The follow-up season to the 2022 thriller series The Pact turns it into an anthology series with an all-new cast and story, in which a pact made out of desperation may be the only solution. The series premieres on Sundance Now and AMC+ on Thursday, August 31, 2023, with two episodes and follows a two-a-week schedule through the end of September.
Amazon's Prime Video/MGM+
The Winter King
There's nothing British coming to Prime Video, but MGM+ has ITV's brutalist retelling of the King Arthur legend, The Winter King. Based on author Bernard Cromwell's Warlord Chronicles, this is the dark'n'gritty Arthur someone must have asked for. The ten-episode series debuts Sunday, August 20, 2023, and streams weekly through October.
Granite Harbour
BritBox kicks off with the BBC hit from earlier this year, Granite Harbour. The Scottish series stars Romario Simpson as ex-Royal MP Davis Lindo, whose dreams of Scotland Yard detective are dashed when he's sent to Aberdeen and teamed up with local DS Lara Bartlett (Hannah Donaldson). All three episodes premiere Tuesday, August 1, 2023.
The Ex-Wife Season 1
BritBox's other U.S. premiere is Season 1 of The Ex-Wife, based on Jess Ryder's hit psychological thriller. Celine Buckens (Showtrial) stars as Tasha, whose perfect life is marred by her husband's ex-wife, who might just turn her dream into a nightmare. All four episodes arrive as a binge on Thursday, August 10, 2023.
Heartstopper Season 2
Heartstopper was a lil'hug of a teen LGBTQ+ romance when it debuted on Netflix in 2022. Based on the Alice Oseman webcomics, the series returns for the first of two further seasons with up-and-coming stars Kit Conner and Joe Locke as the central couple. All episodes arrive on streaming on Thursday, August 3, 2023.
Who is Erin Carter?
There are a bunch of super trashy documentaries that Netflix claims are UK-produced this month, but we're being very polite and ignoring them in favor of the only other British series on the roster, Who is Erin Carter?, where a British expat's secret life is turned upside down by an armed robbery. All episodes arrive Thursday, August 24, 2023.
Men in Kilts Season 2
What do we want? Men in Kilts! When do we want them? As soon as the first half of Outlander Season 7 ends! Starz understands us. Sam Heughan and Graham McTavish don their outfits in New Zealand for their second outing. The series premieres on Starz linear and streaming on Friday, August 11, 2023, and follows a weekly release schedule.
---
By
for on August 1st, 2023
More to Love from Telly Visions