By
for on June 2nd, 2023
Everything British Worth Streaming in June 2023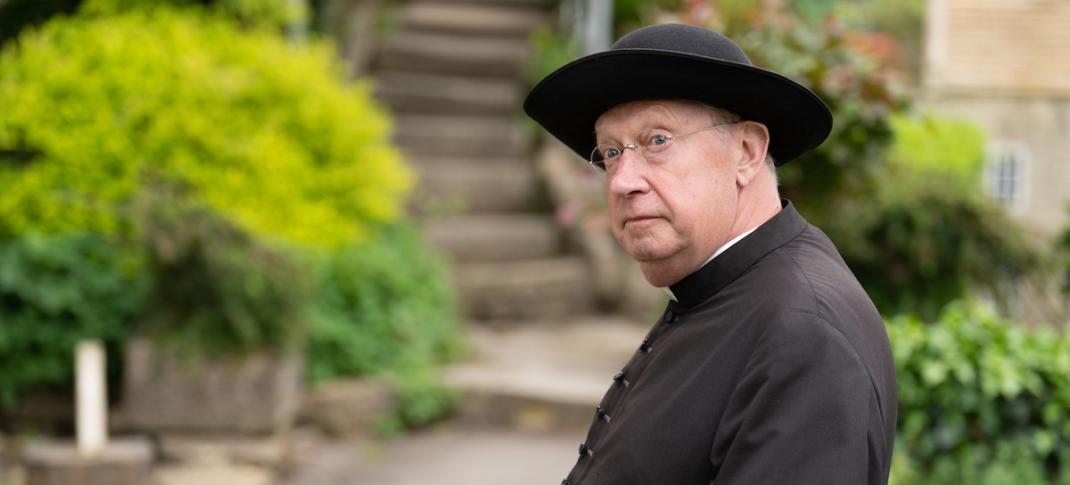 June is finally here, and with it, hot days, warm nights, vacations, and a closing of Emmy nominations voting. That last factor brings a modicum of chill to the TV landscape as the prestige titles and debuts (which may or may not deserve that moniker) give way to the regularly scheduled TV shows we all love, from PBS' usual "Summer of Mysteries" to series that demand little more than enjoying the view. It's perfect fare to chill out to for a restful summer before the peak TV grind restarts with far too many series to watch.
Two of this month's big arrivals are long-running series viewers will welcome back like old friends as Father Brown celebrates ten seasons on the air over on BritBox, while Outlander finally aims to start wrapping things up with Season 7 on Starz. But not everything this June is stuff that's been running since the turn of the last decade. Acorn TV will finally release its brand new series Cannes Confidential, which has been in the works since before the pandemic. And the Warner Media universe will add a new fun science fiction-thriller to the American radar as The Lazarus Project, which was delayed due to the HBO Max/Discovery merger, finally rises from the dead.
Here's everything British coming to streaming that's worth your time for June 2023.
The Lost King
Proving the Happy Valley shared series was not a fluke; June sees a second co-exclusive, The Lost King, arrive. Based on the true story of the amateur historian who found King Richard III's remains after 500 years, the film stars Harry Lloyd, Sally Hawkins, and Steve Coogan. It premieres on Acorn TV and AMC+ on Friday, June 16, 2023.
Clean Sweep
Clean Sweep is an Irish thriller starring Charlene McKenna as a housewife and mother who kills her former partner when he threatens to expose her past, only to find her Garda detective assigned to the case. Based on a real story, it premieres with two episodes on Sundance Now and AMC+ on Tuesday, July 20, 2023, followed by one a week.
Cannes Confidential
Cannes Confidential is Acorn TV's newest romantic crime series. It stars the French Lucie Lucas and the British Jamie Bamber in a will they/won't they as an idealistic, local underdog female cop and ex-conman solving crimes. The series premieres on Monday, June 26, 2023, with two episodes, followed by one a week through July.
Deadloch
The Australian comedy, Deadloch, is set in the titular town, where Winter Festival is interrupted when a man turns up dead. Three female detectives team up to solve the crime: the out-of-town Eddie (Madeleine Sami), hard-nosed local DS Collins (Kate Box), and overeager junior Abby (Nina Oyama). All eight episodes arrive Friday, June 2, 2023.
That Peter Crouch Film
The futbol fallout from Ted Lasso's popularity continues with That Peter Crouch Film, a documentary about one of soccer's most unlikely stars. Crouch is famous for being the Premier League's tallest-ever player, shunted from club to club until he found the right system and became a massive star. The film premieres Thursday, June 22, 2023.
Hijack
Idris Elba will never play James Bond, but he will apparently do a reasonable impression of Keifer Sutherland in an updated version of 24, titled Hijack. This being streaming, it's only seven hours of real-time story, a far more reasonable timeframe. The series premieres with two episodes on Friday, June 28, 2023, and then runs weekly through July.
Father Brown Season 10
Mark Williams celebrated playing G. K. Chesterton's famous sleuth, Father Brown, for a decade back in January 2023 on the BBC. Now the party comes across the pond to BritBox with the ten-episode tenth season streaming with two episodes a week starting Tuesday, June 13, 2023, and running through July. 
Somewhere Boy
Hulu quietly picked up Somewhere Boy, a BBC series that aired on Channel 4 in 2022, all of about ten days ago. (No, really, the press release is dated May 24.) Lewis Gribben stars as Danny, an 18-year-old who spent his whole life locked away by his father until one day the real world intruded. All eight episodes arrive on Wednesday, June 7, 2023.
The Full Monty
It's not the 1997 film The Full Monty, but a TV series, and yes, it's an "all the characters come back for one last hurrah (and paycheck) 25 years later" reboot. Have any of them learned anything other than how to wiggle their bums? Probably not, but it'll be funny anyway. All episodes premiere under the FX banner on Hulu on Wednesday, June 14, 2023.
The Lazarus Project Season 1
After being unceremoniously dropped from the schedule less than a week before its initially scheduled January premiere, the TNets are back with Paapa Essiedu in The Lazarus Project. The series debuts on TNT's linear cable channel on Sunday, June 4, 2023, and airs weekly through July; Max will get all of them when the show is finished.
Living
Originally debuting at Sundance in January 2022 and then released in theaters in December in hopes of generating some awards love, Living is a 1950s period piece about a bureaucrat (Bill Nighy) who tries to be the best person he can be before he dies from terminal illness. The film debuts on Monday, June 5, 2023. 
Our Planet II
David Attenborough continues to be in every nature documentary everywhere all at once with Our Planet II, which pretends the other Planet Earth series don't exist by claiming to unravel the mysteries of animal migration and reveal dramatic and compelling stories in the natural world. All four episodes arrive Wednesday, June 14, 2023.
Black Mirror Season 6
In 2020, Black Mirror's creators said they couldn't make anything more awful than the current reality. Now they're back with Season 6, so take that as you will. Is the world better? Did the horror get more horror-ier? We'll all find out on Thursday, June 15, 2023, when the new season arrives with all episodes.
Run Rabbit Run
Speaking of horror, Sarah Snook is celebrating leaving her American accent in Shiv Roy's ludicrously capacious handbag and starring (and producing) her own horror film, Run Rabbit Run. At least the least scary thing in the movie is hearing what her actual Australian inflection sounds like. The film arrives on June 28, 2023.
Outlander Season 7
Outlander is finally ending, and Outlander: Blood of My Blood will be the spin-off. However, with Season 7, the second-to-last season, split in half and Season 8 to follow, the show really isn't going anywhere anytime soon. Outlander Season 7, Part 1 premieres Friday, June 16, 2023, and airs/streams weekly. Part 2 arrives in 2024.
---
By
for on June 2nd, 2023
More to Love from Telly Visions