By
for on April 1st, 2023
Everything British Worth Streaming In April 2023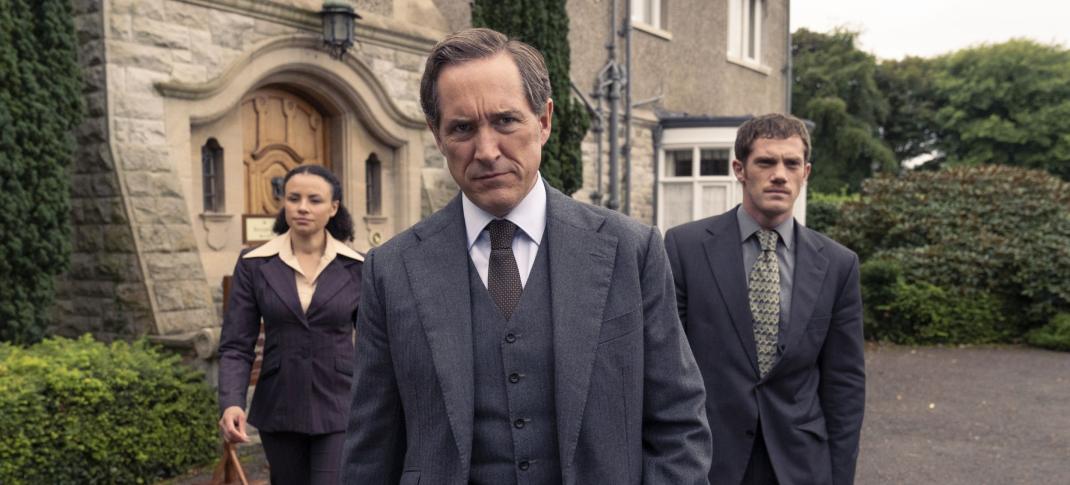 The spring TV season is officially in full swing. Even though in America (and overseas), the first week of April will see a short hiatus for the first week as Easter specials hit the airwaves, streaming services will not halt the arrivals of new programming. Over on PBS, the usual Masterpiece Sunday night block will continue all month, and Walter's Chopice selections will continue to grow on PBS Passport. Everywhere else, new programs are arriving by the score ahead of the Emmy Awards nominations cut off at the end of the season.
However, despite the Emmys' tendency to award things with British accents (we're looking at you, The Crown), most American networks are focusing on American offerings. That continues to be especially true on Paramount+, which won't start bringing its U.K. offerings until summer, and Peacock, which has been pretty catch-as-catch-can in its imported and co-produced titles. Also, while Starz has a few period dramas in the pipeline, the current focus on its Power Book franchise means fans will be waiting until the end of Droughtlander to see anything.
However, that doesn't mean there aren't lots of titles to look forward to. Here's a full rundown of all the British series arriving on U.S. television for April 2023 and where to watch them.
The Brokenwood Mysteries Season 9
The New Zealand mystery series The Brokenwood Mysteries has been airing since 2014, making this the show's ninth season. Neill Rea returns once more as DS Mike Shepherd, who thought settling down in the small town of Brokenwood would bring him peace and quiet. The series bumped from four to six episodes a season in 2021 with Season 7; the expanded count means audiences will be treated to "Brokenwood: The Musical" as a season premiere. All episodes arrive Monday, April 3, 2023.
Happy Valley Season 2
With Happy Valley's final season arriving in May 2023 across multiple AMC Network brands, the show's earlier seasons are making themselves at home in places that aren't just AMC+, including Acorn TV. The show's award-winning season arrives with all six episodes for subscribers to binge on Monday, April 10, 2023.
Dalgliesh Season 2
Bertie Carvel returns as P.D. James' famous detective Adam Dalgliesh in the remake of Dalgliesh, now in Season 2. Like Season 1, the new installment will feature six episodes covering three of her best-selling novels: 1977's Death of an Expert Witness, 1997's, A Certain Justice, and 2003's The Murder Room. The series will drop two episodes (one complete mystery) a week starting Monday, April 24, 2023.
Citadel 
Amazon Prime Video's big debut for April is the global-spanning spy epic Citadel, a show with truly global ambitions. Directed by the Russo Brothers and starring Richard Madden and Priyanka Chopra Jonas, the plan is for this U.K.-esque series about a global spy network that's been destroyed trying to piece itself back together to spawn foreign language spinoffs aimed at emerging streaming markets. But first, the main show has to be a hit... The series debuts on Friday, April 28, 2023.
Hullraisers
AMC+'s continuing attempts to crossover its programming between various niche streamers to maximize audience share is proceeding apace. The comedy Hullraisers, in which three BFFs attempt to balance love, life, and family, was initially slated for the IFC streaming service and cable network. It will now also premiere on Sundance Now and AMC+ on the same day. All episodes arrive on all three streaming services on Wednesday, April 5, 2023.
Totally, Complete Fine
Meanwhile, Sundance Now picked up the Thomasin McKenzie-starring dark comedy Totally, Completely Fine as an original for its platform but will be sharing it with AMC+. The series explores the complexities of grief and mental health issues and will even get a weekly release format instead of a binge-drop and miss-it arrival. The six-episode series arrives starting Thursday, April 20, 2023, with two episodes and one a week to follow.
Chasing The Rains
As for BBC America, it picked up the Earth Day special Chasing the Rains, an African-continent-focused special narrated by Bridgerton's Adjoa Andoh. The four-episode special will debut on BBC America and AMC+ on Earth Day, April 22, 2023, with one episode a week to follow on both platforms.
Big Beasts
Apple TV+'s only British arrival for April is also an Earth Day series, Big Beasts. Apple TV aped Attenborough by filming this series over a two-year span, going pole-to-pole to bring back never before seen footage of the largest animals on the planet. The ten-episode series will be narrated by Tom Hiddleston, which may be its biggest selling point. All episodes arrive Friday, April 21, 2023.
The Sister Boniface Mysteries Season 2
Sister Boniface is back! The hit spinoff of Father Brown debuted Season 1 at the beginning of 2022. It was quickly renewed for a further season of weekly mysteries for our favorite 1960s mod Vespa riding nun to solve. The Sister Boniface Mysteries Season 2 will once again return to Saint Vincent's Convent as our clever Sister helps the police solve various crimes in the village of Great Slaughter. All ten episodes will arrive on Tuesday, April 4, 2023.
An Interview with Brian Cox
With Succession riding high on its final season over on HBO and HBO Max, BritBox is wisely hopping on the hype train with An Interview with Brian Cox (the Scottish actor who stars in the HBO series, not the Scottish physicist who also stars in several TV series on HBO Max.) Cox sits down for an exclusive, in-depth interview on his life and career—the special premieres Tuesday, April 11, 2023.
Grace Season 3
BritBox is also bringing back the hit mystery series Grace, based on the bestselling novels of the same name by Peter James, adapted by Anthony Horowitz of Magpie Murders fame. John Simm returns once again as the titular DS Roy Grace, solving weekly cases up and down the Brighton coast, using unorthodox methods that consistently get results. The season is comprised of three feature-length episodes; all arrive on Thursday, April 20, 2023.
Moonage Daydream
The David Bowie film Moonage Daydream finally hits streaming and is the only British thing coming to HBO, HBO Max, and Discovery+ for April 2023. This may seem odd until you remember the combined streaming app is being announced this month, and it's a good bet that shows like The Great Pottery Throwdown and The Repair Shop are either being held for that announcement or out on their ears. You never can tell with this company. Anyway, Moonage Daydream, April 29, 2023.
Am I Being Unreasonable?
Here the famous place on the web to ask questions, be judged, and go viral is AITA. (You can go look up what it stands for.) In the U.K., it's the far more polite AIBU, or as the title of the show spells out, Am I Being Unreasonable? This is the second British comedy series in two months that's arrived in the U.S. starring Daisy May Cooper, so get on the bandwagon. All six episodes arrive on Hulu on Tuesday, April 11, 2023.
Lewis Capaldi: How I'm Feeling Now
Peter Capaldi's pop crooner nephew, Lewis Capaldi, is jumping on the pop music special for the streaming world bandwagon. Lewis Capaldi: How I'm Feeling Now is probably much more music than the confessional the title suggests, but he might go the Taylor Swift route; you never know. Anyway, it streams starting Wednesday, April 5, 2023.
Transatlantic
Transatlantic is a World War II-set series based on the true story of Varian Fry, an American journalist who traveled to Vichy, France, and spent 13 months arranging safe passage out of the country for artists under persecution from the Nazi regime. (Among those he got out: Hannah Arendt, Max Ernst, Marcel Duchamp, and Marc Chagall.) The international cast features French, German, American, and British actors, including Luke Thompson and Jodhi May. All seven episodes will arrive on Friday, April 7, 2023.
Obsession
Richard Armitage stars in the very sexy mini-series Obsession, based on Josephine Hart's best-selling novel Damage, about a British politician who causes his downfall with an inappropriate relationship. Armitage plays William, obsessed with Anna, played by Happy Valley's Charlie Murphy. The only problem is William just so happens to be the father of Anna's fiancé. As they say, Awkward. All episodes will arrive on April 13, 2023.
The Last Kingdom: Seven Kings Must Die
The feature-length film final to the British Netflix series The Last Kingdom, Seven Kings Must Die picks up after King Edward's death, as Uhtred of Bebbanburg (Alexander Dreymon) takes his men across the British landscape in the hopes of uniting England at last. The film arrives on Friday, April 14, 2023.
Chimp Empire
Like BBC America and Apple TV+, Netflix also turns to the U.K. for Earth Day programming. In this case, it's Chimp Empire, a special focusing on the largest known group of chimpanzees anywhere on earth, deep into the Ngogo jungle of Uganda. Oscar winner Mahershala Ali narrates. All four episodes arrive on Wednesday, April 19, 2023.
---
By
for on April 1st, 2023
More to Love from Telly Visions