By
for on March 1st, 2023
Everything British Coming To American Streaming Services in March 2023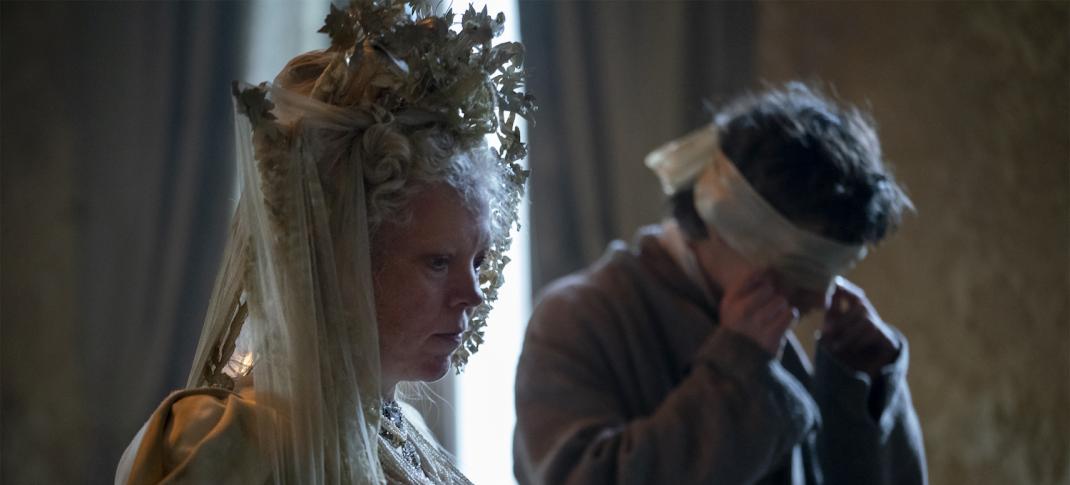 March kicks off the final three months of eligibility for the Primetime Emmys in TV. While that may not seem like a significant milestone, for shows that run ten episodes and wish to debut their finale as close to the final voting deadline without going over, this is the month to premiere. And while the Emmys were once the domain of American network series, that era officially ended five years ago in 2017, the last time a topline award went to an American broadcast series. Streaming services now dominate nominations and wins, with the occasional cable network like FX squeaking out a rare trophy.
The competition for Emmy love among the streaming services is reflected in this month's streaming offerings, especially since most mainstream Emmy voters tend to view British co-produced series --and British starring shows -- as more high-end fare worthy of votes. However, not everyone is jumping in just yet. Netflix, for example, does not have to worry about priming the pump for a weekly release schedule and, in a bit of counter-programming, is notably rolling out nothing but U.K. trash TV.
Here's everything British that'll be debuting on American streaming services here in the states for March 2023.
Holding
An adaptation of Graham Norton's debut novel, Holding, a comedic mystery set in a rural Irish community, boasts a killer cast including Conleth Hill, who stars as the hapless Sargent PJ Collins, who suddenly finds himself having to get to the bottom of his first murder investigation after decades of only ever having to get to the bottom of a packet of crisps. Siobhán McSweeney and Charlene McKenna co-star in the four-part series. All episodes arrive as a binge-watch on Monday, March 6, 2023.
The Larkins Season 2
After delays due to behind-the-scenes production drama, The Larkins finally returns for a second season. Bradley Walsh and Joanna Scanlan return as Pop and Ma Larkin in this remake of The Darling Buds of May with all the small-town drama one giant family can hold. The six-episode season, which may be the show's last for a while due to Walsh's schedule, debuts Monday, March 20, 2023, and will run on a weekly release schedule.
Murdoch Mysteries Season 16
The long-running Canadian series Murchoch Mysteries is back for Season 16 with Yannick Bisson as the titular Detective, William Murdoch. The series was upped to a 24-episode season run in Season 15, and Season 16 has kept the larger installment count, giving the show an old-school TV season running length in Canada. Acron TV will also stream episodes on a weekly basis, with a new episode every Monday starting March 27, 2023, and running until the end of the summer.
Amazon Prime Video & MGM+
A Spy Among Friends
The flagship high-end launch series for ITVX in December 2022, A Spy Among Friends — initially co-commissioned by Spectrum Originals and sold after the network folded post-production — is now acting as the flagship high-end launch series for a second streaming service, Amazon's newest addition, MGM+ (formerly Epix). A spy thriller starring Damien Lewis and Guy Pierce adapted from the non-fiction book of the same name, the six-episode series begins a weekly rollout of episodes on Sunday, March 13, 2023.
Real Madrid: Until The End
In a soccer-mad month for Apple TV+, the service is kicking off with the three-part docuseries Real Madrid: Until The End, and boasting they got former Real Madrid star David Beckham (the only British footballer most Americans have heard of) to appear as part of the show's framing device. All three episodes arrive as a batch drop on Thursday, March 10, 2023.
Ted Lasso Season 3
Apple TV+'s long-awaited debut of Ted Lasso Season 3 is finally here. Initially planned as the series' swan song, the 12-episode third season will bring back Jason Sudeikis as the show's titular coach, now in a battle with former protege turned nemesis Nathan Shelley (Nick Mohammed). Hearts will be warmed, goals will be scored, and hopefully, someone will find an excuse for Hannah Waddingham to have an 11 o'clock showstopping musical number. The series streams weekly on Fridays beginning March 15, 2023.
The Confessions of Frannie Langton
The Georgian era-set The Confessions of Frannie Langton is based on the debut novel of the same name by Sara Collins. Karla-Simone Spence stars as the titular Frannie, taken from her home in Jamaica and gifted to scientist George Benham. She begins a passionate affair with his wife, Marguerite, only to be accused of murder when the couple is found dead. The four-part drama will stream weekly beginning Tuesday, March 8, 2023.
The Bay Season 4
ITV's crime drama series The Bay was a decent ratings puller when it debuted in 2019, but between the pandemic and star Morven Christie deciding to move on, it's not been given proper recognition. However, the turbulent times are over, with new star Marsha Thomason firmly ensconced as lead DS Jenn Townsend. Each season features a different case, and all six episodes of this one will arrive as a binge-watch Tuesday, March 21, 2023.
Staged Seasons 1-3
Looking back, Staged may be the best pandemic-centered comedy of the era, with David Tennant and Michael Sheen as "David" and "Michael," two actors putting on a virtual performance of Six Characters in Search of An Author. Season 2 featured them trapped in the U.K. lockdowns of 2021 while an American remake went on without them. Season 3, released in November 2022 in the U.K., will become a behind-the-scenes fictional documentary about the making of Seasons 1 and 2 called Backstaged.
In a sign of the streaming upheaval over the last three years, each season has been released on a different service, but all now will officially be housed on BritBox, with Seasons 1 and 2 arriving March 1 and Season 3 following with all six episodes on March 28, 2023.
Rain Dogs
Cash Carraway's debut series Rain Dogs isn't a direct adaptation of her hit novel Skint Estate but is a close cousin. Daisy May Cooper, Jack Farthing, and Ronkẹ Adékoluẹjo star as a found family trying to claw their way out of the council estates their working-class roots funneled them into, in a dramedy about what it takes to break the U.K. class divide in the 21st century. The eight-episode series will debut weekly on Mondays on HBO and HBO Max beginning March 6, 2023.
Succession Season 4
Yes, it's technically an American series, but Succession's high-end British cast members like Brian Cox, Matthew Macfadyen, and Harriet Walter, plus its News of the World scandal inspiration, make this British-ish series worth noting when it comes around. Besides, Season 4 is the show's final swan song, which means the fight for Waystar RoyCo is on. The series' final ten episodes begin arriving on a weekly schedule on HBO and HBO Max starting Sunday, March 26, 2023.
Great Expectations
Great Expectations is FX's second Charles Dickens-based co-production with the BBC of a Steven Knight adaptation. The series stars Olivia Colman as the legendary wedding dress-wearing Miss Havisham. with Fionn Whitehead and Shalom Brune-Franklin as Pip and Estella. The six-episode limited series will debut with two episodes on Sunday, March 26, on both the BBC and Hulu, with one a week to follow through the end of April.
Rye Lane
Direct from the 2023 Sundance Film Festival, Rye Lane is a romcom from newcomer Raine Allen-Miller in her feature directorial debut. Starring Vivian Oparah and David Jonsson as two strangers who fall in love over one adventure-filled, though otherwise unremarkable day, the film is titled after the real-life Rye Lane. The film debuts on Hulu on Friday, March 31, 2023.
Cheat
Have we ever mentioned that Masterpiece and PBS have given most American Anglophiles the wrong idea of how much TV programming in the U.K. is trash? Netflix is here to right that impression beginning with the quiz show Cheat, in which, yes, the contestants are encouraged to do just that, as long as they don't get caught. All episodes arrive Wednesday, March 1, 2023.
MH370: The Plane That Disappeared
In the U.S., Americans had CNN, which took the story of the Malaysian flight 370 that disappeared, beat it into the ground, and then kept talking about it until it became a national joke. In the U.K., the story wasn't nearly as overplayed, so they care about documentaries like MH370: The Plane That Disappeared, exploring what happened. The film arrives on Netflix on Wednesday, March 8, 2023.
Luther: The Fallen Sun 
The first Luther feature film stars Idris Elba as the titular detective that made him a household name. The Fallen Sun co-stars Cynthia Ervio, Andy Serkis, and Dermot Crowley as the only character left from the TV series other than Luther, who wasn't killed off in the first five seasons. The film is already playing in theaters; it begins streaming for viewers at home on Friday, March 10, 2023.
Moneyshot: The Pornhub Story
Another documentary film; if you need to know what Moneyshot: The Pornhub Story is covering, we cannot help you. Watch it; we won't judge. Arrives Wednesday, March 15, 2023.
Dance 100
Reality dance competitions like So You Think You Can Dance and Dancing With The Stars have never reached the same heights in the U.S. as their U.K. counterparts the way American Idol and The Voice did. However, Netflix either believes it can make Dance 100 succeed or doesn't care because the gaping maw of content must be fed. I assume the latter. All episodes arrive Friday, March 17, 2023.
---
By
for on March 1st, 2023
More to Love from Telly Visions