By
for on June 14th, 2023
Everything to Remember Ahead of 'Endeavour's Final Season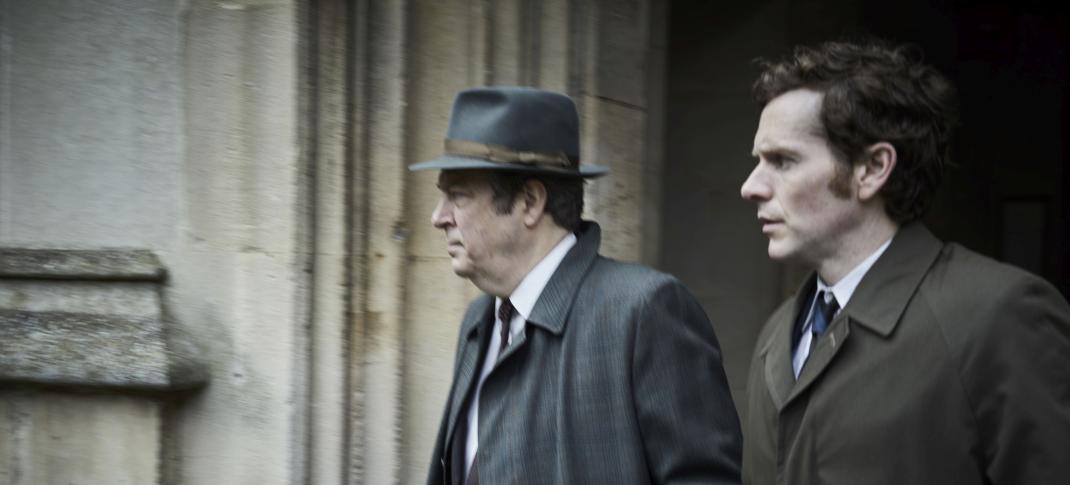 Once upon a time, there was an Inspector named Morse. Based on the novels by Colin Dexter and starring John Thaw as the titular detective, it was initially broadcast on ITV's regional broadcasters in the mid-1980s. When it came over the next year as part of Masterpiece's spinoff anthology brand Mystery!, it became the first contemporary set police procedural to be a massive hit with American audiences. It then generated two spinoffs, the follow-up Inspector Lewis and the prequel-set Endeavour, which starred Shaun Evans as a young Morse.
Endeavour first introduced Morse in 1965 as a young constable, an Oxford-educated working-class man who chose police work over intellectual pursuits. The head inspector, Fred Thursday (Roger Allam), recognized Morse's talents and promoted him to his bagman/sidekick, taking him under his wing to show him the ropes. He also semi-adopted Morse, who was estranged from his family, and his wife Winifred (Caroline O'Neill) became a bit of a surrogate mother to Endeavour, while their daughter, Joan Thursday (Sarah Vickers), became his unrequited crush, much to the annoyance of Thursdays' son, Sam (Jack Bannon).
Morse was a prickly sort, a snob by education, and paranoid due to being taken from his family at a young age. Having Thursday championing him was a godsend, as it helped his superior, PCS Reginald Bright (Anton Lesser), see beyond how irritating the young man was and gave him breathing room with his colleagues who he alienated. Over the years, that lineup included current colleagues DS Jim Strange (Sean Rigby) and pathologist Dr. Max DeBryn (James Bradshaw), as well as former ones, like DS Peter Jakes (Jack Laskey), PC Shirley Trewlove (Dakota Blue Richards), DS Arthur Lott (Danny Webb), and DC Ronnie Box (Simon Harrison).
Though Morse has pined for Joan for most of the series and even saved her from an abusive relationship, he's also had a steady stream of girlfriends, including Nurse Monica Hicks (Shvorne Marks), French photographer Claudine (Claire Ganaye), and Italian socialite Violetta Talenti (Stephanie Leonidas), the latter of which was married to Ludo Talenti (Ryan Gage), Morse's BFF who turned out to be a criminal mastermind behind a set of serial murders in Season 7, a case that badly divided Morse and Thursday. Violetta's death at Ludo's hands has haunted Morse since, driving him to drink.
Season 7 wasn't the only time Thursday hasn't been able to protect Morse from terrible outcomes. Morse's promotion to Sargeant was delayed due to him pissing people off, for example, and his paranoid reaction did him no favors. Morse's friendship with reporter Dorothea Frazil (Abigail Thaw) also got him in trouble when information from cases leaked. And when Oxford CID was merged into Thames CID in Season 6, Thursday's planned retirement, which was screwed over by his brother Charlie (Phil Daniels) in Season 5, wound up landing him a downgrade to under the corrupt DI Box and Morse busted down to PC, necessitating Strange stepping in to bring Morse back into the fold.
Season 8 brought the series into 1971, and the IRA bringing the Troubles to the mainland of the U.K. It also brought Morse's stepmother to visit and his alcoholism into sharp relief. Despite Morse not always being Bright's favorite person, especially after the death of Bright's wife, he suggested that Thursday get Morse into a program and get help with his drinking. While Morse struggled with hitting rock bottom, Strange started tentatively courting Joan, suggesting that she may be his wife in the future Inspector Morse program, where Strange has taken Bright's role, and Morse has taken over Thursday's role.
As the series rounds into Season 9, viewers know where the characters will eventually land, but not how they get there. The final season is set in 1972, 15 years before the first episode of Inspector Morse, and though Evans is far from aging into Thaw in a decade and a half, these three episodes will be about bridging that space from how Thames CID gets from where it is today to where it will be in 1987. It will also have to deal with the fallout from Morse's efforts to get sober, though thankfully, with the three mysteries from Season 8 close-ended, there will be little for fans to worry about from those stories affecting the last three cases.
However, this being the final episodes of a Morse series with no new spinoffs in the pipeline, this will also be a chance to bring closure to a franchise that has been going for 30+ years. Viewers can expect most characters who have disappeared over the years, like Jakes, Box, and Lott, to return to say goodbye. There will also be a Thursday reunion, as the teasers have suggested Joan will get married, though to who is still a semi-open question. And, of course, Thursday's long-postponed retirement, and perhaps Bright's exit, is also in the cards.
Endeavour Season 9, a.k.a Endeavour: The Final Season, debuts on Sunday, June 18, 2023, at 9 p.m. ET. In a departure from the norm, the series will not stream on PBS Passport on the same day it premieres; it will only be available episode by episode on the PBS app so that viewers who watch via linear and streaming will watch weekly instead of streaming viewers getting to binge all three at once. All three episodes will go to PBS Passport in July 2023, along with Morse & The Last Endeavour: A Masterpiece Mystery! Special, joining Seasons 1-8, which are streaming now.
Stream Now
Endeavour
Shaun Evans charms audiences with his portrayal of the cerebral Detective Constable Morse.
Image
---
By
for on June 14th, 2023
More to Love from Telly Visions