By
for on July 1st, 2018
'Endeavour' Season 5, Episode 2 Recap: Cartouche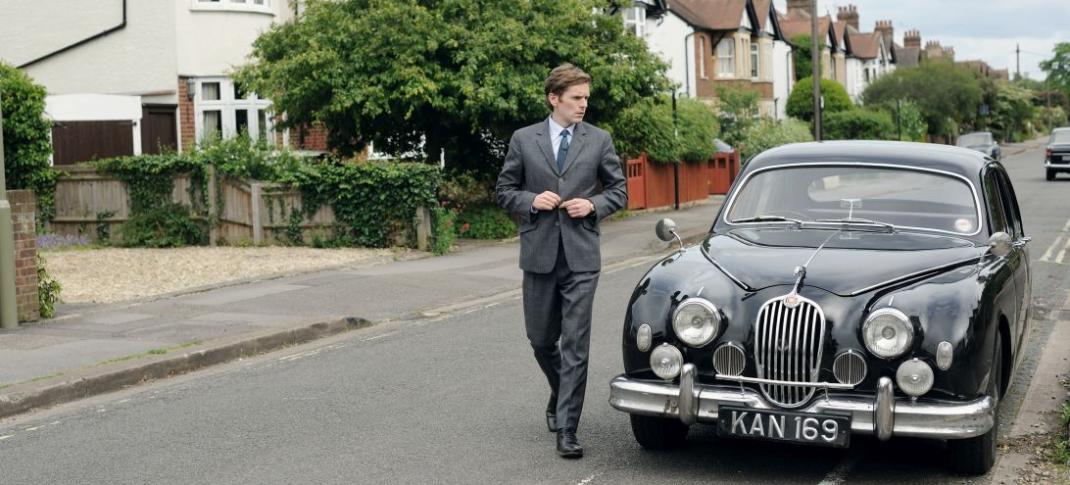 Morse faces off with horror and ancient Egyptian curses when Hollywood comes to Oxford in this week's Endeavour.
DeByrn: "For some of us, it's horror season all year round."
This week's episode opens at the late night double feature picture show at movie palace The Roxy. The former DS Ronald Beavis, of a neighboring district, dies at home in bed after seeing Emil Valdemar (guest star Donald Sumpter) in The Pharaoh's Curse. There are no signs of violence, but the toxicology report turns out to reveal it's nux-vomica, aka strychnine, apparently ingested via the orange squash he drank at the theater. The assistant manager Kenneth Bullings and the Usherette don't remember him. But Morse's investigation uncovers that the theater is struggling, like many movie palaces in the late 60s. The usherette, Betty Perske, admits she heard the manager, Mr. De Vere, and the projectionist (also named Bullings, the Assistant Manager's grandfather) argue over how much longer the place will last. Only The Roxy's organist, Leslie Garnier, is at least willing to admit he recognizes the guy. Not only did he run into him in the bar while the movie was playing, but then he saw Beavis talking to someone on the fire escape while he went out on break up on the rooftop. 
There's a second plotline featuring Eddie Nero, from last week, whose goon Flynn is threatening Pop Gallo of Brown's Cafe, where Beavis took his last meal. He and his daughter, Giulia, are terrified of letting on that they're part of Nero's "protection racket." So they lie to Morse's face about Beavis coming in and then lie some more when Flynn gets murdered right after leaving the premises later on. Meanwhile, in the Egyptian wing of the nearby Pitt Rivers Museum, someone hears a noise that same night. Beavis was supposed to be on duty that night but skipped out early to catch the film. The on-loan-from-Cairo curator, Dr. Shoukry, is clearly unimpressed by the British. 
Also lurking in the background, theres a firebombing of tenement houses owned by Nero, full of "Kenyan-Asians" as DS Strange calls them. (In 1968, there was a flood of refugees from the area.) Happily, no one was killed. But coincidentally, the second place is also where Joan's taken a job. Or took one anyway, before it was firebombed.
Bright: These..."Make Britain greater" types!
With three cases going at once, it's time for Morse to buckle down and.... get laid! But of course it couldn't just be a simple one-night-stand when he runs into a pretty blonde who's been stood up by her date. Next morning, he comes by the Thursday house to pick up Fred and discovers she's Joan's cousin Carol. Better yet, it was Joan who had stood her up. But as the handsome young man who Thursday's brother Charlie can dump his daughter off on, Morse finds himself now having to take the girl on a tour of the city. (Charlie, by the way, it turns out is in town because he's over his ears in debt and wants a loan.) Since Morse is desperate for this not to get back to Joan, he's pretty curt with poor Carol, calling their night "a mistake."
Morse, to his credit, finally realizes he's being the world's biggest arse and asks Carol what she'd like to do. Turns out she'd like to go to The Roxy! It just so happens that Pharaoh film star Emil Valdemar is there, along with the director and the leading lady. They're in town promoting the forthcoming The Pharaoh Rises, which is a reboot of the franchise for a post-war audience. Morse uses his contacts to both get them tickets and into the private reception, putting him in perfect position to see Eddie Nero there, watch Dr. Shoukry stage a protest after the screening, and intervene when the organist Garnier keels over on the organ in the middle of Valdemar's post-show interview. 
Summoning Thursday, he sticks Carol in the VIP lounge, putting her in prime position to witness Valdemar receive what should have been a "Pocket Watch of Appreciation," but instead holds a very threateningly looking Egyptian scarab. It was stolen from the Pitt Rivers Museum, presumably by Beavis. Shoukry identifies it as associated with the very Egyptian ruler the Pharaoh films are vaguely based around, before admitting his real hatred of this films stems from his son, who died during the 1956 Suez Crisis manufactured by the UK.
Thursday and Morse question the guests, with Nero being oily as always, sneering that he does business with the owners, the Jephsons, though he does admit to knowing Beavis back when he was still a cop. Far more curiously, Valdemar downplays the incident when asked about the artifaact. He also insists he's never seen the organist. But Garnier has an autograph book with Valdemar's signature, complete with a drawing of a cartouche. When confronted, Valdemar admits when he rarely looks at the faces when autographing, but he would never have drawn the cartouche. After the first film was done on location in Egypt back in the day, people who worked on it started dying every year. Valdemar believes enough in the possibility of a curse to not play with such matters, even if he is rather racist about Arabs. He's not alone, everyone who fought in WWI seems to have that anti-Arab feeling, including the one-armed doorman, Edmund Gordon. 
Dr. Shoukry: In the afterlife...
Thursday: That's beyond our juristiction.
Valdemar does complain offhandedly he was supposed to have been given a martini. Meanwhile, Garnier, who had a just-drunk martini on his organ, was apparently on strict orders not be given one because De Vere wanted him sober. So was the poison meant for Valdemar? If so, young Ken Bullings seems the likely suspect, as he had the best chance to swap the scarab, and served both martinis and orange squashes at the theater. He knew Beavis too. He was the presiding officer when Bullings was in juvenile detention. It could even tie in the Gallos, as Giulia is Ken's girl. But like all Morse episodes, this is merely the evening's red herring.
Turns out the one-armed doorman, Edmund Gordon did it. He and Valdemar were in the same regiment in WWI. He's punishing Valdemar for crimes committed in wartime, and the fact that he lost his arm, while his old commander became a movie star. He killed Beavis after paying him to steal the scarab and he killed Garnier for asking too many questions. He calls Valdemar to the theater just as De Vere sets the place on fire (at Nero's orders) so the Jephsons will indeed sell it. Morse puts it all together in time to get there and get Valdemar out, but Gordon shoots De Vere before dying in the fire.
Nero gets away a second time running. Guess that's a theme this season. The theater will be sold and developed, while the firebombing and stabbings of Nero's other properties continue. This is *not* the note on which Bright wants his Oxford City Police to end. 
---
By
for on July 1st, 2018