By
for on June 19th, 2022
'Endeavour' Season 8, Episode 1 Recap: "Striker"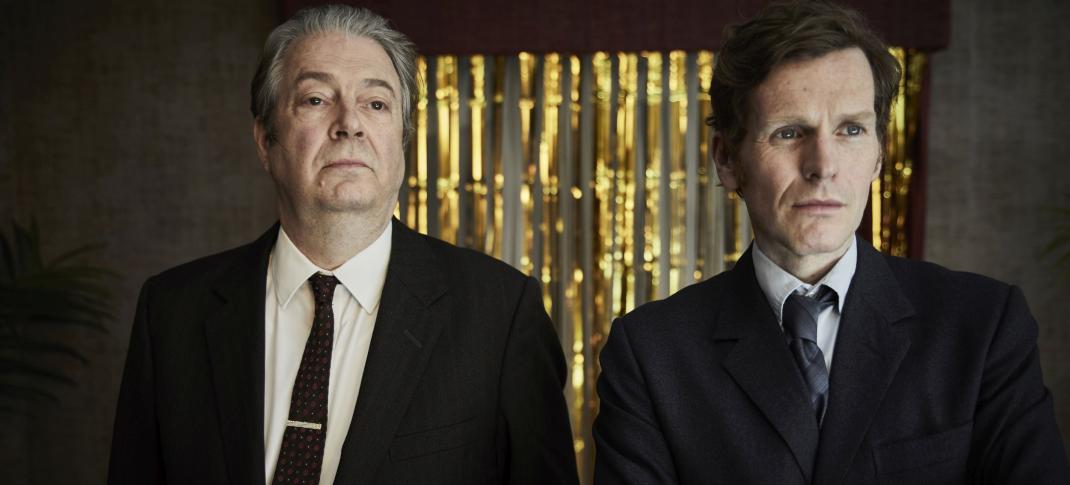 Even as the opening flashes of the Endeavour premiere set up Season 8's larger mystery, the overarching theme is Morse and his drinking problem. The new season opens with Thursday confronting a couple of rough types in an alley alone, needing backup, while Morse drinks and Strange listens to the local football game. Morse is passed out drunk the following day, while Thursday impatiently waits for him to show up and has to ring him out of a stupor once the case gets started. If that weren't enough, both Bright and Frazil are concerned about how Morse looks, as his nose gets redder and his eyes more sunken, and he drinks on duty more than once.
Bright: There are some blows you don't come back from, not really.
Dorothea Frazil's paper The Oxford Mail received a threatening call from someone claiming to be with the Provisional IRA. If Jack Swift (Julian Moore-Cook), the Oxford Wanderers striker who's been a target due to his Black heritage, plays the next game against Cowley Town, he'll be shot. Bright assigns Morse as Swift's bodyguard because he knows Morse couldn't care less about football. Morse is annoyed as he wants to be investigating the bombing, but not as annoyed as Swift. But the coach Dan Lofthouse (John Hollingworth), insists. Morse asks if Swift might have noticed anything off, but the striker's got nothing other than thinking he saw an old friend. However, they are being followed.
Meanwhile, there's been a bombing at Lonsgate College in Oxford. The deceased is one Maggie Widdowson (Mia McCallum), who student John Sarson (Angus Yellowlees), protesting arms merchant Tobias Buchanan's money funding the college, had a crush on. Also injured in the blast was Miss Newell (Harriet Thorpe), the older secretary. The bomb was sent to Professor Lucius Stamfield (Andrew Havill), the headmaster. (Notably, Stamfield's name was spelled wrong on it.) Frazil asks if the phone call and the bombing are related, but Thursday scoffs at the idea of the IRA suddenly popping up on this side of the channel.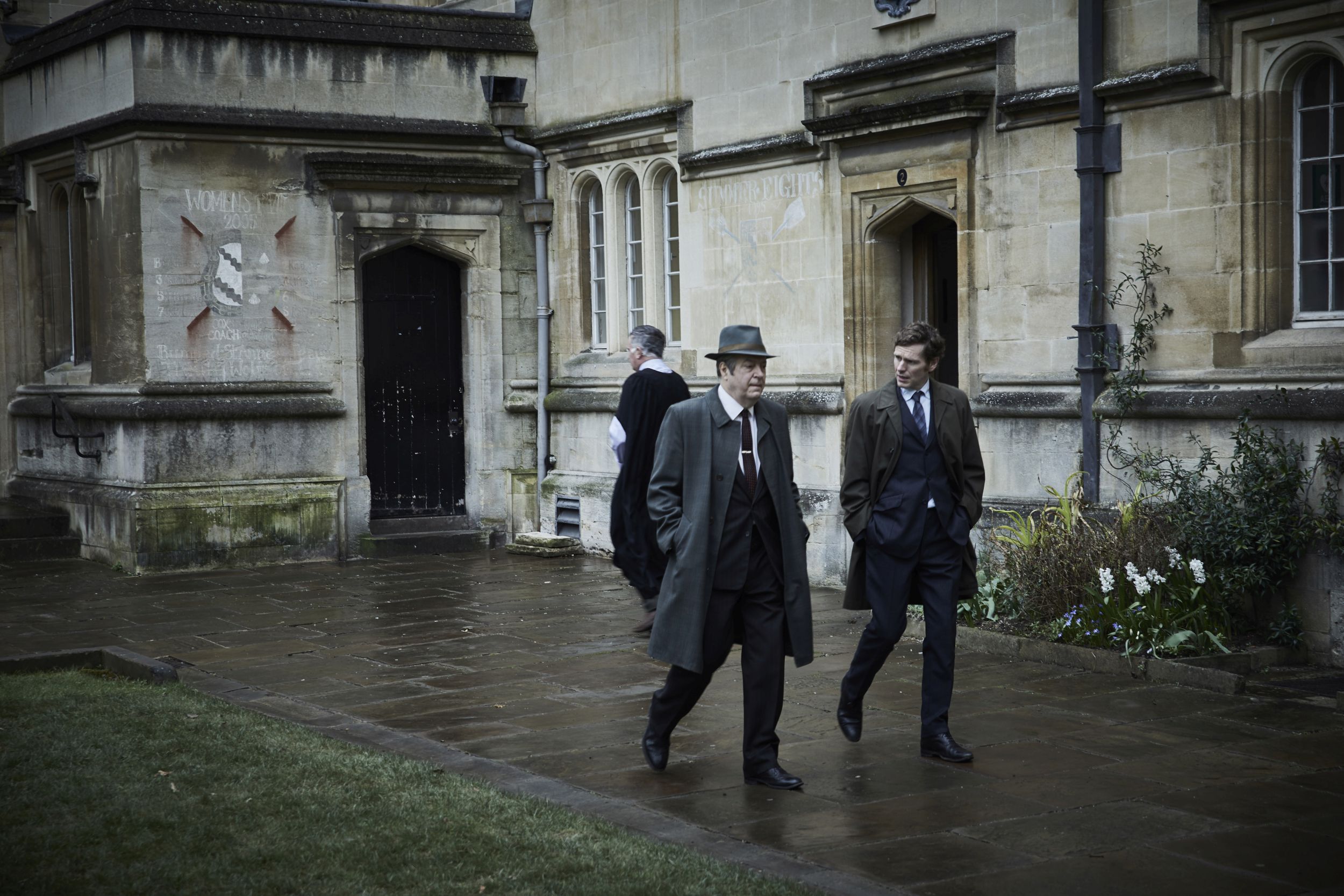 With Morse on bodyguard duty, Strange has been bagmanning the bombing, tracking down Maggie's sister, Frida O'Rourke (Roxanne Palmer), a single mother. She lives in the Welfare home building Joan Thursday now manages. (Stranger grabs the opportunity to ask her out, and Joan says yes.) Frida mentions Maggie'd been by talking wedding plans and bringing the nieces toys. At Maggie's apartment, Thursday doesn't note any photos of a boyfriend, but there is a valentine — odd since Maggie received a valentine the morning of the bombing, which was half burnt. Also, Maggie only recently started showing up on time after Stamfield had a row with her. 
Morse follows Jack to meet the Wanderer's owner, fashion designer Robert Fenner (Joseph Millson). He sends Swift off with Cecily (Eleanor Fanyinka) for a fitting before heading to a presser with Swift and Cowley's head striker, John Paul Martinelli (Gabriel Tierney). At Fenner's show, Morse overhears an ambush, but it's Eamonn Andrews (Lewis Macleod) of This Is Your Life, parading out Jack's mom (Jacinta Mulcahy), friends Sarah Sellars (Ruth Bradley), and George (Killian Coyle), who Jack spotted, and old coach, Duke Ward (Colum Convey). He also brings out Martinelli, which is awkward as both strikers are managed by oily Ray Jubba (Elliot Levey), and Jubba is looking to move Martinelli to the Wanderers to take Swift's place.
Jack seems reluctant to hang out with George and Sarah, while Martinelli leaves early. Morse takes Jack home, as he hints he was in love with Sarah but left her behind to play football. Morse gets Jack to the game alive the following day, despite too much to drink, Swift ringing up a girl, and Swift's girlfriend Brigitte (Evelina Järrebring) throwing a fit. The Wanderers win, but Lofthouse insists Morse can't follow Jack into the locker room. Ward looks for him and sees a man in Swift's jersey talking to Jubba but is waylaid by George and sent upstairs. When Lofthouse comes up without Swift, Morse races down and finds a body wearing Swift's number dead in the bath — but it's Martinelli. Meanwhile, Swift is missing.
On learning Martinelli was wearing the Swift jersey, Ward claims Martinelli told him Jubba ordered him to throw the game to secure his place in Oxford and claims there's a whole syndicate, an accusation Jubba scoffs at. But Swift was right to worry about Martinelli, as it turns out Lofthouse and Jubba were planning to put Jack out to pasture and replace him after the game. Thursday and Morse check Jack home and find him there, unaware of what went down after the game. Morse stays the night, hands duty off to another DS (Christopher Brand), and heads back to the office, hoping to work on the Oxford case.
The valentine in the apartment was from Maggie's fiancee Noel (Tom Spink), who says Maggie was about to come into some money, and they were going to move, a relief since she'd been robbed recently. The first part is a lie; when Morse goes to see Freda and runs into Joan, she says there's no family money. He looks through the toys Maggie dropped off, suspecting the "burglary" was looking for something Maggie's gotten out of the flat already — and inside the kid's dollhouse, there's a cassette. Hoping to find the source of the other Valentine, Morse searches Maggie's flat and finds a thesis paper by Sarson; he's the source of the other valentine and swears he saw someone leaving the building as he slipped in.
It's Stamfield's recording, one of his voice memos Maggie types up. It's a recording of Fenner colluding with Stamfield to have Oxford end the lease on the Wanderer's pitch so Fenner could buy and redevelop it, giving Stamfield a cut. Maggie tried to blackmail Stamfield, and Fenner promised he'd send the money but sent the bomb instead. As for the Martinelli murder, Jack had come to see Sarah right after the game, and she'd turned him away. But George was a jealous abusive husband and made the call threatening Jack. But it wasn't over his wife. Martinelli's death was over her; George killed him for sleeping with her. George planned to kill Jack because the proceeds from one of the Wanderers' charities went to the Provo IRA.
---
By
for on June 19th, 2022
More to Love from Telly Visions