By
for on August 23rd, 2020
'Endeavour' Season 7 Finale Recap: "Zenana"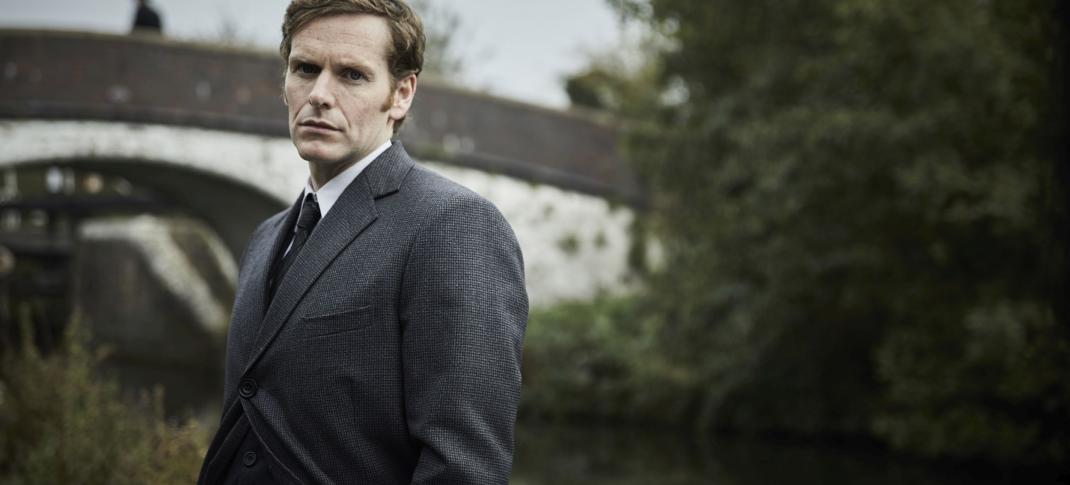 This season of Endeavour has been all about the deaths on the towpath, and the finale is no different. (Also, great covers of Vivaldi's "Winter" are my entire *jam,* so this opening got extra points for soundtrack choices.)
The deceased is Win's pal Bridget, and whoever killed her tried to drink her blood. Naturally, Thursday takes this personally, since had he not given up his towpath patrols, he might have saved her. He leads the charge to arrest Carl Sturgis, despite all lack of evidence, other than whistling sounds. Bright approves, telling Thursday they'd trusted Morse's instincts too much in turning away from Sturgis in the first place.
Morse: I am a bagman, not a yes-man.
Endeavour circles back to feminism this week, through the filter of women-only colleges going co-ed. The Warden (Lucy Black) at Lady Matilda and Dr. Magdalena Byrne (Marianne Oldham) are arguing over it. Byrne's argument against gets a boost when student Petra (Charlotte Potter) is the towpath's next victim, despite Sturgis' arrest. Both Byrne and her colleague Dr. Nancy Levine (Naomi Yang), are incensed at the police failure to find the killer. Thursday responds by insisting it couldn't be related, causing Morse to turn on him with startling ferocity. Blessedly, Debryn restores order, reminding everyone he deserved far more screen time this season.
Strange takes point on reopening the case. Morse finds a connection to the Andrews case, as Petra had made a sexual harassment complaint against Dr. Ferman, one of the original suspects. It inspires him to check with Jenny Tate. He learns the source of her "visions," trauma from growing up with a sexually abusive cousin who would suck their necks. She is also the only one of her family to survive when their pub burnt down. Frazil finds her real name is Phyllis Lindon. The police believed she started the fire, but she was found mentally disturbed and not charged.
Last week, Frazil mentioned a series of "freak accidents," which she's convinced aren't. The latest involved the owner of W. Jackson's Glass Install, declared "death by misadventure." But Morse checks with his family, where daughter Elaine (Jessica Hayles) says her father was worried about her wedding, working overtime, and even sold some life policies. Thursday dismisses his concerns, rather than "indulge" Morse further. But Morse's unconnected accidents run headlong into the towpath case when the Warden arrives in her office the next morning and finds Nancy dead, having fallen from the library ladder trying to reach something at the top of the bookcase. Dr. Bryne notes Nancy recently sold off life policies, to finance buying a house.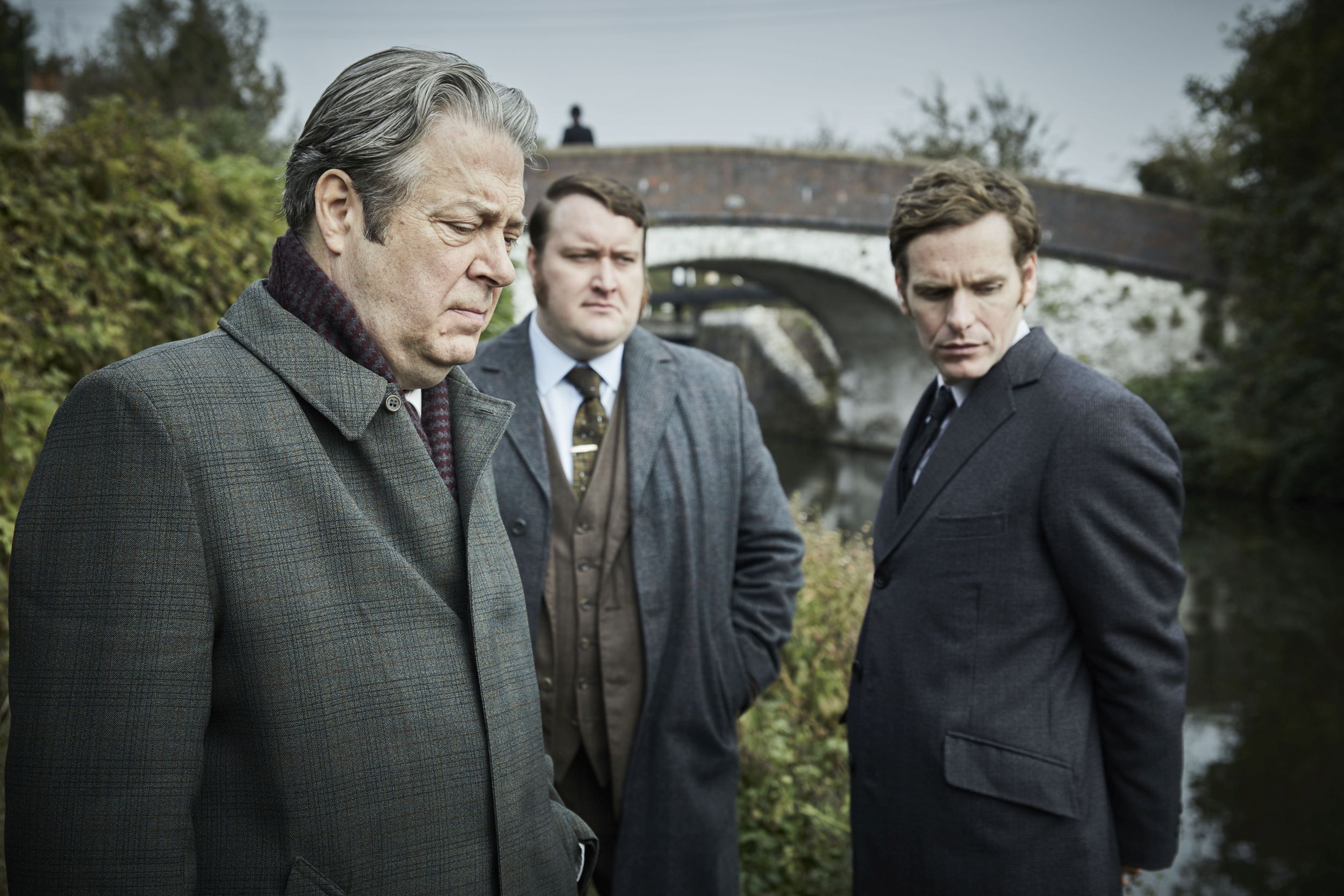 But Thursday isn't here for more freak accidents. Moreover, he's fired Morse from the towpath case to boot, while laying the groundwork to facilitate a transfer to get rid of him. As for Sturgis, he's threatening to sue Castle Gate. For Bright, it's a crisis he's not ready to handle emotionally. His wife's experimental cancer treatments across the pond have done little to help. He tries to keep her from going out, but she's determined to decorate for Christmas, only to die from an electric shock in a fatal freak accident.
Convinced the cops won't help them, the ladies at Mathida attempt to take down the killer, but instead of an arrest, he's hit by a truck in the dark. It's Clemmons, the jogger who found Andrews in the premiere, who's flat is a shrine to the towpath crimes. But the tune Dr. Byrne tells Morse she heard is not the one Thursday identified. Not that he tells Thursday, instead foolishly brings up Mrs. Bright's death as part of his seemingly-unconnected cases. Appalled at how thoughtless Morse is, Thursday to ask him to leave. But Strange gives Morse a hearing. In every case, someone sold off a partially-vested life insurance policy because they needed to fund something. 
Ludo finally returns, having been away the last few months. Morse and Violetta's affair has continued, meeting in the flat of her artist friend currently in Beruit. Thursday recognizes Violetta when he and Morse run into her and Ludo on campus at Oxford. But Ludo's no fool and forces Violetta to tell Morse she never loved him. After all, he's just a policeman, and Ludo can provide her a good life. Devastated, Morse turns back to his work, digging into the Lindon fire and learned the boy who abused Tate and her late brother Johnny was a nasty piece of work, and the grandson of "Old Noah Sturgis." 
Strange starts looking into the freak accidents, heads over to one of the victim's houses, the owner of the local funeral home. Upon arrival, he discovers Carl Sturgis has moved in. As Carl makes tea, he starts whistling the song Thursday mentioned, as Strange hears someone upstairs. He sneaks up and finds Jenny tied up as Carl attacks, stabbing him. Morse arrives just in time, as Carl goes positively wolfman, before Morse tosses him over the balcony, killing him. Thursday was right all along. Sturgis was Jenny's brother, who secretly survived the fire. He killed Andrews as a test run, then Jackkobson. He got bolder with Bridget and the biting. The deaths after his arrest were Clemmons' copycat killings.
Inside the house, Morse finds a pile of life policy certificates. Morse realizes in shock the top one belongs to Violetta's friend in Beruit. Searching her flat, he discovers the policy was sold to Ludo. Morse races back to Thursday to beg him to look into it, just as Bright arrives. Despite Thursday's silent warnings, Morse tells him his wife was murdered. Bright, enraged, has Thursday throw Morse out. As Thursday escorts him to the lift, he reveals he knew about Violetta and tells him not to return. But at Christmas, when Thursday stops by Bright's to make sure he's holding up. Bright says he's sorry he and Morse parted badly. Also, Morse was right: They cashed out their life insurance policies to pay for America.
When Thursday gets home, there's a letter for Joan, from Morse, with all the evidence proving Ludo's guilt, which he begs her to give to her father, blaming himself for their fallout. Morse, meanwhile, has gone to Venice to find Violetta. She says she'll help him if he lets her escape. But when Morse arrives at the rendevous point, Ludo is already expecting him, with her as his prisoner. His hands are clean, he insists; Violetta did all the dirty work. He just did the stakeouts, like playing a "faith healer" to get inside the Bright's house. When Morse attempts to talk him down, Ludo shoots Violetta. But before he can shoot Morse, Thursday arrives, telling Ludo to drop his weapon. Ludo lifts his weapon, and Thursday shoots, and Ludo's body falls into the canals.
And that's where Endeavour leaves it, with Morse and Thursday in Venice, and no indication of how 1971 will play out. Will Morse spend time in another precinct? Or will Thursday and Strange magically make his transfer disappear? Season 8 awaits.
---
By
for on August 23rd, 2020
More to Love from Telly Visions