By
for on November 3rd, 2023
Foul-Mouthed Period Comedy 'Wicked Little Letters' Sets Olivia Colman and Jessie Buckley at Odds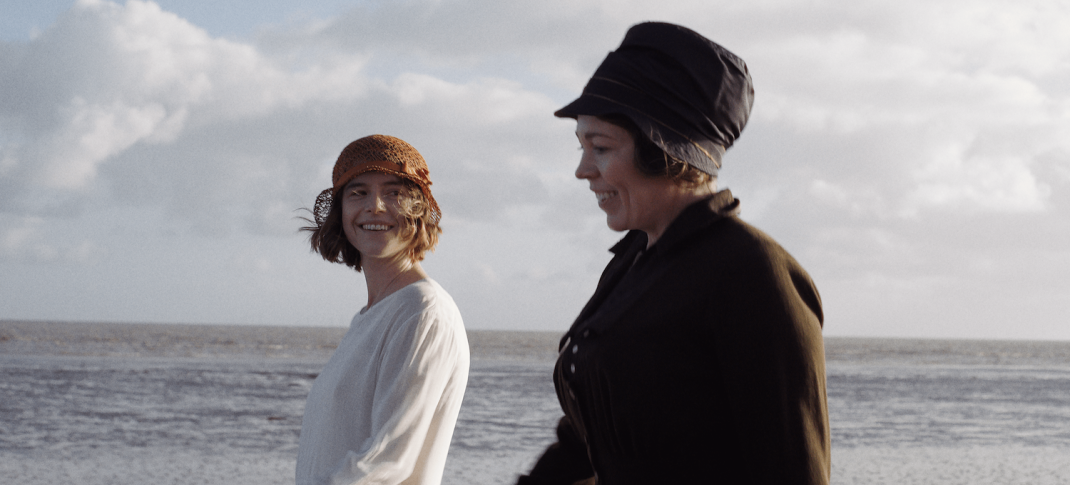 Sony Pictures Classics has acquired the North American rights to the feature film Wicked Little Letters, a foul-mouthed period comedy starring Olivia Colman (The Crown) and Jessie Buckley (Fingernails). The film, which reteams former The Lost Daughter co-stars, is based on a true story of a dark and absurd nineteenth-century scandal and features the sort of raunchy language and bawdy humor we very rarely associate with historical films. (As if profanity is some sort of modern day invention!)
Set in a 1920s English seaside town Wicked Little Letters sees two very different neighbors come together to solve a rather vulgar mystery. When various residents of the small town of Littlehampton begin receiving bizarre letters laced with explicit and frequently obscene language, the deeply conservative Edith Swan (Colman) immediately suspects rowdy Irish migrant Rose Gooding (Buckley) of being behind the strange phenomenon. (After all, she's got something of a history of using colorful language in public and she's a foreigner, to boot.) 
But Rose --- now threatened with the loss of her own freedom and custody of her daughter --- insists she's innocent, and a group of resourceful local women (including Edith) will have to join forces in order to find out the truth. 
Here's the film's synopsis.
Fiery Rose Gooding has little in common with the pious Edith Swan aside from them being neighbors in the seaside town of Littlehampton in the 1920's. But one day, Edith and others in the town start receiving scandalous letters written with foul language as eccentric as it is obscene, and the finger of suspicion immediately falls on Rose. As Rose stands to lose her freedom and the custody of her daughter, and outrageous letters continue to blight the town, police officer Gladys Moss begins to suspect something is amiss. Together with a group of resourceful women, Gladys endeavors to solve the mystery, liberate Rose, and catch the real culprit…   
Alongside Colman and Buckley, the film's ensemble cast includes Anjana Vasan (Killing Eve), Timothy Spall (The Sixth Commandment), Hugh Skinner (The Witcher), Malachi Kirby (Devils), Gemma Jones (Gentleman Jack), Lolly Adefope (Ghosts U.K.), Eileen Atkins (Doc Martin) and Alisha Weir (Roald Dahl's Matilda).
Wicked Little Letters is written by British actor and writer Jonny Sweet and directed by Thea Sharrock (Me Before You). It is executive produced by Anna Marsh, Ron Halpern, and Joe Naftalin for Studiocanal and Daniel Battsek, Ollie Madden, and Farhana Bhula for Film4. In addition to writing the screenplay, Sweet also executive produced the film along with Simon Bird for Person Pictures.
The film had its world premiere at the 2023 Toronto International Film Festival and will premiere in the U.K. in February 2024. Sony Pictures Classics has acquired the North American rights to distribute the film and will hit theaters at a still to be determined date in 2024.
---
By
for on November 3rd, 2023
More to Love from Telly Visions