By
for on November 1st, 2023
'The Kitchen' is a First Step Towards a New Political Genre in British Film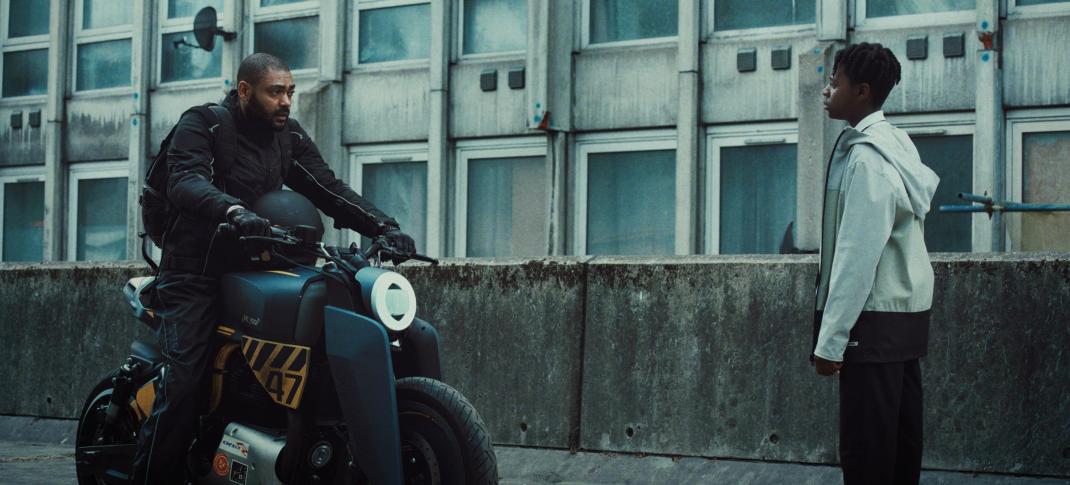 It's rare you see a British debut that so perfectly matches the sensibilities of both its co-directors and more refreshing if a British debut doesn't concern itself with the soon-to-be tired themes of grief and trauma. Of course, The Kitchen is in part about both of those things – a full-bodied and appropriately angry elegy to the brutalization and segregation of London's Black communities.
But the dystopian drama feels at times imaginative and shrewdly observant, glimpsing into the not-too-distant future where London's social housing has been replaced with prison-like compounds, like "the Kitchen," that barricade themselves from capitalist and carceral pressures like a fortress. The Kitchen is mourning not just an old London but the opportunities that have been denied since Black communities first formed in the city.
Daniel Kaluuya continues a compelling post-Oscar streak (his directorial debut comes on the heels of starring Nope and lending his voice to Across the Spider-Verse) with another project that explores a politicized and marginalized perspective within genre stories – even though his role is exclusively behind the camera. But co-director Kibwe Tavares' presence is just as crucial – the British filmmaker and architect has won Sundance trophies for his shorts and has yet to make a film that isn't concerned with the relationship between the marginalized body and the ecology of environments, how technology and power determine the lives of people who feel like a lesser priority than the space surrounding them.
The Kitchen is thoughtful of how society will extrapolate to intentionally leave some of its BIPOC members behind and makes its arguments with deft, impactful energy. Surveillance states will not lead to subservience but resistance; true solidarity is an energy that cannot be thwarted or repelled; technology cannot make good on its promise to replace community. But as a drama, The Kitchen should be more robust. The bifurcated narratives following Kitchen resident Izi (rapper and Top Boy star Kano) and young newcomer Benji (Jedaiah Bannerman) are loaded with questions of identity and myths of social mobility but co-writers Kaluuya and Joe Murtagh (Calm with Horses, American Animals) are too content to share the same space with their ideas rather than wrestle with them.
This doesn't mean The Kitchen is a politically incoherent work; in fact, its thoughtfulness is visible throughout its visuals and staging. The look of the film, designed by Beasts of the Southern Wild and Nine Days cinematographer Wyatt Garfield, finds vitality in the grays of inner city London – the meshes of concrete and metal feel more alive than the plantlife of the vivarium Izi works at. 
This is likely intentional – the plants are all grown from the composted remains of London's deceased, and it's Izi's job to pitch this wellness center-esque funeral service to bereaved customers. Here, the film's visuals and ideas combine faultlessly, as when Izi's motorbike ride to work shows the severity of London's wealth segregation – Izi crosses under a bridge, and immediately every road is immaculate, and every building is clean and minimalist. 
Some narrative elements are best left unspoken – the regular police raids that the Kitchen must defend itself against aren't given specific motives or pretense; they're just an embodiment of the violent purge that government forces wish to enact on the dense urban population. But The Kitchen tries to hang too much on an under-developed dynamic between Izi and Benji, who edge around the true nature of their relationship until far too late in the narrative. If this is a story about introducing a new generation to the unjust conditions of the world, The Kitchen does it too carefully, happier to let its capable performers emote and reflect without probing them with sufficient drama. Too often, we stare at conflicted and resigned faces, a sign of characters in desperate need of additional richness.
In isolation, both Izi and Benji work – Benji's yearning for community as opposed to his late mother's haunted-house apartment clashes with Izi's calculated dreams of escaping the Kitchen in favor of a life that the world outside has guaranteed will provide all the social needs that the Kitchen does. But stretched over 100 minutes, The Kitchen finds itself occupying scenes too timidly for such an urgent story. 
Because things really kick off in 20 minutes, reaching an almost spiritual volume of clamor and rebellion, you're left reflecting that Kaluuya and Tavares have what it takes to pioneer a new wave of uncompromisingly political genre films in a sanitized British film landscape. That might be the case – but The Kitchen will likely be remembered as the first step toward this film future rather than a sign we've reached it.
The Kitchen is expected to premiere in limited release in U.S. theaters in late December 2023, going into wide release and streaming on Netflix in January 2024.
---
By
for on November 1st, 2023
More to Love from Telly Visions