By
for on May 18th, 2023
Sundance Now Sets Premiere Date for 'Clean Sweep'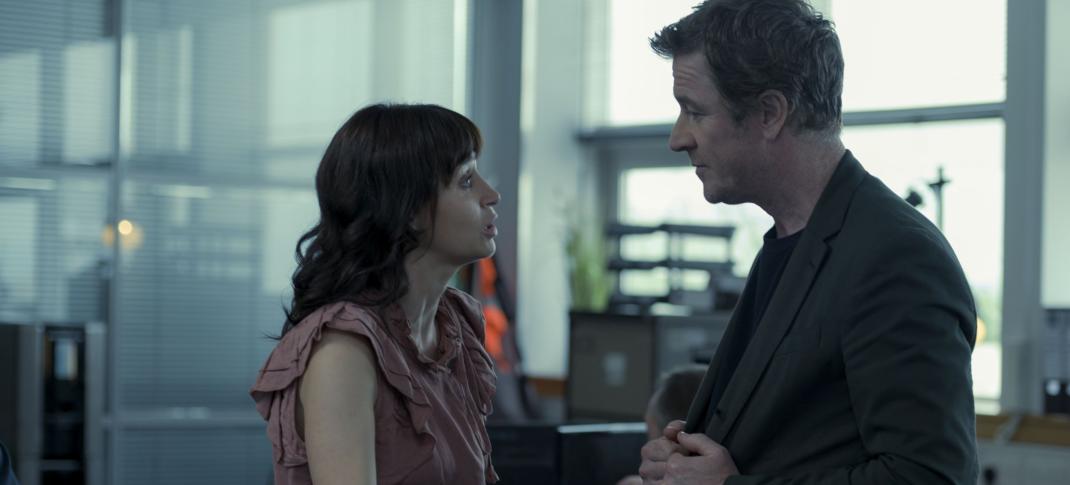 Sundance Now first announced it was picking up Clean Sweep, an Irish thriller starring Charlene McKenna (Peaky Blinders), as part of the 2023 slate in September 2022. It was part of a larger announcement of series coming to this side of the pond, including SisterS, Totally Completely Fine, and Black Snow, among others that have already debuted. The six-part series, created by Gary Tieche (Preacher), is based on a true story about a mother of three who will do anything to keep her detective husband from learning about her secret violent past.
The series was initially granted public funding and commissioned in November 2021, along with the Kevin Sorbo film Eating with the Enemy. Production was initially announced to begin right away, but due to the pandemic, the series was slow to get off the ground, with principal photography delayed until mid-2022. Sundance Now boarded the project just as filming began, along with ZDF Studios joining the Irish network RTE. Both McKenna, who plays mother Shelly Mohan, and co-star Barry Ward (Bad Sisters), who plays her husband, were announced as joining the project.
Clean Sweep only just premiered in Ireland on May 14, 2023, with critics comparing it to 2021's Irish crime family thriller Kin, which streamed on Sundance Now's sibling streaming service AMC+. AMC+ will also stream Clean Sweep concurrently with Sundance Now, with both services debuting two episodes on premiere day and one a week to follow.
Sundance Now has not released a trailer as yet; however, RTE's gives a good sense of the series' tone.
Here's the series synopsis:
Shelly Mohan is super mom. Her secret power? Multitasking. She juggles the complex lives and schedules of three kids, ages 10, 11, and 15. Her days are filled with cooking and cleaning, shopping and chauffeuring, and somehow manages to have a home-cooked meal on the table by the time her husband Jason, a Galway Garda detective, arrives home every night. It's chaotic and hectic and mostly thankless, but it is a life Shelly is happy with. But when a dark secret emerges from her past, she makes a fatal choice to prevent the truth from surfacing.
McKenna and Ward are joined by Cathy Belton (Hidden Assets), Kaitlyn Rose Downey (The Princess), and Adam Fergus (Harry Wild) as co-stars. The series also features Trevor Kaneswaren (Line of Duty), Rhys Mannion (It Is In Us All), Aidan McCann (Bad Sisters), and Jeanne Nicole Ní Áinle (SisterS). Tieche wrote five out of the six episodes, with Fran Harris (Blue Lights) writing the sixth. Directors Ronan Burke (Harry Wild) and Yves Christian Fournier (L'homme Qui Aimait Trop) split helming duties across the six episodes. Tieche and McKenna are also executive producers, along with a host of others, due to the public-funded nature of the project.
Clean Sweep premieres on Sundance Now and AMC+ on Thursday, June 22, with two episodes, followed by one a week through July 20, 2023.
---
By
for on May 18th, 2023
More to Love from Telly Visions