By
for on May 17th, 2023
Dark Comedy 'SisterS' Swings & Misses But Still Has Heart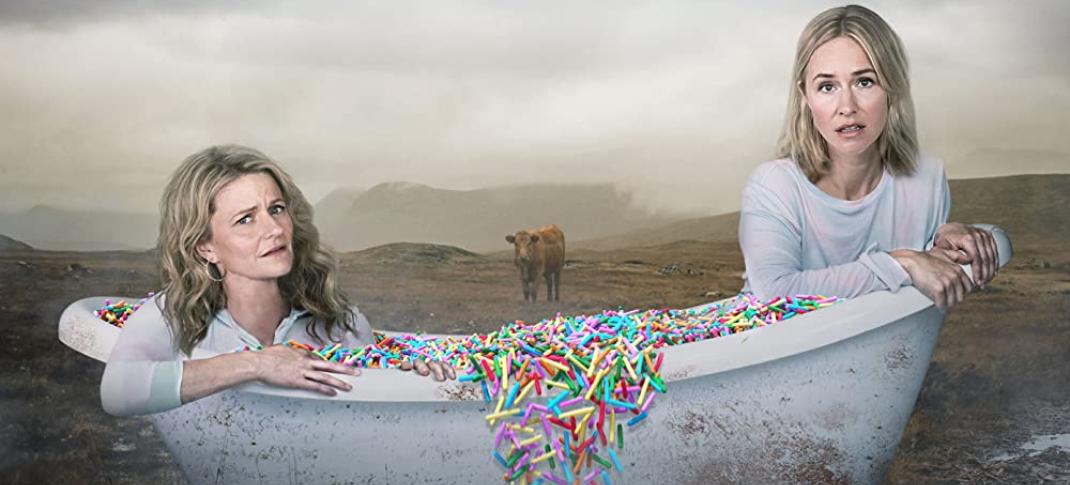 Hailed as the Irish Fleabag, SisterS wants to be equal parts caustic, heartfelt, and subversive. But in stretching in so many directions, it flattens itself nearly one-dimensional. SisterS follows two half-sisters in their thirties on a road trip across Ireland in search of their absentee father. Younger sister Sare is bright- eyed and bushy- tailed, despite reeling deep down from the recent death of her mother. She comes to Ireland from Canada after learning that her long-lost father is Irish. There she meets her older sister Suze, who is down-on-her-luck and solves her myriad problems with alcohol.
After much imploring from Sare, the two hop into an old ice cream truck and set out to find their birth father. Along the way, they meet a colorful cast of characters and struggle to find balance in their newfound sisterhood. By the time they reach Galway, where their father lives, everything is not as it seems.
SisterS was created by best friend duo Sarah Goldberg (Barry) and Susan Stanley (Hotel Amenities), who wrote and star in the show as its titular sisters. The story behind the show's conception is almost more compelling than the show itself. The sisterly opposites-attract dynamic between Suze and Sare, based on the creators' real-life friendship, is another one of the show's highlights. They go from screaming at each other to comforting each other in a way familiar to any sister. The actors' love and respect for each other shines through and makes it easy to root for the characters to reconcile their differences and makes it all the more satisfying when they finally come together.
The show is best at its darkest — literally and figuratively — hitting a comedic and emotional high in Episode 3, when Sare's "mini abortion" causes the two to pause their road trip and inadvertently crash an Irish Catholic wake in the middle of the night. This episode is a prime example of how to talk about hot-button issues without the self-congratulatory airs that shows and movies often adopt. Their frank discussions are refreshing in their normalcy. Suze and Sare, along with the women they meet at the wake, feel the most like fully realized people in this episode.
The biggest issue with the show is how flat it feels, in both tone and characterization. It tries to send up character archetypes (the overzealous tourist, the Irish drunk, the fussy Irish Catholic mother, the deadbeat dad), but instead, it flattens the characters. (The Irish Times focuses on this issue in its scathing review.) The show leans on these archetypes and lets them do the heavy lifting of characterization without saying anything new or interesting about them.
Suze and Sare spend the first two episodes being so utterly unlikeable in opposite ways that it is an impressive feat that the show is able to make them grow more likable—even loveable—to each other and to the viewer. This is the kind of show that is blatantly trying very hard to tell audiences how to feel, through its maudlin-to-comedic fake-outs and a sometimes saccharine soundtrack. At best, it successfully tugs at heartstrings, but at worst, it feels didactic.
Suze's mom, Sheryl (Susie Thompson), and Sare are two of the show's most emotionally withholding characters, but the only way they reveal their interiority is when they are quite drunk. This ties in with the show's themes of generational trauma and addiction, but feels like a writing cheat. Some of the series' most compelling moments happen mysteriously offscreen, yet another writing cheat and an overly convenient way to get characters out of physical or emotional peril.
In its goal of highlighting "the complexities of life as a woman in your 30s," the show mostly succeeds. Although the characters of Sare and Suze are sometimes flattened by stereotypes, they do effectively stand in for women of their age and upbringings. The show doesn't shy away from topics like abortion, abuse, addiction, and mortality. But in trying to avoid the Very Special Episode treatment, anything more profound or touching they could be saying gets lost in the shuffle. To its credit, it does portray two women whose lives ultimately do not hinge on men or traditional gender roles, just not as effectively as other media about thirtysomething women breaking social norms like The Farewell and Adult Life Skills.
For a show that wants to talk about women, the characters spend a surprising amount of time talking about the men in their lives. Despite the women-led cast, most episodes barely pass the Bechdel test (as imprecise as that may be). There is even a bizarre and barely relevant foray into romance for both women in the show's fourth episode.
The show ends on a high note, with its final episode another one of its best — and again, one of its darkest thematically. The last episode speaks more profoundly of generational trauma, abuse, and addiction than any that come before it, defying expectations and leaving the viewer with plenty of food for thought.
Sorry SisterS, only Fleabag can be Fleabag. But for every male-driven comedy flop of the last several decades, women deserve to make swing-and-a-miss comedies too. The passion and heart of the show's creators is the best thing about it, and for that alone, it deserves a chance.
SisterS premieres on May 17, 2023, on IFC, with new episodes airing weekly, and the full season will drop the same day on Sundance Now and AMC+.
---
By
for on May 17th, 2023
More to Love from Telly Visions