By
for on May 5th, 2023
Sisterhood Takes the Spotlight in the Trailer for Irish-Canadian Series 'SisterS'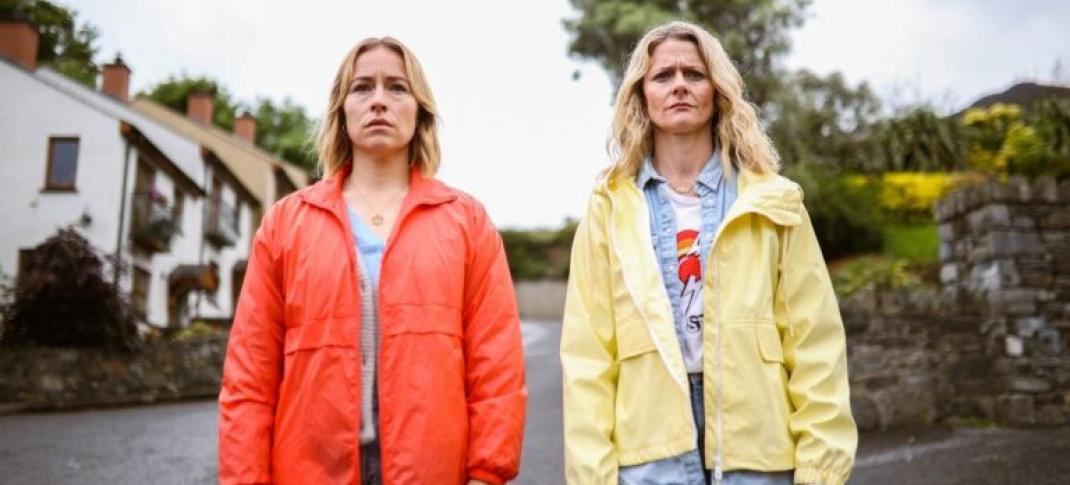 Anyone with a sister (or a friend who feels like one) knows the power of a sister story. And the best remedy for a sister-less existence is to live vicariously through the silver screen. The trailer for the new comedy-drama series SisterS promises all the laughter, tears, frustration, and love that sisterhood brings.
SisterS, an Irish-Canadian co-production, is written by Sarah Goldberg (Barry) and Susan Stanley (Hotel Amenities), who also star as the titular half-sister duo. The series is a dark comedy-drama about two long-lost half-sisters, one Irish and one Canadian, who unite for the first time on a road trip to find their father. Goldberg, like her character, is Canadian, and Stanley and her character are Irish. The series follows in the footsteps of other popular recent sister-driven comedies like Fleabag, Hullraisers, and This Way Up.
Goldberg and Stanley are longtime friends who met in theater school 19 years ago. They have been writing and acting together ever since, but this particular show has been in the works for seven years. Speaking to VIP Magazine on their process and inspiration, Goldberg said, "We had been passing notes and trying to come up with an idea we really wanted to talk about – epigenetics of trauma, chosen family, all types of issues of being a woman in your thirties. We wanted to do it with humour."
Irish director Declan Lowney (Ted Lasso) is the executive producer and directed three of the show's six episodes, and Alicia MacDonald (The Outlaws) directed the other three. Lowney was impressed by Goldberg and Stanley's script and told The Irish Times that he "hadn't read anything like it in a long time."
The official synopsis of the show is as follows:
In Toronto, Canada, Sare's mother dies. In the aftermath of her death, she discovers that her father was not her actual father, he was in fact, an Irish busker her mother met while backpacking some thirty years ago. She decides to travel to Ireland to track him down, only to discover she has a half-sister. Meanwhile in Dublin, Suze's life is unraveling – she's lost her partner, her flat, her job…and not to mention – her dignity. On her 37th birthday, her life takes an unexpected turn, when her Canadian half-sister shows up. Sare convinces a reluctant Suze to embark on a road trip across Ireland to find their alcoholic father. Confined by the four walls of a crumbling ice cream van, it's a baptism of fire for these sisters. They forge an unbreakable bond as they discover sometimes it's the family you choose that can carry you through.
The characters of Sare and Suze are loosely based on Goldberg and Stanley's opposites-attract friendship and the way that they balance each other's personalities. Stanley told VIP Magazine that when they met, "I was this hardcore, bitter Irish person. I was cool, but I didn't love myself. Sarah was this super confident, gorgeous, bright-eyed Canadian who didn't hate herself. We were real opposites, but we bonded quite quickly… What happens if these two people who are complete opposites are thrown together and have to stay together? What does that to them? And what do they learn about themselves and each other?"
The series also features Harki Bhambra (This Is Going to Hurt), Liam Carney (Harry Wild), Frank Laverty (The Virtues), Donal Logue (Law and Order: Special Victims Unit), Rory Nolan (Foundation), Darragh Shannon (Wolf), Pat Shortt (The Banshees of Inisherin) and Sophie Thompson (Sex Education).
The series was filmed in Ireland last summer with the support of the Broadcasting Authority of Ireland and was produced by Peer Pressure and Shaftesbury in association with Mermade and Gaze Pictures.
SisterS aired across the pond in March 2023, but it will come to US shores this May. It will premiere on May 17, 2023 on IFC with new episodes airing weekly, and the full season will drop the same day on Sundance Now and AMC+.
---
By
for on May 5th, 2023
More to Love from Telly Visions