By
for on January 6th, 2014
Watch the ITV Trailer for Series 2 of 'The Bletchley Circle', Coming to PBS Stations This Spring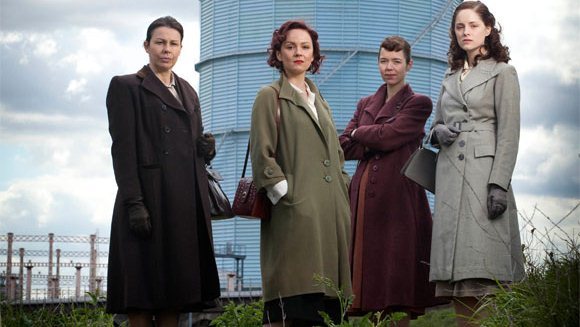 ITV has released a trailer for the highly anticipated second series of female-led mystery series The Bletchley Circle. The period drama follows the story of four women – all former Bletchley Park  codebreakers – who use their skill at deducing patterns and decoding puzzles to solve crimes.
Series 2 will be comprised of four episodes and will tell two self-contained stories, each spread across two of the sixty-minute installments.  This is a bit of a departure from the first series, but not a completely unwelcome one if done well. The new episodes will be set a year after the events of Series 1, and stars Anna Maxwell Martin, Rachael Stirling, Sophie Rundle and Julie Graham are all set to return.Hettie Morahan will join the cast as another former Bletchley girl who is facing some dark problems of her own.
Per the official press release, here's what we can expect to see: The first two episodes of Series 2 are called Blood on Their Hands. Viewers find former Bletchley Park girl Alice Merren in prison awaiting trial for murder. Jean stands behind her innocence and tries to reunite the circle in an attempt to help one of their own. Susan is reluctant to get involved after her experience with the twisted serial killer Malcolm Crowley and the danger it posed to her family. Lucy is now getting on well in a clerical job at Scotland Yard and keeping her head down, and Millie is working as a German translator.
Episodes 3 and 4, called Uncustomed Goods, find Millie branching out into what she believes to be an innocent sideline of dealing in unaccustomed goods (translation: the black market). This endeavor leads to her being kidnapped and held in a seedy hotel by some gangsters. On discovering this, Alice goes to Jean and Lucy to help. The girls start to investigate in order to save their friend and, as they do so, uncover a much darker, hidden world of crime.
Take a look for yourselves below – I know it's only thirty seconds, but it looks fantastic! 
The Bletchley Circle returns to ITV this week in the UK, and Series 2 is set to air in the States on PBS stations nationwide this April. If for some reason, Series 1 flew under your radar, it's available on Netflix streaming here.
Personally, Series 1 was something of a surprise hit for me – I didn't expect to enjoy it nearly as much as I did, but I thought the cases were interesting and the character work was wonderful. I can't wait to see where they take these ladies from here. (And with an extra episode to work with, to boot!)
What about you? Are you looking forward to the return of Bletchley? 
---
By
for on January 6th, 2014
More to Love from Telly Visions