By
for on December 13th, 2022
PBS Period Drama 'Sanditon' Will End With Its Third Season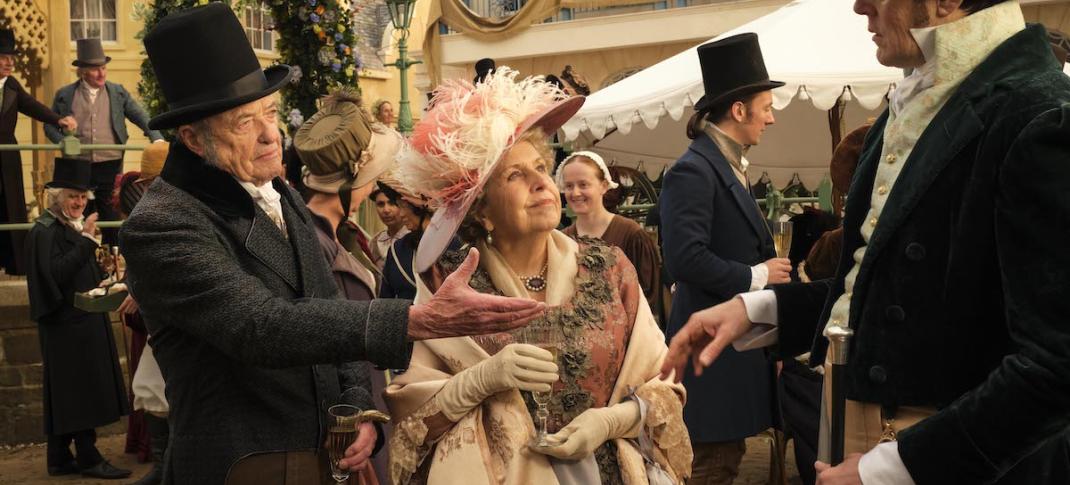 All good things must come to an end. Masterpiece has announced that the third season of its popular period drama Sanditon will be the series' last, bringing an end to the show's dramatic reversals of fortune that have seen it canceled, revived for a surprise additional pair of seasons, and now concluded over the past few years. 
Inspired by Jane Austen's final, unfinished novel, the series follows the story of heroine Charlotte Heywood (Rose Williams)'s romantic adventures in the eponymous seaside resort town. From building a friendship with wealthy heiress Georgiana Lambe (Crystal Clarke) to navigating various personal relationship heartbreaks and attempting to forge her own future on her own terms, her story has been both a moving and entertaining one. How it will ultimately end is a question that only Season 3 can answer, but at least the series is getting the chance to go out on its own terms and give the many characters we've come to care about a proper farewell. 
"Sanditon has been an incredibly special series for Masterpiece, and we know it has found its way into the hearts of countless fans," said Susanne Simpson, Masterpiece Executive Producer. "While we are sad to say goodbye to the series, we know our audience has a lot to look forward to in this new season."
To soften the blow of the series' end, Masterpiece has also released our first proper look at the new season. This romance-focused teaser trailer implies love will be a significant focus of the series' final run of episodes and introduces a handful of new characters who will be part of the story.
Most of the clip is focused on Charlotte, whose repeated romantic heartbreaks have left her engaged to Ralph Starling (Cai Brigen), a neighbor boy she doesn't love. But, if this trailer is anything to go by, things aren't necessarily over for good between her and wealthy widower Alexander Colbourne (Ben Lloyd Hughes), who looks as bereft and mopey without her as anyone might have predicted. 
"She is soon to be married," Colbourne sadly tells his brother Samuel (Liam Garrigan). "She is not married yet," his sibling replies, indicating that there's still some sort of hope for the pair should Alexander decide to fight for her.  
Other returning faces for Season 3 include Crystal Clarke as Georgiana Lambe, Kris Marshall as Tom Parker, Kate Ashfield as Mary Parker, Anne Reid as Lady Denham, Jack Fox as Edward Denham, Turlogh Convery as Arthur Parker, and Sophie Winkleman as Lady Susan. 
They'll be joined by several major new characters, most notably, the multiple members of the Montrose family. Emma Fielding (Van der Valk) plays Lady Montrose, a quintessential Austen mother determined to see her children make suitable matches. Alice Orr-Ewing is her daughter Lydia, a young woman who isn't as interested in finding a partner for herself as her mother is, and Edward Davis (Emma) is her brother Lord Henry, whose charisma helps cover up a secret. Former New Tricks star James Bolum plays Rowleigh Price, a wealthy, curmudgeonly investor interested in helping Tom Parker expand the seaside resort. But their plans become complicated when he runs into Lady Denham. 
"It's a thrill to be bringing Sanditon back to audiences for one more trip to the seaside," said Belinda Campbell, Executive Producer for Red Planet Pictures. "This third and final season is full of the heart and joyful spirit that viewers will connect with. Our dedicated fans have been amazing in supporting the show, and we hope they'll enjoy the conclusion of Charlotte and Georgiana's stories."
Sanditon Season 3 will premiere on Sunday, March 19, 2023. Seasons 1 and 2 are currently available to stream on PBS Passport. 
Stream Now
Sanditon
The fan-favorite drama inspired by Jane Austen's final, unfinished novel.
Image
---
By
for on December 13th, 2022
More to Love from Telly Visions