By
for on May 12th, 2023
'Rogue Heroes' Adds Several More A-List Faces For Season 2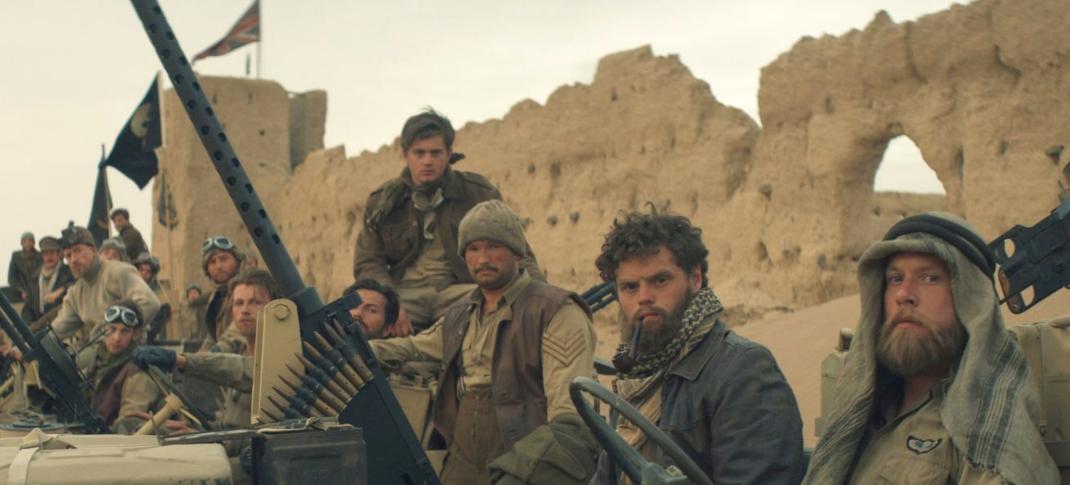 Perhaps it should have been a no-brainer that when Steven Knight finished Peaky Blinders as a TV series, his next period drama would also be a massive hit. Maybe, had it not been about World War II or been named for the British Special Air Service, streaming services in the U.S. would have taken more notice. Instead,  the small-time Epix streaming service, owned by Metro-Goldwyn-Mayer, scooped it up for a song, and (after they were bought hook, line, and sinker by Amazon), it's now one of the biggest hits streaming on the newly renamed MGM+, a streamer few in America have heard of and even less have.
Knight was inspired to create the series after reading Ben Macintyre's best-selling book of the same name, with is a non-fiction dramatized account of the origins of the U.K.'s greatest Special Forces unit, the SAS. The division was created in the middle of WWII, in 1941, right around the time the allies were losing badly, especially the U.K. Their mission was mainly being dropped behind enemy lines in small bands across North Africa and Axis Europe, staging rescues of POWs and fighting is super close combat with Nazis. The series stars several major actors playing real-life figures from the time.
The good news is that Amazon has deep pockets to market a show (when it actually bothers to), and making MGM+ at least respectable is in the game plan, so there's a good chance Anglophiles might find this series when it returns to the states. Considering how many major A-listers are joining the already-stellar cast for the second season, chances are rising it might break through the glut of entertainment to find an audience.
Season 2 will pick up not long after Season 1's conclusion at the end of 1942.
Spring, 1943. With David Stirling captured and Paddy Mayne now in charge of the SAS, their attention must turn from the conflict in North Africa to mainland Europe. But GHQ have cast doubt over the future of the regiment, while the creation of a new unit and a surprise arrival make things even more difficult for the men. Can they prove that the SAS remains essential to the war, wherever it may lead them?
Rogue Heroes' first season starred Connor Swindells (Sex Education) as David Stirling, Jack O'Connell (Lady Chatterley's Lover) as Paddy Mayne, Sofia Boutella (Modern Love) as Eve Mansour, Dominic West (The Crown) as Dudley Clarke, Alfie Allen (Game of Thrones) as Jock Lewes, and Tom Glynn-Carney (House of the Dragon) as Sergeant Mike Sadler. While those last two won't be back for Season 2, co-stars returning for the new season include Corin Silva, Theo Barklem-Biggs, Jacob Ifan, Jacob McCarthy, Stuart Campbell, and Bobby Schofield, with Jason Watkins (Around the World in 80 Days) as Winston Churchill.
Season 2 will add Gwilym Lee (The Great) as Bill Stirling, David Stirling's brother, and Con O'Neill (Happy Valley) will play General Montgomery. Other new SAS members include actors Mark Rowley (The North Water), Jack Barton (Heartstopper), Paolo De Vita (Anonymous), Anna Manuelli (Blocco 181), Edward Bennett (Industry) and newcomer Matteo Franco.
Rogue Heroes Season 2 will run six episodes, all of which were penned by Knight and helmd by director Stephen Woolfenden (Outlander) with Stephen Smallwood (The Serpent) as producer. The series will be executive produced by Karen Wilson, Emma Kingsman-Lloyd, and Martin Haines for Kudos, and Nick Lambon for the BBC.
Rogue Heroes Season 2 does not yet have a release date, but is expected to arrive in late 2023 or early 2024.
---
By
for on May 12th, 2023
More to Love from Telly Visions