By
for on December 2nd, 2022
Damian Lewis' 'A Spy Among Friends' Lands At Newly Rechristened MGM+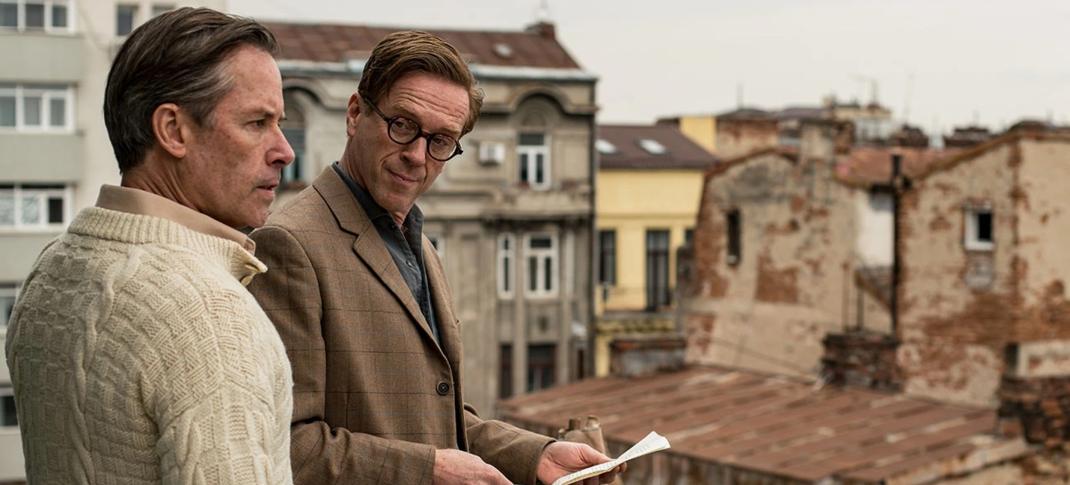 Since announcing its first slate of four originals in 2020, BritBox UK has undergone significant changes, not the least of which was the BBC leaving the British side of the enterprise after ITV moved it under its streaming service, ITVX. The fate of the titles BritBox was producing varied: Magpie Murders has been a massive success on PBS; The Beast Must Die was a modest success on AMC+ but a second season seems to have disappeared; Irvine Welsh's Crime series flopped. The last title, A Spy Among Friends, has struggled along, only just arriving in the U.K. in December 2022, and finally picked up for the U.S. by the newly renamed MGM+.
A Spy Among Friends was first announced in July 2020, with Damian Lewis and Dominic West tapped as leads, a joint venture of BritBox UK and Spectrum Originals, the latter of which most people never heard of. By the time the show was put into production in October 2021, West had exited for The Crown, with Guy Pearce taking over the role. 
Unfortunately, streaming services can only last so long without people knowing they exist. Though, like Peacock, Spectrum was subsidized by its parent cable company Spectrum TV, it never really took off, with its few originals (like the Mad About You revival and L.A's Finest, a Bad Boys TV spinoff) never making a cultural impact. In August 2022, Spectrum Originals shut down, and what was left was shopped to other streaming services, leaving A Spy Among Friends in limbo. The good news for viewers is A Spy Among Friends has been rescued. The bad news is that it was rescued by another streamer you've never heard of: MGM+. 
Until recently, MGM+ existed under a different name: EPIX, which is shared with the premium cable channel and owned by the same company. Epix has a few shows viewers may recognize, like Julian Fellowes' Belgravia (co-produced with ITV), Rogue Heroes (produced with the BBC), Domina and Britannia (both with Sky Atlantic), and the Canal+ show War of the Worlds. However, it never made much in the way of inroads with audiences. So when Epix's parent company, Metro-Goldwyn-Mayer, was bought wholesale by Amazon after MGM refused to let them have the rights to stream James Bond, the new owners decided to rebrand. 
Epix and its sister cable channel will now be called MGM+, with the name officially changing as of January 2023. Meanwhile, Amazon has moved the channel and streaming service under the same leadership as its other two streaming services, the Prime Video flagship service and "Amazon Freevee," indicating that though MGM+ will sit as a standalone service for subscribers (at least for now), it will be working in conjunction with the other two.
Whether or not Amazon will start treating it much like AMC+ treats Acorn TV and Sundance Now as the repository for British content remains to be seen. But though MGM has a long and storied history in movies, it is now most closely associated with the James Bond franchise, and it is notable that A Spy Among Friends with that same "British Spy Thriller" category. 
Based on Ben Macintyre's book of the same name, A Spy Among Friends tells the true story of two British spies and lifelong friends, Nicholas Elliott and Kim Philby. Here's the show's official synopsis:
A Spy Among Friends follows the defection of the notorious British intelligence officer and KGB double agent, Kim Philby, through the lens of his complex relationship with MI6 colleague and close friend, Nicholas Elliott. The show examines espionage through their friendship, the fallout of which affects East-West relations to this day.
Damian Lewis (Wolf Hall) plays Nicholas Elliott, with Guy Pearce (Jack Irish) taking on the role of Philby. The series also co-stars Anna Maxwell Martin (COBRA), Stephen Kunken (The Affair), and Adrian Edmondson (War and Peace).
A Spy Among Friends runs six episodes and will debut on MGM+ sometime in early 2023.
---
By
for on December 2nd, 2022
More to Love from Telly Visions