By
for on December 2nd, 2022
Netflix's 'Lady Chatterley's Lover' is Romantic and Feminist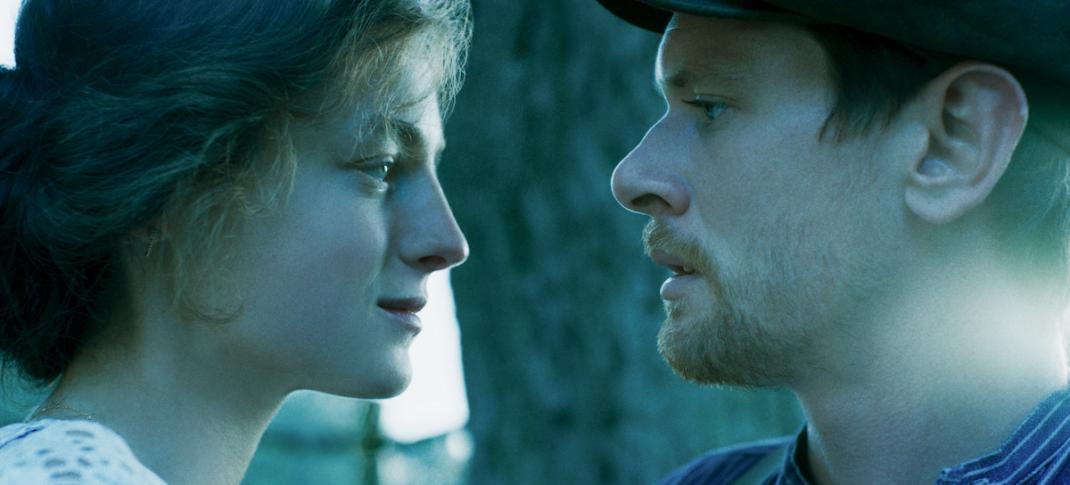 Director Laure de Clermont-Tonnerre has created a miracle in Netflix's Lady Chatterley's Lover. She and screenwriter David Magee (Miss Pettigrew Lives for a Day) bring a romantic and feminist perspective to D. H. Lawrence's troublesome 1929 novel. Leads Emma Corrin (The Crown) as Connie Chatterley and Jack O'Connell (Tulip Fever) as Oliver Mellors perform with conviction and passion, creating great chemistry. The dreamy, reflective nature of their love story is energized by the subplot of social change that, as much as the sex, drives the film and the novel.
The film gives us just enough backstory on the characters. Connie comes from a bohemian background, which included some sexual adventures, and falls in love with Sir Clifford Chatterley (Matthew Duckett, in his first major film role). They marry during World War I, and he returns home wounded but determined to restore his estate and become a writer.
Now relying on a wheelchair, his determination, courage, and his love for his wife, make him a sympathetic character until bitterness and disappointment take over. But now there's only one problem –– he is impotent and needs an heir. He suggests that Connie seek out a suitable sperm donor, to put it mildly, advising her to think of it as like a visit to the dentist. And also, of course, with the right sort of man, someone discreet and of their social class.
Connie types as Clifford "writes" his novel, but he loses interest in a literary career after the book receives a contemptuous negative review, immersing himself in business matters, including the coal mine on his estate. Connie becomes exhausted by her devotion to Clifford. It takes a visit from her strong-minded sister Hilary (Faye Marsay), to insist that Clifford hire someone else to take care of him. In a nice callback, Joely Richardson, who played Connie in the 1993 adaptation of Lady Chatterley opposite Sean Bean, plays Mrs. Bolton, Clifford's former nanny, who joins the household.
Oliver Mellors, a working-class man, promoted to Lieutenant during the war, and disillusioned by his contact with upper-class officers, is also hired as the gamekeeper. Everyone, one way or the other, is bearing the consequences of the war. People are leaving the community because there's no work, exacerbated by Clifford's decision to use machinery rather than manpower in his coal pits.
Similar decisions by his fellow landowners have resulted in industrial unrest Connie witnessed at the local May Fair, disturbing an old rural tradition. The meaning is clear –– machines dehumanize and make unfair demands on those who operate them and destroy the natural environment. This is aptly shown as Oliver and Connie struggle to get Clifford's fancy new gasoline-run wheelchair over ruts or up steep surfaces.
When Connie meets her husband's quiet and reserved gamekeeper, she decides she wants to spend time reading in the hut where he rears game bird chicks and tells him she will get a key made so she can go there any time. He's a reader, too. Connie notices he has a book by James Joyce on his bookshelf, one of two references to contemporary writers whose books were banned. The other is Virginia Woolf, who Connie reads.
It's in something of the same spirit of innocent invasion that their sexual relationship begins, with her making the first move. This is not according to the Lawrence canon, where men lead and tell women how their bodies work, which was first condemned by feminist Kate Millett in her work Sexual Politics (1969). On the contrary, Connie tells Oliver she was drawn to him by his tenderness and willingness to take a more dominant role when she asks. She's had enough of gentlemen.
The sex scenes may be explicit, but they are also playful and gentle, the outdoor scenes in pretty pastel landscapes. Clermont-Tonnerre doesn't insist on a literal interpretation of the novel. Lawrence's courageous yet silly moments are toned down and performed with laughter and abandon rather than as solemn rites of love.
Inevitably Connie begins to suspect she is pregnant, and rumors run rife in the village, and among the servants, regarding the extent of Clifford's disability. Connie plans a trip to Venice with Hilary so Clifford will believe she may have taken a lover there when she reveals her pregnancy. But Oliver is upset. He feels used. Connie apologizes, but it's a dose of reality for them both.
He suggests they start afresh in Australia, away from England's stultifying and inhumane attitudes, but is distracted when Connie starts undressing. They run out for a naked romp in the rain and meet Mrs. Bolton, who's come to look for Connie. Connie isn't sure whether Mrs. Bolton is an ally and decides to tell Clifford about the affair but not her pregnancy, ending the angry conversation by going upstairs.
Hilda, with whom she's going to travel to Venice, is furious. She accuses Connie of confusing sex with love, but worse, he's a servant, and what will happen next? Oliver, too, has domestic troubles and a partner who won't agree to a divorce. As long as she's officially married to him, she'll receive a share of his military pension, even if she's living with someone else. Connie and Oliver's sojourn in their own garden of Eden is about to end.
When Connie's family finds out about the pregnancy, they assume she will return to Clifford. At this point, the film slows and stutters as Connie goes to Italy, and Oliver is fired and leaves to find work. He tells Connie he'll find her, wherever she may be. But to Mrs. Bolton, he acknowledges that dark days are ahead, and neither Connie nor we know where he is. Connie leaves Italy when her pregnancy starts to show, and the other ex-pats ostracize her.
On her return, Connie confronts Clifford. Everyone in the community knows about her affair, and he won't be able to acknowledge the child as his. He refuses to give her a divorce because she didn't follow the rules he made. Her husband and the law imprison her as much as he is in his wheelchair. Mrs. Bolton silences gossip in the laundry room by declaring Connie and Oliver's relationship is a love story. In her quest to find Oliver, Connie is to find out their story has achieved the status of a myth, of which she is the heroine.
Despite the fragmentary nature of the film toward the end, it's a remarkable interpretation of a book and well worth the watch. It was D. H. Lawrence's last book, written when he knew he was dying, his last chance to preach his gospel, a confusing mix of transcendent sexuality and hand-picked snippets from world mythologies. He was also saying goodbye to the English countryside he loved. The elegiac quality of the film, and its cool palette of blues and greens, all speak to what is best in the novel. Laure de Clermont-Tonnerre and the brilliant cast have reinvented Lady Chatterley's Lover for a new generation.
Lady Chatterley's Lover is streaming on Netflix and available at select theaters.
---
By
for on December 2nd, 2022
More to Love from Telly Visions