By
for on September 30th, 2013
First Look: 'Downton Abbey's' Lily James in Live Action 'Cinderella'
Disney has begun production on its live-action adaptation of classic fairytale Cinderella. Principal photography is underway in London and as a tease for fans the studio has released its first promotional image featuring star Lily James.
You probably recognize James as wild child cousin Rose from Downton Abbey, but the actress has swapped her Scottish estate and penchant for jazz clubs for a starring role featuring glass slippers and a charming prince this time around.
Get a first look at her Cinderella below.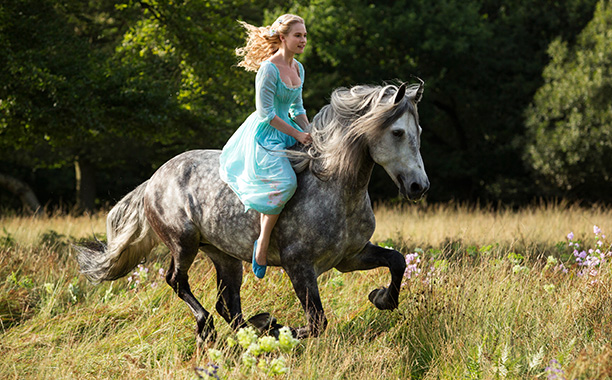 Obviously, there's no glass slipper, but that kind of looks like Cinderella's iconic blue dress, doesn't it? 
This live action adaptation is being directed by none other than Sir Kenneth Branagh himself, and boasts a top notch supporting cast, including Game of Thrones' Richard Madden as Prince Charming, Cate Blanchett as Cinderella's wicked stepmother Lady Tremaine, Helena Bonham Carter as the Fairy Godmother, Sir Derek Jacobi as the King, and The Borgias' Holliday Granger and James' Downton co-star Sophie McShera as Cinderella's stepsisters. Amazing group, right?
"It is impossible to think of Cinderella without thinking of Disney and the timeless images we've all grown up watching," said Branagh in a statement. "And those classic moments are irresistible to a filmmaker. With Lily James we have found our perfect Cinderella. She combines knockout beauty with intelligence, wit, fun and physical grace. Her Prince is being played by Richard Madden, a young actor with incredible power and charisma. He is funny, smart and sexy and a great match for Cinderella."
Cinderella is slated to be released in theaters in March 2015. Do you have any interest in seeing a live action version of this fairytale? 
(Photo credit:  Disney/Giles Keyte via Official Disney Fan Club Twitter. )
---
By
for on September 30th, 2013