By
for on November 5th, 2022
The 'Lady Chatterley's Lover' Trailer Spotlights The Novel's Steamy Affair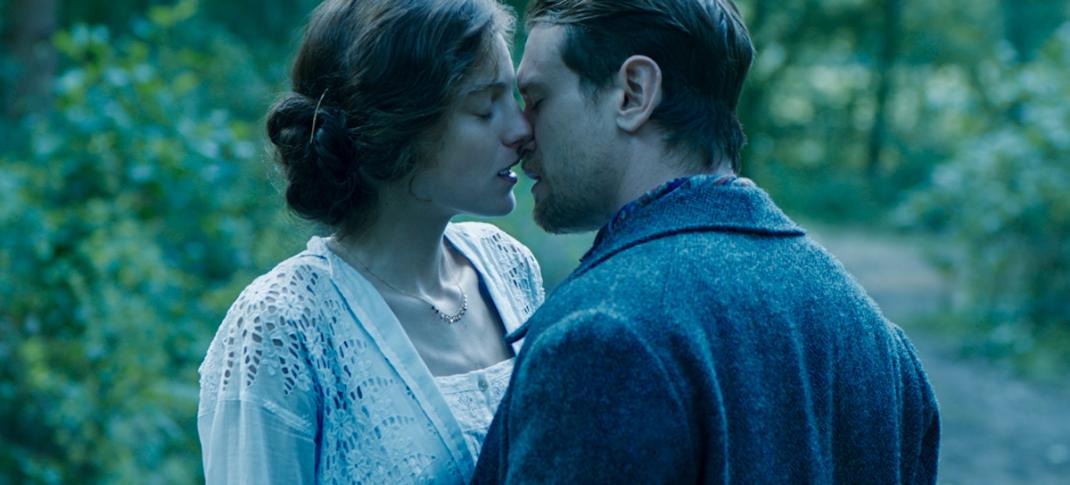 D.H. Lawerence's classic novel Lady Chatterley's Lover was banned immediately when it was published in the 1920s. And largely stayed on the global banned books list for the better part of the century that followed—for reasons that may or may not seem quaint now that books like Fifty Shades of Grey regularly top the New York Times bestseller lists. But the book was the subject of a landmark obscenity trial in the U.K. in the 1960s against the publisher. (Penguin Books won the case, and the novel sold over 3 million copies.) 
 But Lawrence's story was considered downright shocking for its period: Both protagonists were married (to other people!) when divorce was still only generally granted for evidence of a marital crime. The book features explicit descriptions of sex and sexual anatomy, repeatedly uses several then-unprintable four-letter words, and even refers to anal sex, which was illegal at the time.
To modern-day audiences, such "controversial" elements likely seem pretty mundane. Still, the trailer for the upcoming Netflix adaptation of the film certainly does its best to lean into the steamy, forbidden love vibes of the novel's titular relationship, showing stars Emma Corrin and Jack O'Connell in various stages of undress throughout. 
Set during the years immediately after World War I, Lady Chatterley's Lover follows the story of Constance Chatterley, a baronet's wife. The latter finds herself unhappy with her life with her husband, Sir Clifford (Matthew Duckett). The latter has returned from the war, paralyzed from the waist down. Their marriage was never a love match, but in the wake of Clifford's injury, the two no longer share a sexual relationship. 
Constance's electric connection with the dreamy estate gamekeeper Oliver Mellors leads the two to embark on a torrid affair; one made all the more scandalous by the class differences between the two — he's technically her employee — and the fact that (as you can see in the trailer) neither of them are remarkably discreet about their activities.
"You're confusing sex with love!" one exasperated family member intones. Still, it's clear that Constance has none of their warnings and doesn't seem to care about the prospect of societal embarrassment and ruin. (Which, let's face it, is a question of when and not if.)
The film's logline reads as follows.
Marrying Sir Clifford Chatterley, Connie's life of wealth and privilege seems set as she takes the title of Lady Chatterley. Yet this idealistic union gradually becomes an incarceration when Clifford returns from the First World War with injuries that have left him unable to walk. When she meets and falls for Oliver Mellors, the gamekeeper on the Chatterley family estate, their secret trysts lead her to a sensual, sexual awakening. But as their affair becomes the subject of local gossip, Connie faces a life-altering decision: follow her heart or return to her husband and endure what Edwardian society expects of her.
Other notable cast members alongside Corrin, O'Connell, and Duckett include Ella Hunt (Dickinson) as Constance's confidant Mrs. Flint, and Faye Marsay (McMafia) as Lady Chatterley's protective older sister, Hilda. Joely Richardson (The Sandman), who herself starred as Constance Chatterley in the 1993 adaptation of the novel opposite Sean Bean (Game of Thrones) here, plays Clifford's devoted nurse, Mrs. Bolton. 
Lady Chatterley's Lover will have a limited release in U.S. theaters beginning Friday, November 23, before arriving on Netflix two weeks later, on Friday, December 2. 
---
By
for on November 5th, 2022
More to Love from Telly Visions