By
for on August 28th, 2014
'Game of Thrones' Richard Madden to Star with 'The Borgias' Holliday Grainger in 'Lady Chatterley's Lover'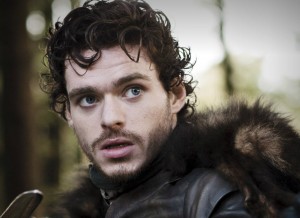 The King in the North returns! Well, sort of.
Game of Thrones
star
Richard Madden
has signed on for his next big post-Westeros project, and will be starring opposite
The Borgias Holliday Grainger
in a splashy new BBC adaptation of classic novel Lady Chatterley's Lover.
Granger, who played the infamous Lucretzia Borgia in Showtime's The Borgias, will play Lady Constance Chatterley, a young woman whose handsome, upper-class husband has been paralyzed from the waist down due to a war injury. Faced with emotional as well as physical neglect, Constance's frustration leads her into an affair with gamekeeper Oliver Mellors, played by Madden in what will surely be a significant shift from his recent role as a real-life Prince Charming in Disney's forthcoming live-action Cinderella (in which he stars opposite Downton Abbey's Lily James). 
James Norton – who recently appeared in Death Comes to Pemberley and Happy Valley – plays Constance's husband, Sir Clifford Chatterley. 
D.H. Lawrence's story is now considered a pioneer of twentieth century literature, but was quite controversial at the time of its publication in 1928 due to its rather explicit sexual content. The novel has frequently popped up on banned booklists, and there was actually a trial held in 1960 in Britain to determine whether the book fell under the country's Obscene Publications Act.  The story wrestles with multiple themes, including issues of class, love and intellectualism.
Both Holliday and Madden are fantastic up-and-coming young actors, IMO, and pretty well ought to be fantastic together.
The ninety-minute adaptation is part of BBC One's ambitious season of classic 20th century literature next year.  It will be written and directed by Jed Mercurio, whom many of you may know as the creator of popular BBC crime drama Line of Duty.
"I'm hugely flattered that such a fabulously talented young cast will bring these iconic roles to life," Mercurio said in a statement.
Filming is set to begin in October with an eye to a 2015 airdate. No word on when US audiences might expect to see it, but a big-name cast like this (Game of Thrones is everywhere right now), it seems likely to be the sort of thing that will be aired in the States fairly quickly.
 What do you think? Are you fans of Lady Chatterly? Interested to see what Madden and Holliday do with the story? 
---
By
for on August 28th, 2014
More to Love from Telly Visions