By
for on June 26th, 2014
Matthew Crawley No More: Dan Stevens Gets Creepy in Trailer for 'The Guest'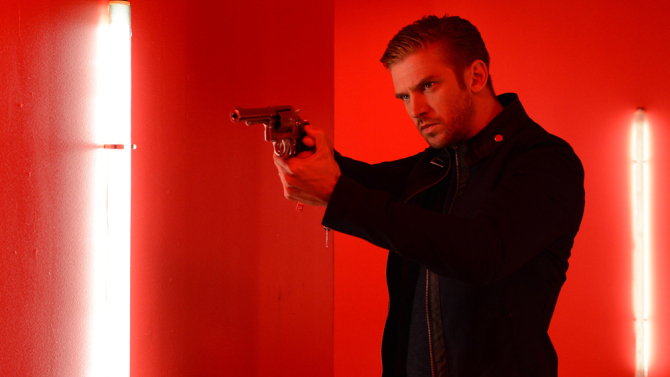 It's probably not incorrect to say that as much as we all love Downton Abbey – and we really, really do obviously – we all still feel a little sting in our hearts when we think about how much we miss Matthew Crawley and his (rather dreamy) portrayer Dan Stevens.  Just face it: We're never going to be over it.
Luckily, Stevens has kept himself pretty busy since leaving the Highclere Castle crew: starring on Broadway and landing big time movie roles opposite Liam Neeson (A Walk Among the Tombstones), Ben Stiller (Night at the Museum 3) and Benedict Cumberbatch (The Fifth Estate). He's now prepping the release of yet another film – in which he plays what is possibly his most un-Matthewlike role yet. 
Called The Guest, Stevens stars as a mysterious stranger named David who gives off a very, very creepy vibe. The film follows the story of a family grieving over the loss of their son Caleb, who died in Iraq. One day, David arrives at their door, claiming to be a friend of Caleb's from the war, and things apparently get pretty weird pretty quickly, you know, once people start dying mysteriously.
It looks kind of awesome, seriously. 
The teaser trailer premiered over at IGN. Watch for yourselves below: 
Maika Monroe, Leland Orser, Lance Reddick, Chase Williamson and Brendan Meyer also star. The Guest debuted at the Sundance Film Festival earlier this year to strong reviews, particularly for Stevens' performance.
The film is due to open in US theaters this September.
Thoughts? Do you like the idea of Stevens taking on roles that are very different from Matthew Crawley?   
---
By
for on June 26th, 2014